March 16, 2023
Nolita: Pre-Sale Offering Brings Much Needed Inventory to Kelowna Buyers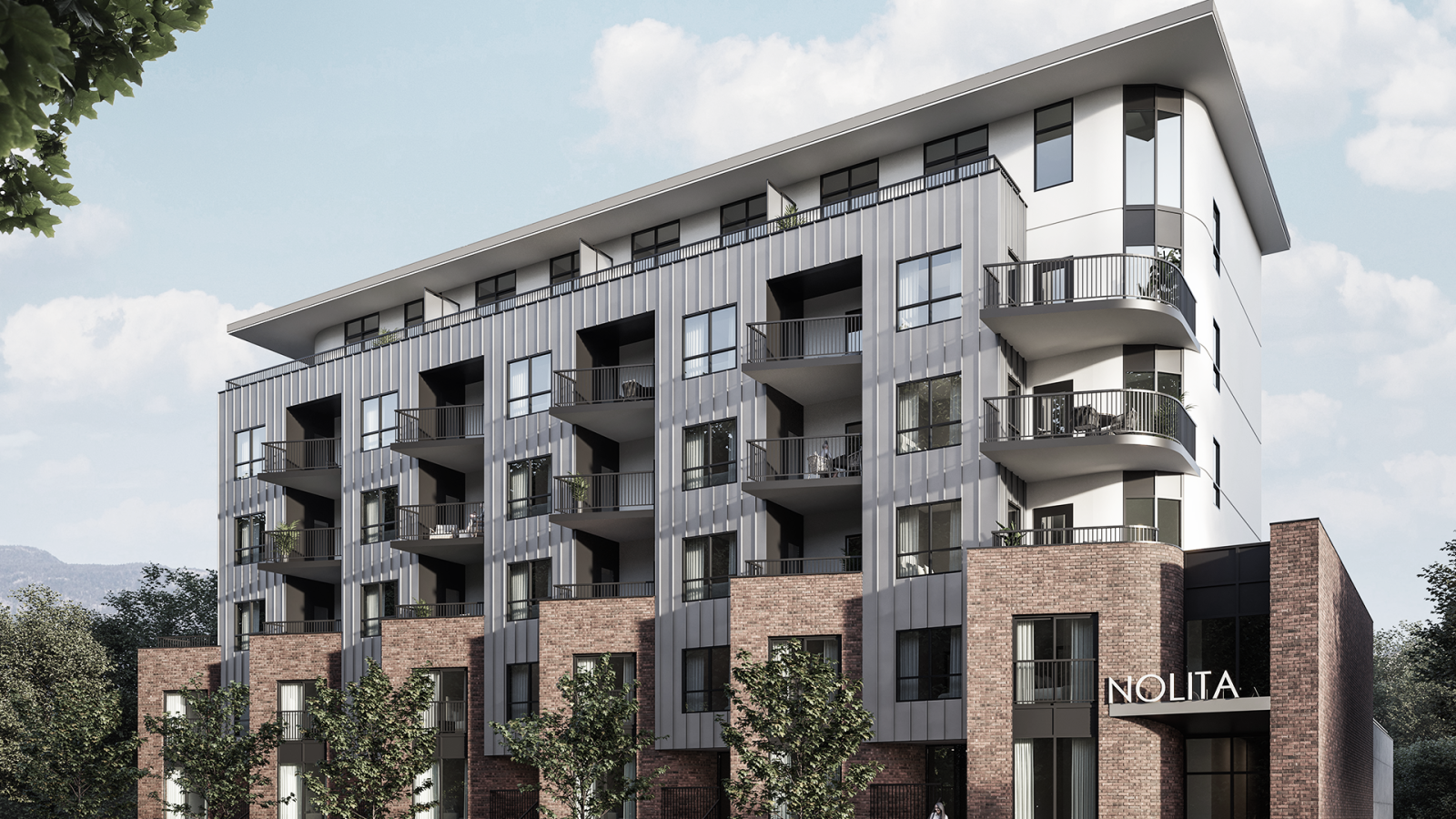 Opportunities for purchasing presale properties in Kelowna have increased in recent years. One of the primary advantages of buying a presale property is that buyers can delay securing their financing until a later date when lending rates may be more attractive. This can allow buyers to save money on their mortgage in the long run. Additionally, securing pre-construction pricing today allows buyers an extra 18-24 months to save for a larger down payment, further reducing the loan amount, interest, and monthly payments. Lastly, buyers can begin to build equity in the home while it's under construction by putting down just 15% of the purchase price, often spread out over a number of months. All of these factors make presale properties an attractive option for those looking to purchase a new home.
One of the first New Homes to Market in 2023 
Nolita is an upcoming real estate project located in the heart of downtown Kelowna, offering stylish studio, one- and two-bedroom condos, as well as a limited collection of garden-style townhomes. Developed by local real estate developer Fifth Avenue Properties, Nolita is one of the first to come to market in 2023 in the Okanagan, an area with a high demand for housing but limited inventory.
Nolita is situated in a charming residential neighbourhood within downtown Kelowna, close to an abundance of shops, restaurants, beaches, parks, and more. The project is steps away from UBCO's future downtown campus, and it is just a two-minute walk from the nearby Packing District, an emerging neighborhood with an urban industrial vibe and lively entertainment. The building features an exclusive outdoor space for residents, the Terrace Lounge, which has barbecue facilities, seating areas, and fire tables. Nolita also boasts a dedicated outdoor dog run, allowing residents to have up to two pets.
Carefully Crafted Community For Prime Investment 
Furthermore, Fifth Avenue Properties spent a lot of time carefully designing every detail of the exterior and interior, including a stunning lobby and beautiful art-deco inspired corridors, to create a truly unique living experience at Nolita. In addition to the aesthetic appeal, Nolita's innovative building technology includes smart home features that simplify life for residents. Safe and secure parking is also available, equipped with EV-ready stalls. The building's design was inspired by Kelowna's distinct architecture, with a boutique collection of 60 thoughtfully curated homes. Nolita offers a variety of elegant condos and a limited collection of garden-style townhomes, allowing residents to individualize their space with a choice of two timeless design palettes that inspire creativity within their homes.
"What I love most is creating communities that people are proud to call home" - Johannes van Leenan, president of Fifth Ave Properties
Van Leenan, who has a background in sales, believes the timing of the project is excellent, as there is a limited amount of inventory, increased demand, and a truly incredible location and offering with Nolita. Kelowna is experiencing a high demand for housing supply, with a need for 30% more housing completions to meet upcoming population demand.
"We are beginning to see signs of an upswing within the Okanagan market, and prices are anticipated to increase in the future. With Nolita, buyers have an opportunity to purchase at today's suppressed pricing without having to qualify for a mortgage for 12-14 months, making it a win-win situation." - Taylor Musseau, Managing Director and Partner at MLA Canada Okanagan Office
Minimal Upfront Investment for Ease of Purchase
At Nolita, they recognize that the deposit can be a significant obstacle for homebuyers. That's why they're offering a limited-time 10% deposit for presales, allowing buyers to secure their home at 2023 pricing with minimal upfront costs. This gives them 18-24 months to save for a larger down payment, reducing their loan amount and monthly payments in the long run.
Kelowna is a growing city that offers spectacular amenities, making it an attractive destination for people from other provinces or larger cities. Nolita is the perfect location to live for those looking for the Okanagan lifestyle, with fabulous restaurants, great shops, vibrant bar scenes, and tons of fun lake life amenities.
Sales for Nolita by Fifth Avenue Properties will begin in Spring 2023. Register for more details at Nolita.ca  
Category
Real Estate News
Recent Posts