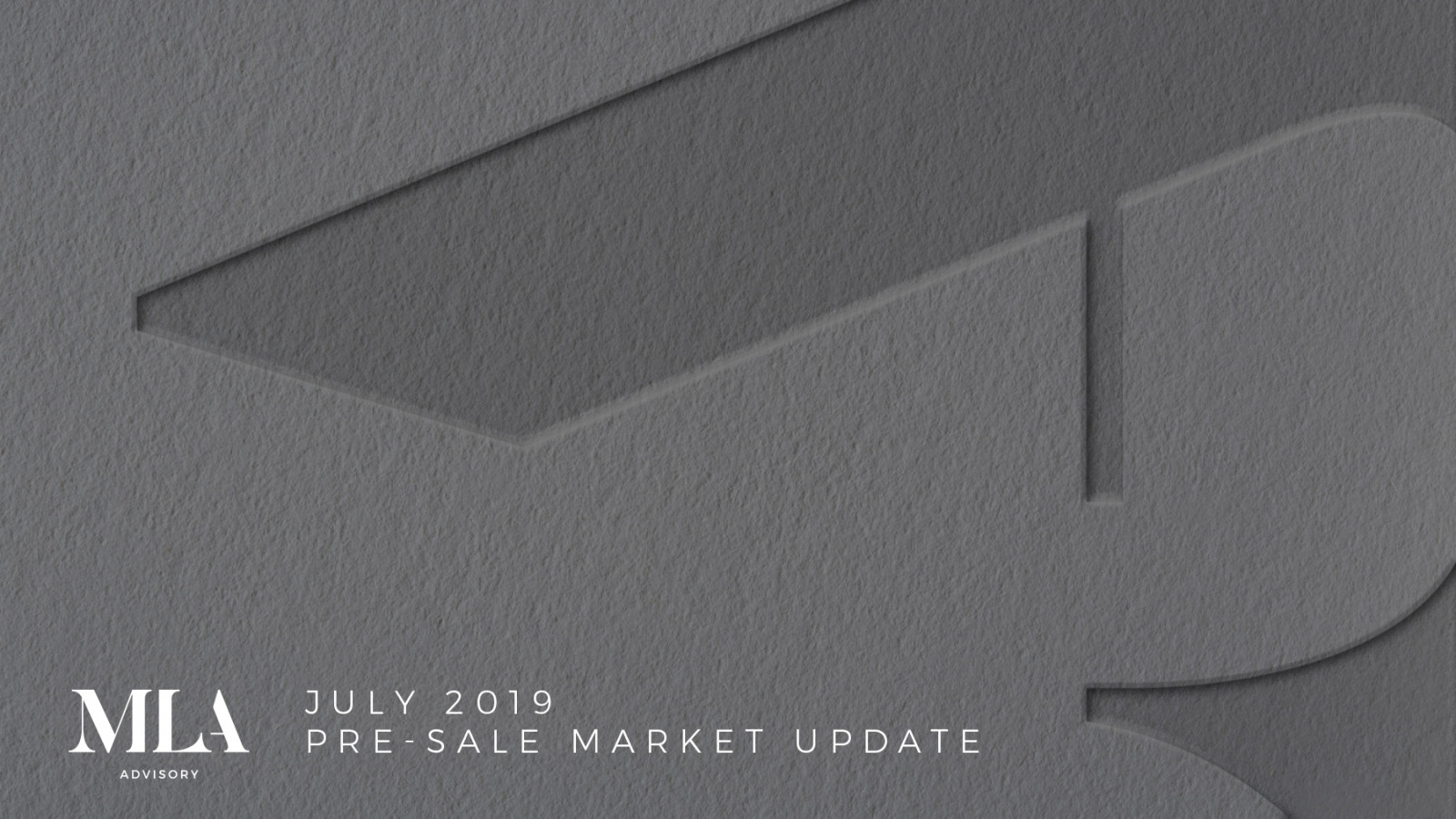 DOWNLOAD THE JULY 2019 PRE-SALE REPORT
"The bright spots in the market continues to show us that well-conceived homes priced competitively and providing value to end users in their markets remain active. Developer reputation, location including proximity to transit or arterial routes, and strong utility within price ceilings are all top of mind factors for today's buyers. " Suzana Goncalves EVP, Sales and Marketing; Partner, MLA Canada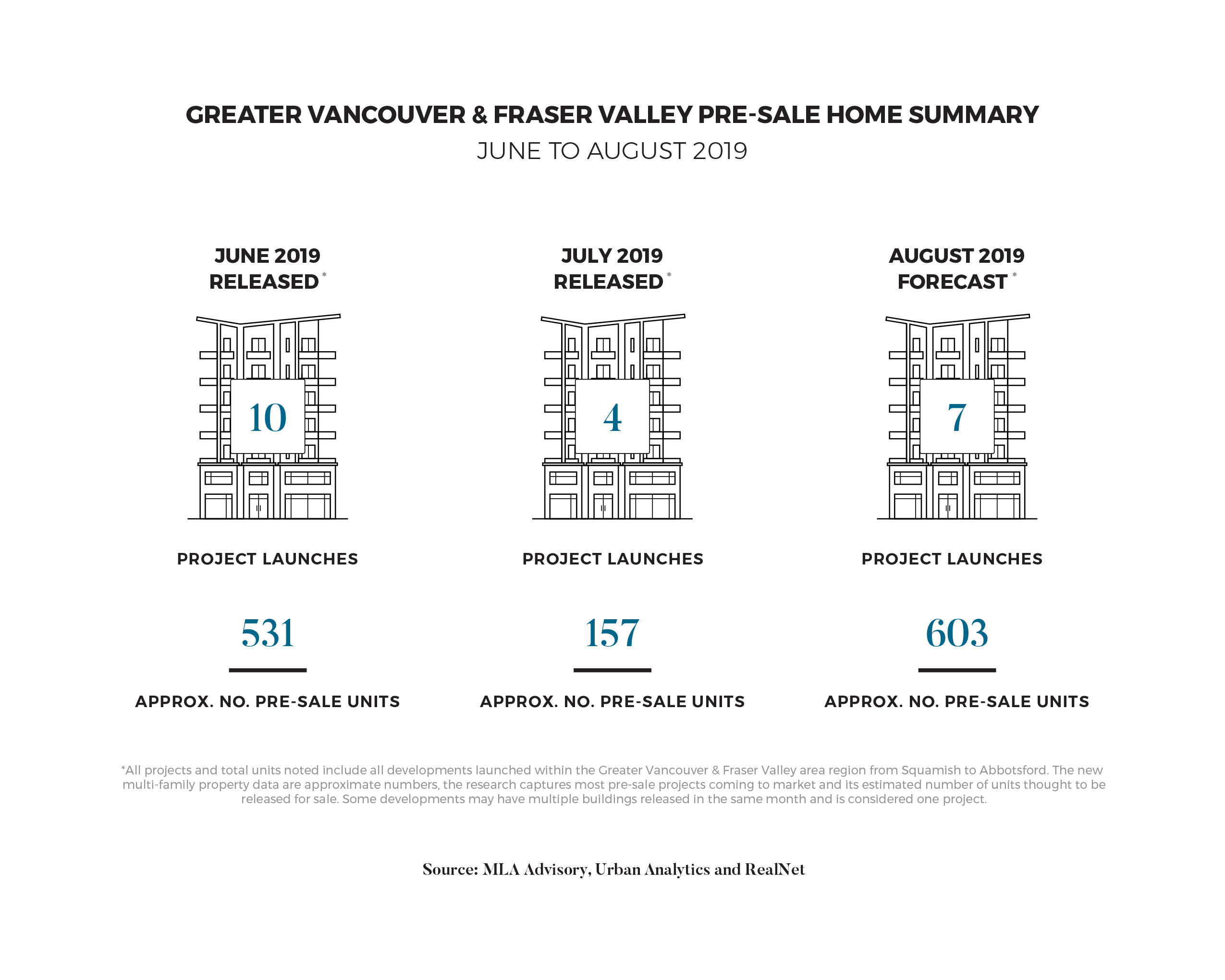 JULY EXPERIENCES HIGHEST PRE-SALE SOLD RATE IN 2019
July saw four pre-sale project launches, bringing in just over 150 units to market in a typically slower sales season. Of the 157 homes released, same month sales for new inventory reached 37 per cent. This month marks the highest sold rate to date in 2019, with all projects launched consisting of low-rise woodframe buildings. The recent success of these pre-sale projects can be attributed to a variety of factors including competitive sales offerings and incentives, attractive price points and well-programmed homes focused on the needs of its anticipated homeowners.
STRONG SALES FOR PRE-SALE WOODFRAME CONDOMINIUMS IN 2019
Although market conditions have softened throughout 2019 relative to the hyperactive levels experienced in previous years, pre-sale woodframe condominiums have continued to make great strides in the market, conveying strong success throughout Greater Vancouver and the Fraser Valley. From January to July 2019, over 1,500 units have been released, primarily in more affordable markets such as West Coquitlam, Abbotsford and various submarkets within the Fraser Valley. To date, MLA Advisory has approximated an absorption rate of 33 per cent of all woodframe condominium homes released in 2019. This is an indication of strong and stable demand from end-users and first-time home buyers searching for value in a more affordable product type. As such, markets such as Delta and North Burnaby have experienced successful same month sales above 80 per cent, despite current market conditions.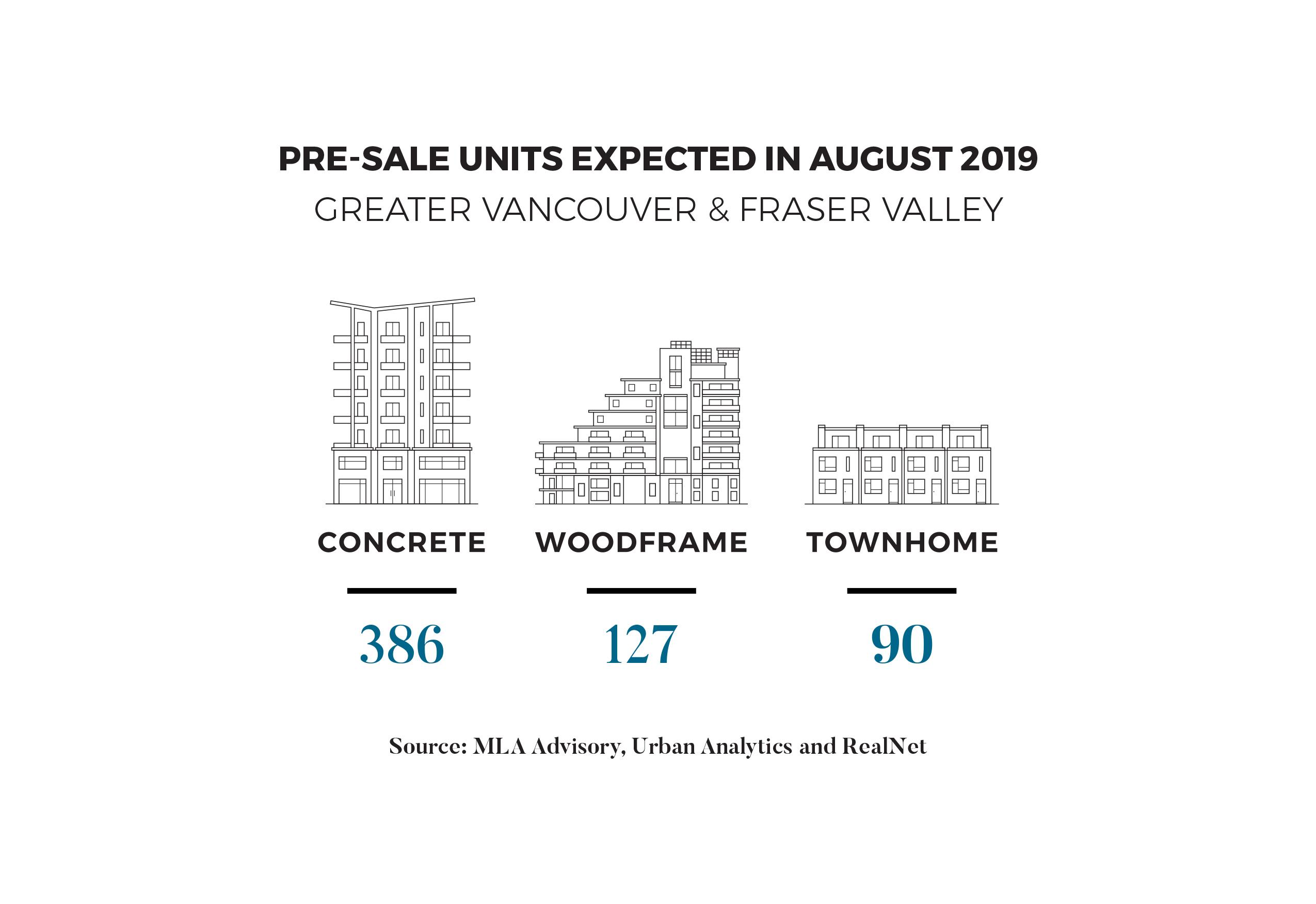 AUGUST TO BRING OVER 600 PRE-SALE UNITS TO MARKET
MLA Advisory is forecasting the launch of seven pre-sale projects in August, totaling over 600 homes. Over 200 of these homes are townhome and woodframe projects located across the Fraser Valley. August 2018 released the same number of project launches but over 1,000 units, primarily due to a number of concrete pre-sale launches. This equates to a 42 per cent year-over-year decrease in pre-sale inventory released. This year-over-year decrease in inventory is due to a number of townhome projects releasing minimal inventory to test interest within the marketplace in addition to postponed project launches.
Read the full MLA Advisory's July 2019 Pre-Sale Real Estate Insights Report