"Activity remained strong in August including promising absorption of concrete product. We do believe there could be a slight pullback in September as people adjust again to new rhythms with schools back in session." Suzana Goncalves EVP, SALES AND MARKETING; PARTNER, MLA CANADA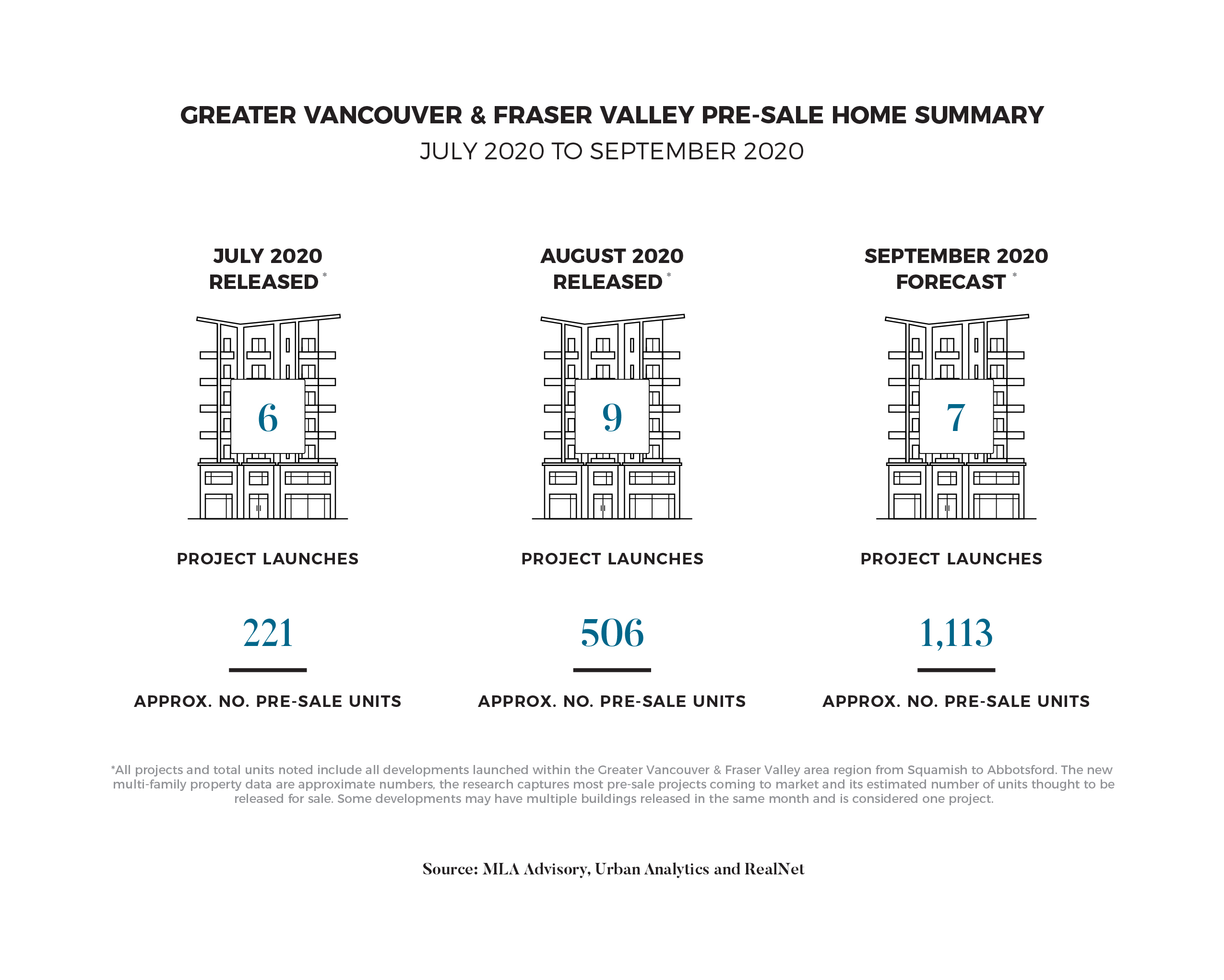 HIGHEST PRESALE ABSORPTION SINCE COVID-19 BEGAN IN MARCH    
There were nine project launches in August 2020 that released approximately 506 units to market. These project launches were concentrated in Greater Vancouver, with high levels of activity in the Vancouver West submarket. Most notably, there were new concrete units released into the market including a project along the Cambie Corridor for the first time in almost two years. Regardless of submarket, end-users continued to drive most transactions in August. Despite persistent low interest rates, many investor purchasers continue to sit on the sidelines with the current market uncertainty going into the Fall but we are seeing an increase in interest. In August, 25.9% of released presale inventory sold; this is the highest presale absorption rate since March 2020 and serves as evidence that the industry is continuing to adapt to the complicated conditions imposed by Covid-19 pandemic.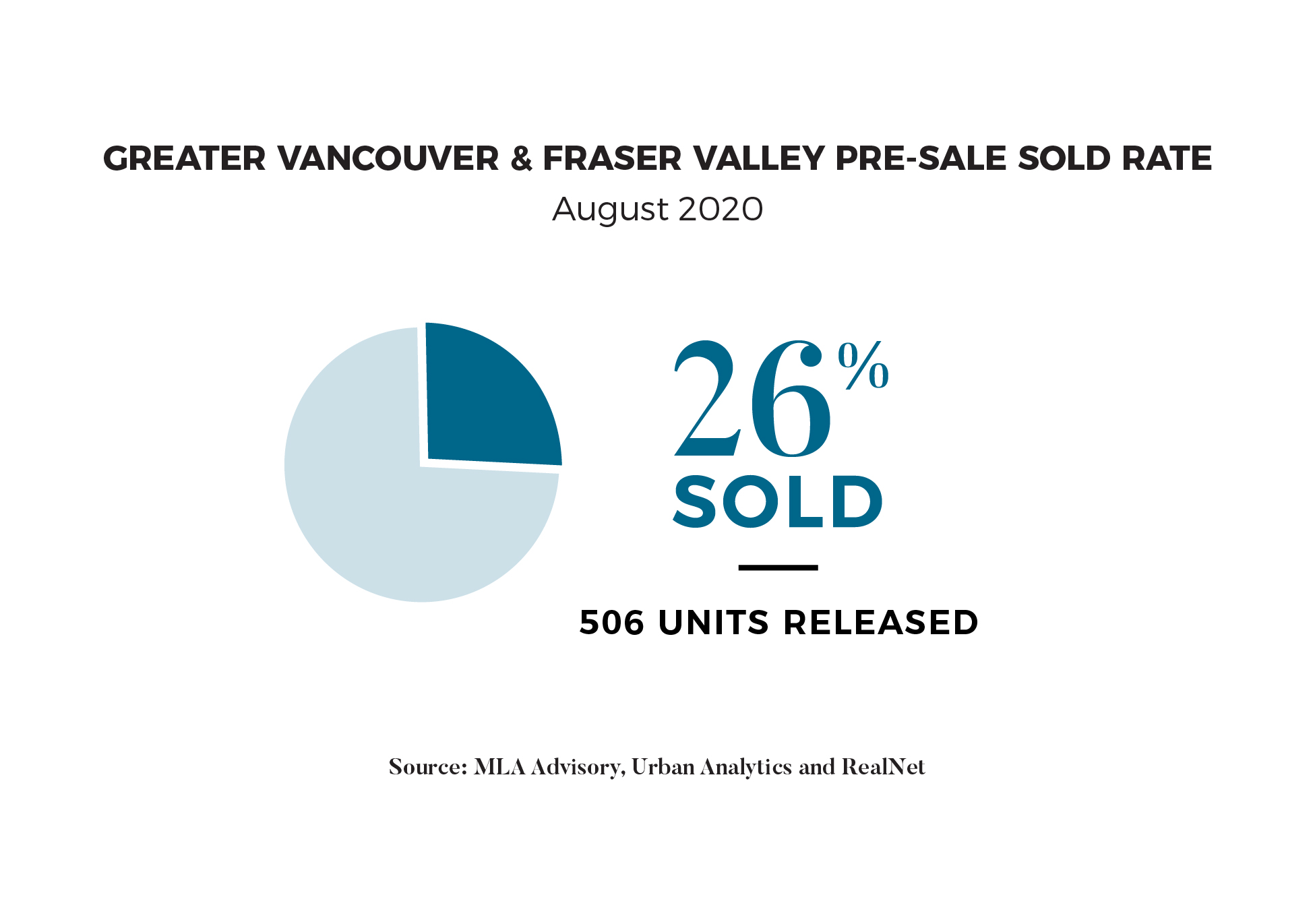 IMMIGRATION AND INTERNATIONAL STUDENTS 
MLA Advisory is closely watching travel, immigration and international student numbers as this could have an impact on our sales and rental market here locally. Borders remain largely closed in the nation as Covid-19 cases rise both in BC as well as in the USA. These cases are expected to continue to rise as students return to school with several outbreaks already being documented for those schools and campuses that have invited students back. Travel into the country of course is significantly down with border crossings down over 90% and YVR passenger volumes still down over 85% approximately. With fewer new residents and international students coming into the country we could see the rental market further soften slightly. For example, UBC often has up to 30% of their student body made from international students. Less travel and immigration also means less real estate purchases in the market and potential for investors to continue to wait on the sidelines until the borders open-up more significantly. The product most affected by this will be the concrete towers who rely on a large percentage of sales to happen upon inventory release. This product however, will benefit from the extension of Policy 17 we reported on last month receiving an additional three months of sales opportunity before needing to secure financing and building permit.  
FALL INVENTORY LEVELS    
As witnessed during the summer, pent-up housing demand boosted July resale statistics to near record levels, instilling confidence that despite a pandemic, the local real estate is remarkably resilient. Because of this rebound, we saw inventory levels rise in August and numerous presale projects have planned for launches in September and October that hope to build off the continued market momentum. However, with schools reopening and Covid-19 cases rising across BC, there is a watchful eye on sales to listing ratios, presale absorption, investor demand and of course, any Covid-19 economic opening strategy retraction. With this in mind, MLA Advisory forecasts that seven pre-sale projects will launch sales in September; these projects will bring approximately 873 concrete condominium, 70 woodframe condominium, and 170 townhome units to market. These projects are primarily towers and are located in Vancouver East, Surrey Central, Coquitlam, and Burnaby South.