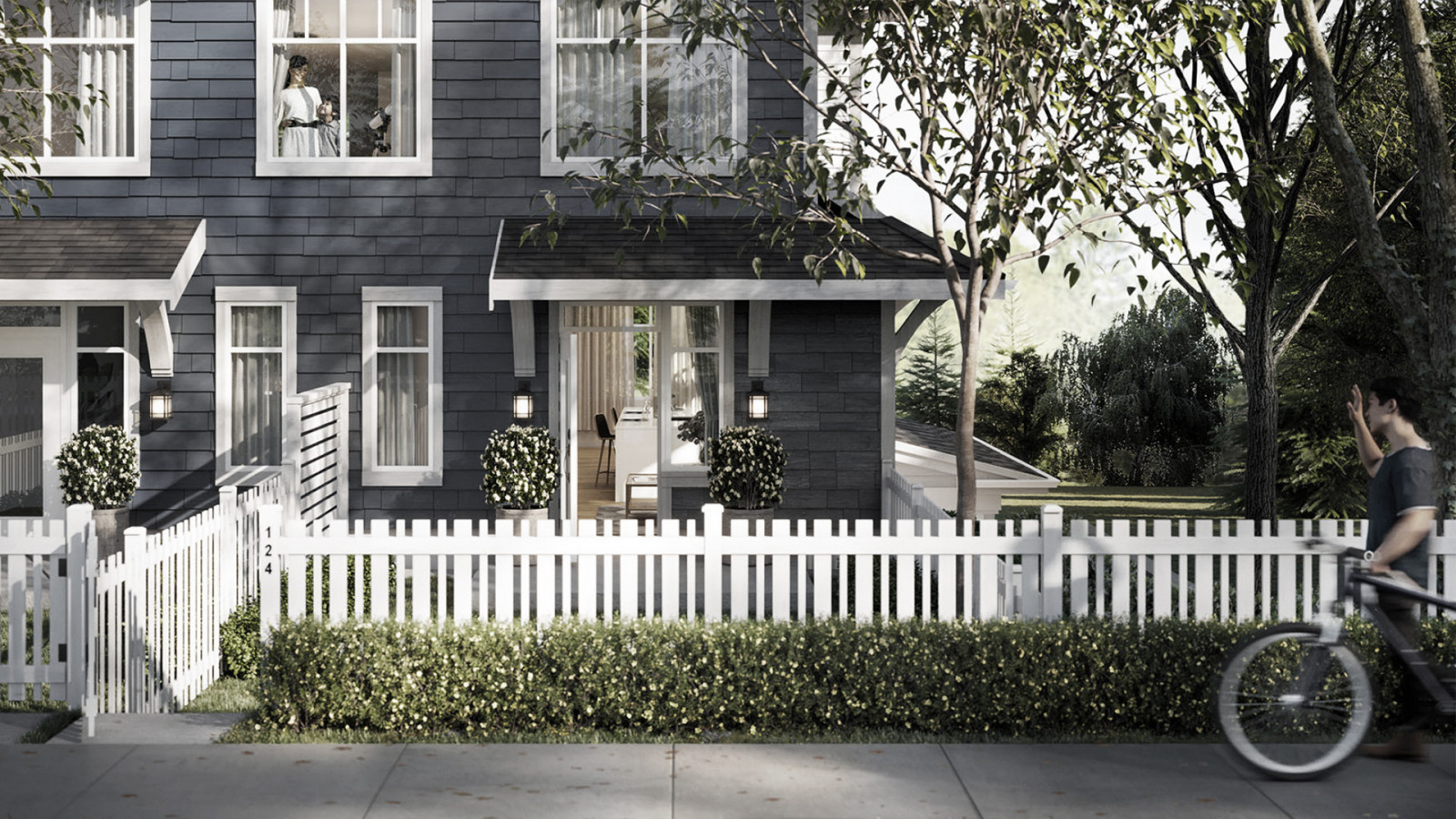 Welcome to Baycrest West – Woodbridge's third mountainside townhome community set on the trail-covered ridges of Burke Mountain that now over 50% sold out. This collection of 24 two- to four-bedroom homes range from 1,372 sq. ft. to 2,089 sq. ft. and are perfect for growing families. Surrounded by the natural beauty of Pinecone Burke Provincial Park which hosts several walking, running, and biking trails, along with the development of Burke Mountain Village – the options for family-friendly activities are endless. 
While Burke Mountain Village is well underway, Baycrest West is also just a short drive from Coquitlam Centre – home to hundreds of stores, restaurants, and supermarkets including T&T. Baycrest West the perfect spot for young families and working professionals to call home, just moments away from convenience, entertainment, and community.  
Families with children will excited to discover the Baycrest West school catchments include the highly rated Leigh Elementary School, Minnekhada Middle School, and Pinetree Secondary School all under a ten-minute drive from home. And for those in need of childcare, Apel Montessori Childcare Centre is right around the corner, offering two-, three-, and five-day programs. 
Burke Mountain Village 
Burke Mountain Village, which is located a four-minute drive from Baycrest West, is set to become Coquitlam's new go-to residential, commercial, and social hub in the coming years. The master-planned community will boast vast areas of greenspace for sports and play, a new Community Center, residential homes, as well as 120,000 sq. ft. of mixed retail space so everything you need will be within reach. 
Burke Mountain Village offers residents and visitors a cohesive and connected outdoor space that allows for a robust choice of activities. All public areas will be accessible by the Village Greenway – a trail network that connects the public plaza, upper and lower mews, a future park, and Fremont Park. This network of interconnected trails and stairways are perfect for running, cycling, or evening strolls with the family. 
A highlight of the Burke Mountain Village plan is the new Northeast Community Centre that aims to meet the needs of current and future residents of the area. The three-storey development will include an aquatics centre with multiple pools, two gymnasiums for daytime preschool and court sports, fitness studios, indoor and outdoor walking trails, public art, and a new brand of the Coquitlam Public Library. Visitors will have the ability to experience fitness and leisure with the whole family like never before.  
Shopping at Burke Mountain Village has never been easier, with a carefully curated selection of commercial and retail space that meets everyone's needs. The master plan will include a grocery store, retail goods and services, and a public plaza. The urban core is designed to elevate the pedestrian experience by its position along the mountainside of Coquitlam.  
Interiors Inspired by Nature 
Each home at Baycrest West has evolved from Woodbridge's previous communities on Burke Mountain to ensure you are getting the best of the best. We asked buyers what they like, what they don't, and what could be better to create a collection of homes that are truly as functional as they are beautiful. With floorplans from two- to four-bedroom plus flex, there is something for every stage of life at Baycrest West.  
Inside the homes, you'll find thoughtfully designed rooms, that inspire connection with open layouts and expansive windows filling the living space with natural light. The two colour schemes, Warm and Cool, are each a product of the surrounding landscape at Baycrest West. The Warm colour scheme takes its inspiration from the colours and textures of the North Shore Mountains and bountiful ocean. The Cool colour scheme embodies the fresh, clean feeling you get when you step outside on a sunny day.  
Every feature from the durable laminate flooring to the built-in open shelves in the kitchen are a thoughtful curation from the teams at Portico Design Group and Woodbridge Homes. Main floor bathrooms are easy to access but tucked away; counter room in the ensuites has been maximized; homes with a lower floor flex space have an accompanying bathroom; and corner cabinets in the kitchen feature organizers so you can optimize your space.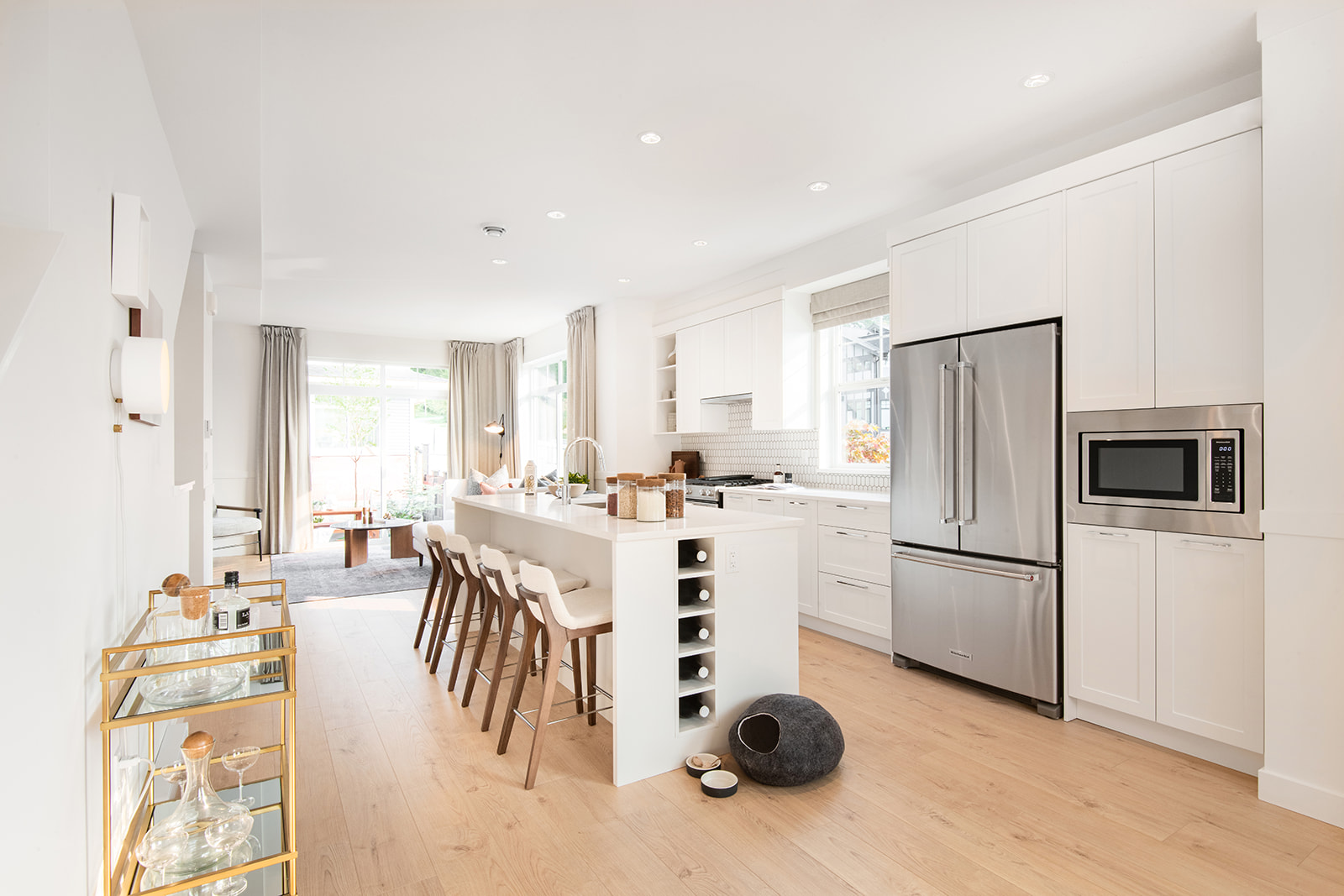 Double car garages with ample storage for all your hobbies, stairways with cut outs that make moving your couch upstairs a breeze, a Kitchen Aid appliance package perfect for that at-home chef, and vaulted ceilings in the principal bedroom are just a couple of the thoughtful features included in the homes. Outside the home, you'll find a perfectly landscaped fenced backyard that will be maintained for you all year long. 
Designed with Care by Woodbridge 
This year, Woodbridge will celebrate 30 years building homes in British Columbia. A master of their craft in wood frame homes, Woodbridge has brought countless communities to life with their attention to detail and commitment to quality, including Baycrest on the Rise and Rocklin on the Creek in Burke Mountain. Discover the Woodbridge story and tour through their past communities on their website at wbhomes.ca. 
For a limited time only, Woodbridge Homes' is offering $20,000 off select two- and three-bedroom homes and a 10% deposit structure at the beautiful Baycrest West.  Come visit during the A Plan Open Houses this Fall to take advantage of this rare offer – open on Saturday and Sunday's from 12:00pm to 3:00pm until November 27th, 2022. 
For more information on Baycrest West, contact the Sales Team today! 
Category
Real Estate News
Recent Posts