"We remain optimistic about growing sales activity and stable pricing and don't expect to see any drop in activity as we historically often do during Summer. We continue to monitor closely how further Covid-19 impacts consumer confidence and the market as a whole, particularly as our neighbours down south struggle with rising cases." Suzana Goncalves EVP, SALES AND MARKETING; PARTNER, MLA CANADA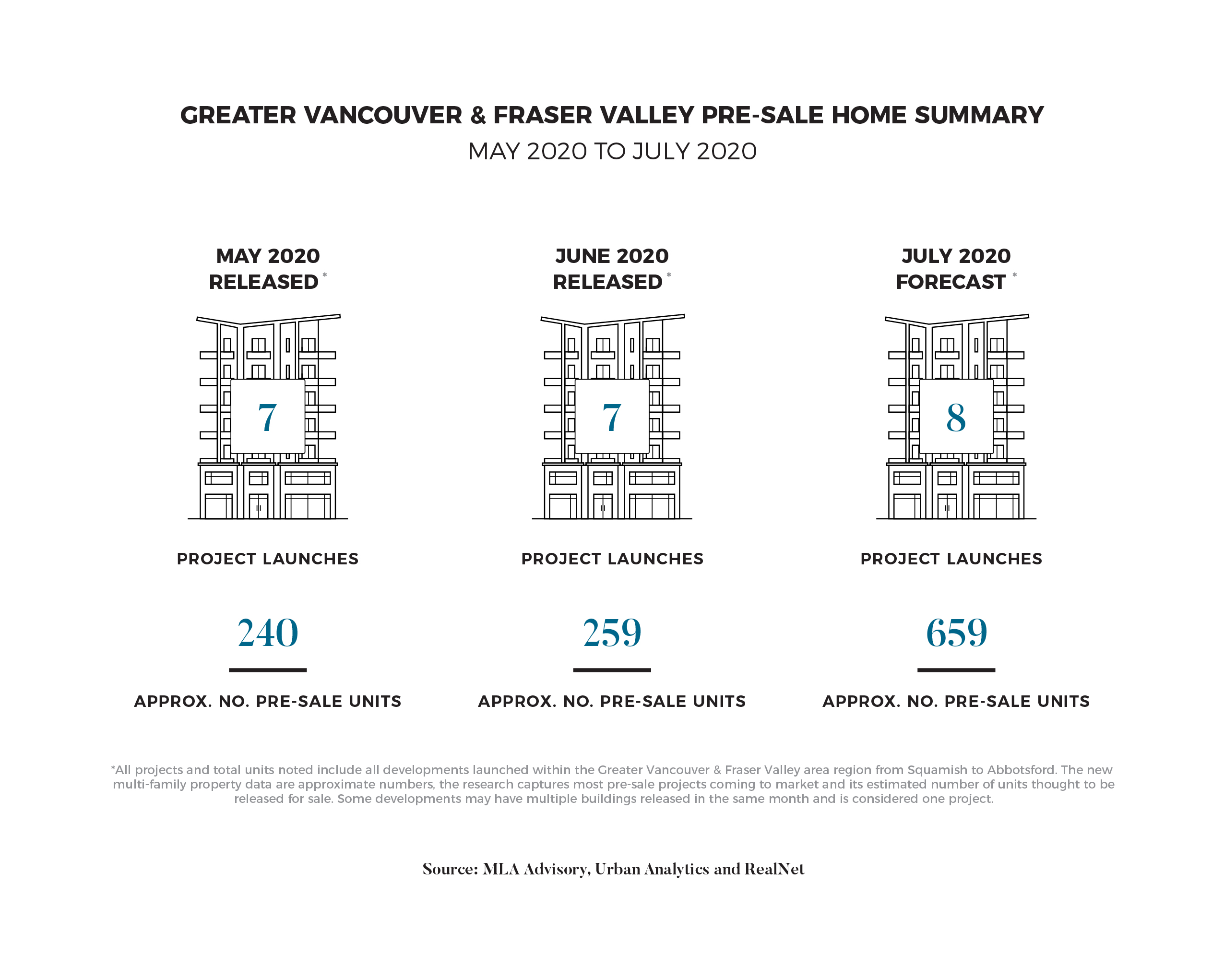 PROJECTS EXPERIENCING IMPROVED SALES MOMENTUM   
In June 2020, there was a continued rebound in consumer spending and overall confidence as people became more accustomed to social distancing and other Covid-19 related practices. As such, the majority of presentation centres are now operating at near-regular hours. Similarly to May, projects that found the most success in June were townhome projects. Despite minor levels of investor activity in June, the majority of sales occurred in projects that are complete or nearing completion. Over the past three months, the most active market participants have consumers with a genuine need for housing who are typically purchasing at entry level price bands. In June, there were seven pre-sale project launches that released 118 woodframe condominium and 141 townhome units to market; of the 259 released units, 14.3% sold similar to our May absorption rate.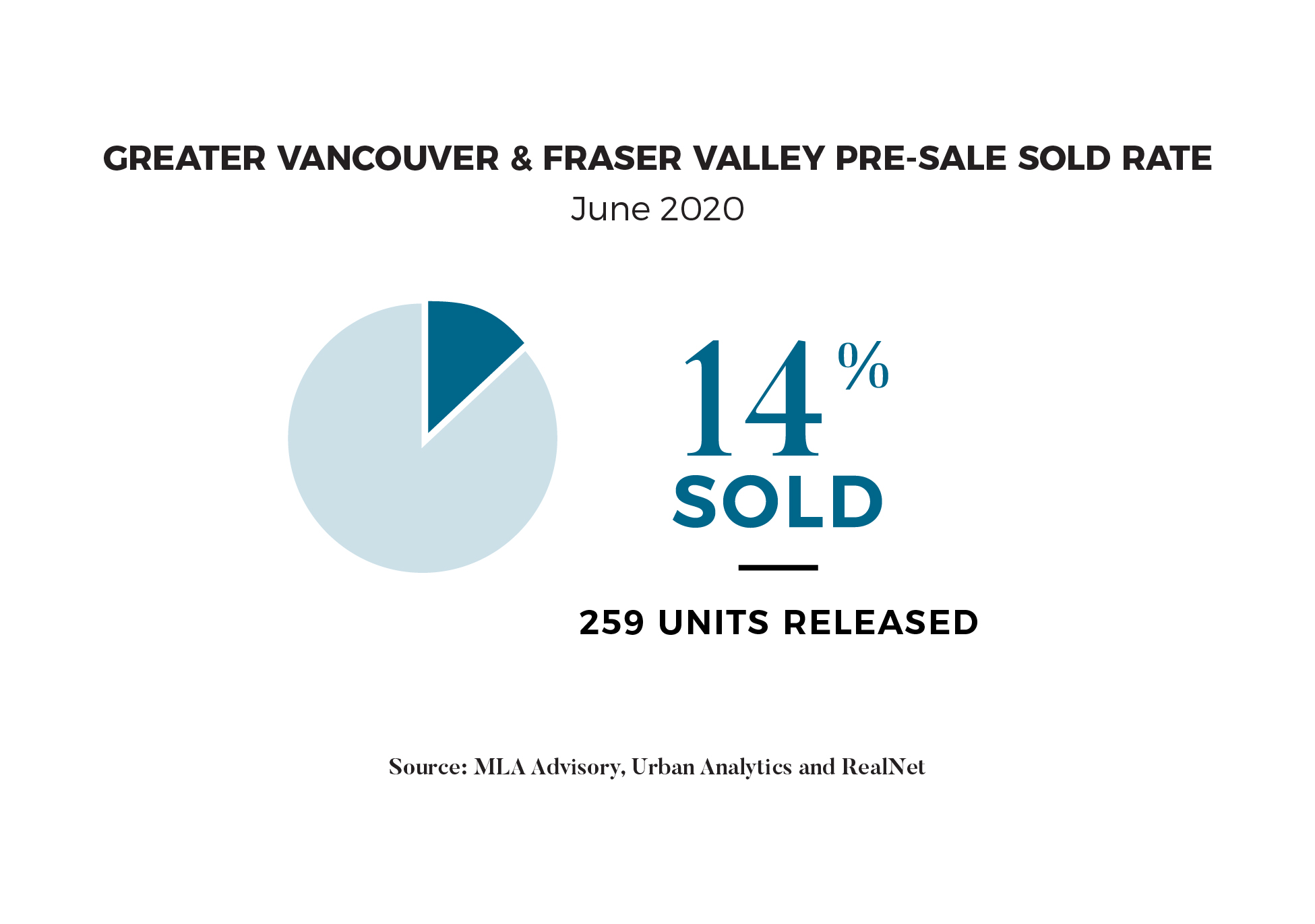 A SECOND WAVE 
Visitor traffic is on the rise across new home sale presentation centres even with physical distancing measures in place. Projects geared towards end users and lower level pricing segments continue to perform best with townhomes still paving the way. Restaurants are starting to open, personal "bubbles" are expanding, and offices are bringing in employees again as we march towards a fully open economy. Most large-scale developments continue to sit on the sidelines looking for signs that the market has returned enough to hit required financial benchmarks within the necessary time periods. If the market continues to improve, we could very likely see new highrise projects enter the market before the end of the year but this will also depend heavily on the potential second wave. A second wave discussion has been mostly centred around the Fall as flu season typically ramps up. Ahead of that however, we could see a rise in cases based on our economic reopening. Unfortunately, the data is not great with many city centres seeing rising Covid-19 cases as they reopen, some even reverting back a step or two in the process as we are seeing in the US especially. These waves will undoubtedly derail new product hitting the market further limiting supply into next year and beyond considering the long lead times to completion. We undoubtedly will be watching for this second wave almost as earnestly as our health officials and province leaders and hoping we can weather the future waves as well as we did the first.    
MANY PROGRAMS SIGNALLING FALL LAUNCHES 
Despite signs of recovery in the real estate market, the impacts of Covid-19 are still very prevalent. Unlike the past, there is not a significant wave of investor purchasers that are willing to make an immediate buying decision. Accordingly, many projects have either extended or pushed back VIP previews and are not committing to grand openings until the Fall. Moreover, projects that were sales ready in February or March have re-strategized. If the market experiences consecutive months of healthy market activity we will likely see additional project releases including highrise concrete product before the end of 2020. With this in mind, MLA Advisory forecasts that eight pre-sale projects will launch sales in July; these projects will bring approximately 208 woodframe condominium and 451 townhome units to market.