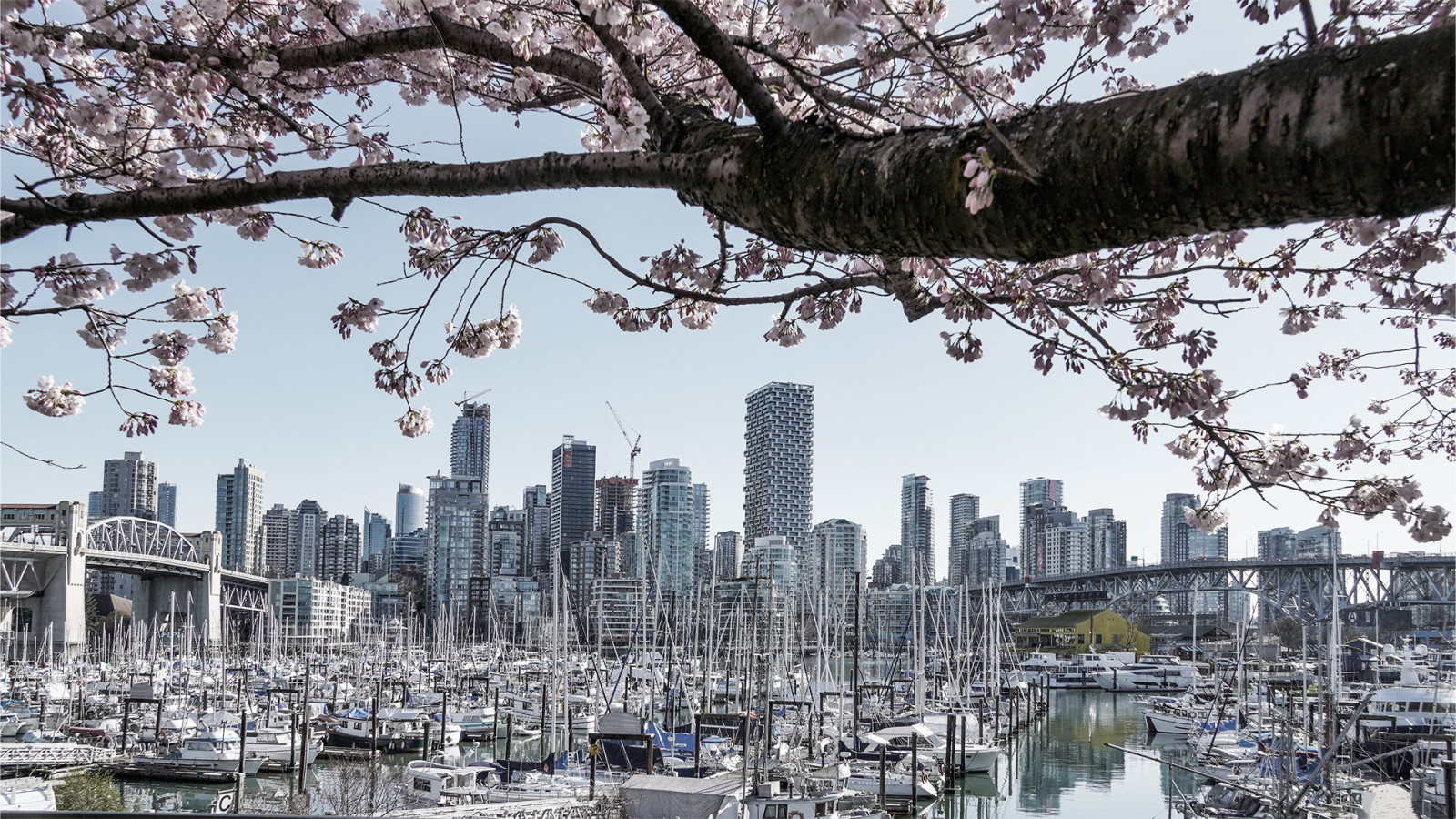 FEBRUARY PRE-SALE REAL ESTATE MARKET INSIGHTS
"A sense of careful optimism is in the air, as pricing in the resale market stabilized for the first time in over 9 months, and as the Bank of Canada paused rate hikes for the first time in over 8 meetings. We are seeing traffic in presentation centres pick up, and well-positioned product receive increasing attention. We'll be watching for this momentum to carry us into the Spring market." Suzana Goncalves EVP, Sales and Marketing; Partner, MLA Canada
SPRING IN FULL SWING
The spring market seems to be in full swing heading into March, as traffic has picked up in presentation centres, prompting the development community to eye launches of their programs in the coming months. Supporting this calculus is the performance of programs such as Surrey's Lucent – which is now over 40% sold within a month of sales. Moreover, after pausing activity in the latter half of 2022, the program has been attracting investors, who seem to be returning with force. With rental rates continuing to tighten and many developments offering deposits as low as 10%, the long investment horizon of pre-sale programs appears increasingly attractive to investors. Overall, February saw the launches of four programs, bringing a total of 377 units to market.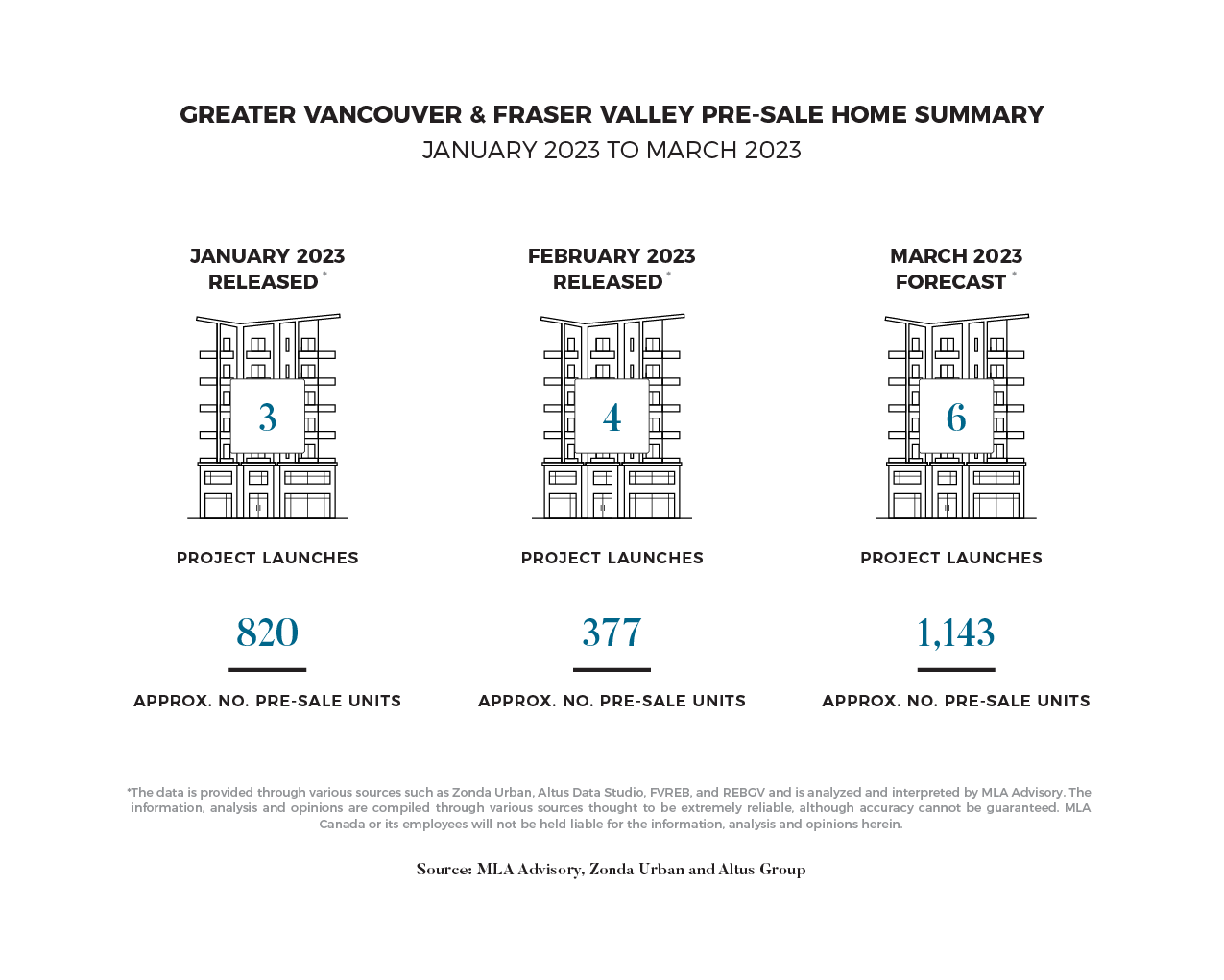 A CENTRAL BANKER'S WORD
It's said that a central banker's word is their bond: their commentary needs to be trusted, and the sentiment must be taken seriously to impact markets.
In their recent rate announcement, the Bank of Canada and Governor Macklem were fully aware of this commitment, affirming the pause hinted at in previous forward guidance. If there are indeed no more hikes on the horizon, it will mark the end of the most intense and most protracted rate hike cycle in Canadian history.
To avoid a premature celebration, however, it's important to note the cautionary language couched in the pause announcement. The BOC warned of several areas of substantial risk that could challenge their hope for a continued pause. Among them, the U.S. and Europe continue to run hotter than expected in terms of inflation and GDP growth. In addition, the labour market remains very tight, with unemployment at historic lows and wage growth strong. Finally, geopolitical problems stemming from Russia's war in Ukraine – a key contributor to previous inflation – remains unresolved and have significant upside risk.
While central bankers are aware of the importance of their commentary, given their track records, the more cynical would say instead that they are only as good as their word. That is to say – not very. We must consider how quickly economic outlooks and the tone of central banks can change. Some may remember how the BOC infamously termed inflation "transitory" at the beginning of this cycle. In any case, March's announcement is a firm shift in sentiment for the time being and will go a long way to support stability and buyer confidence in the housing market.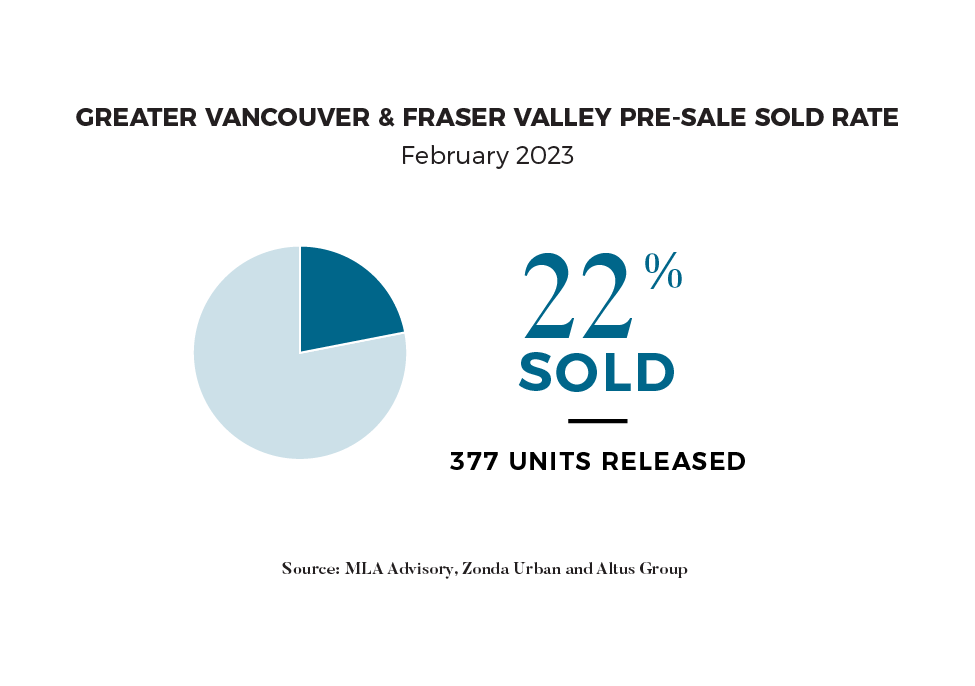 BUILDING MOMENTUM
Looking ahead, MLA Advisory forecasts the launches of 6 programs in March, bringing 1,143 units to market. Several of these will be key programs that many other developers will watch to gauge the market's depth. Perla by Polygon, for example, will bring a new 39-storey tower to Metrotown and begin writing early this month. Early indications suggest that the project will have a blend of approximately $1,240 - $1,250 PPSF. The program will benefit from its access to transit, recreation, local malls, and the Polygon brand name. Later in the month, perhaps in another test of the market, Curv by Brivia Group and Henson Developments will begin touring. The program is a 60-storey luxury offering in Downtown Vancouver – a product we have not quite seen since Fifteen Fifteen in late 2021. Overall, developers are actively looking for the right window to launch their product into the market. MLA Advisory expects this building momentum to lead to increased launch activity in late-Spring and Fall markets.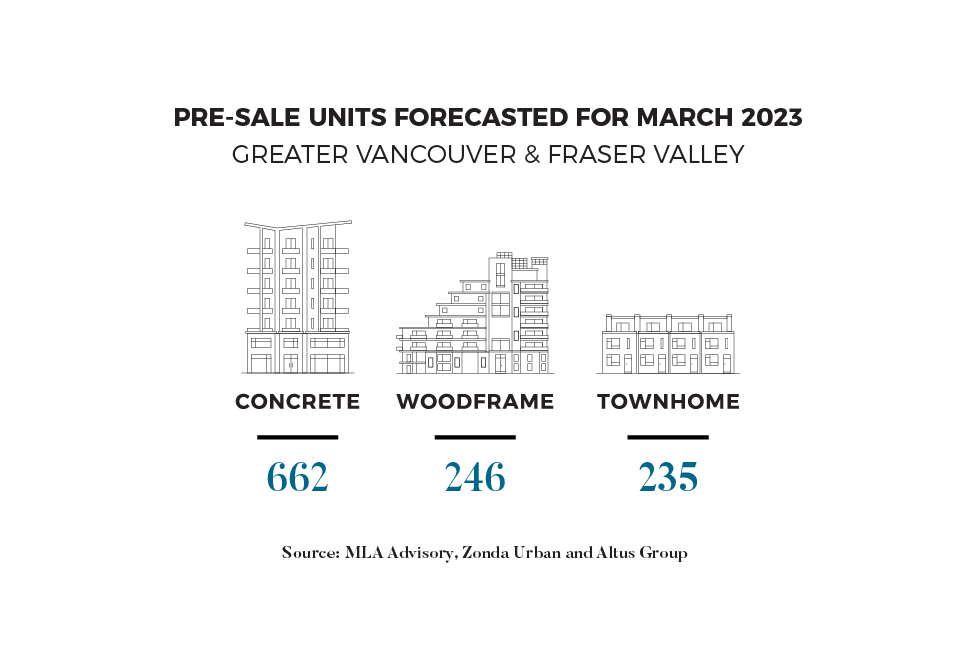 Coming soon! Stay tuned for our fully comprehensive overview of the macroeconomics, pre-sale, and resale market video report, Pre-Sale Pulse.

Subscribe to the MLA Canada YouTube Channel or find the Pre-Sale Pulse on your favourite audio streaming platform: Apple, Spotify, Amazon Music, iHeart Radio