August Real Estate Market Data & Insights
THIS EPISODE IS NOW AVAILABLE IN AUDIO ONLY
Listen on your favourite audio streaming platform: Apple, Spotify, Amazon Music, iHeart Radio
"We're seeing almost double the amount of homes released per month over our monthly average in what is commonly a slower time in the year to sell homes – summer. No surprise we saw the same month absorption slide and could see it slide further next month with over 2000 homes expected in September before rebounding later this year. Overall stable and active market conditions exist at a healthy level," Suzana Goncalves, EVP, SALES AND MARKETING; PARTNER, MLA CANADA.
WOOD FRAME IN THE FRASER VALLEY, TOO HOT TO HANDLE?
Wrapping up a busy summer, the Lower Mainland saw 12 projects launch in August. These projects released approximately 1,822 condominium and townhome units to market. Notably, wood frame condominium developments represented just under half the launched projects in August and accounted for 50% of newly released presale inventory. Unsurprisingly, the majority of the wood frame product launched in the Lower Mainland occurred in the Fraser Valley, where price sensitive investors and first-time homebuyers have made the product type one of the most active in the Lower Mainland. The same-month sales rate in August was 32% (599), a decrease from the 51% (776) in July. While still elevated compared to historical averages, the same-month sales rate is lower in August due to several larger project launches occurring at the tail-end of the month. If adjusted with consideration for these projects, same-month sales is just under 40%.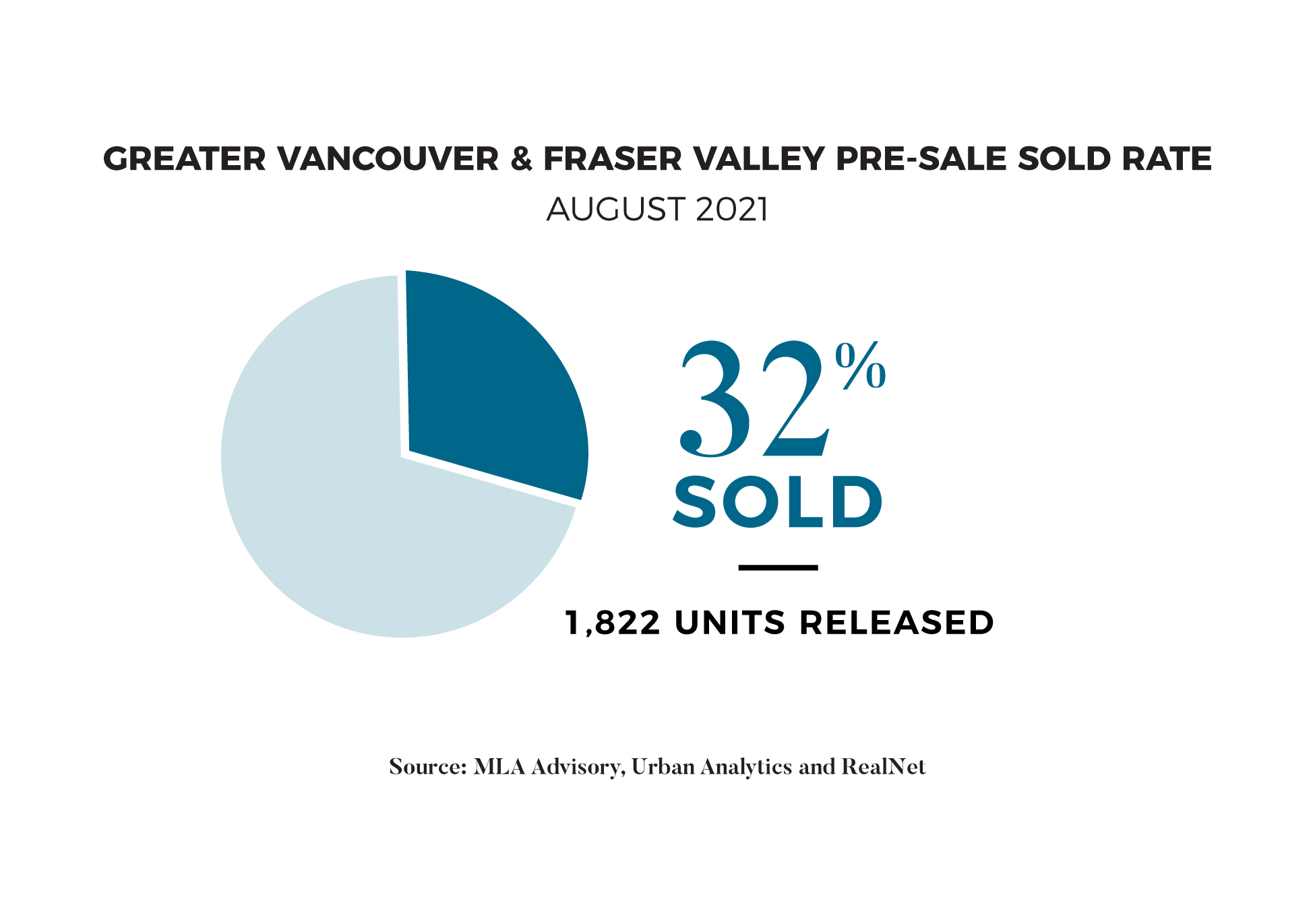 THE FEDERAL ELECTION: WHO'S POLICY IS IT ANYWAYS?
Headlines regarding the federal election have taken centre stage in recent months, pushing Canadians to reconsider who they want to lead reopening the economy and tackling housing affordability in a post-COVID world. Parties have made real estate and housing affordability key aspects of their campaigns, which makes sense considering that millennial voters, who have historically been priced out of Canada's largest real estate markets, now make up the country's largest voting bloc. Key policies among the political parties include incentivizing first-time homebuyers, refining how Canadian's qualify for financing, and improving transparency in the bidding process. There also seems to be a consensus among parties regarding further restrictions or an outright ban of foreign ownership. This is interesting to consider when so much of the demand we've seen in the Lower Mainland has come from purchasers local to BC. Whoever wins the federal election will have the opportunity to guide the direction of the Canadian real estate market for years to come. As always, MLA Canada's Advisory Department will continue to monitor how the upcoming election impacts housing and real estate market.
UPCOMING CONCRETE CONDOMINIUM SUPPLY
While the Lower Mainland continues to face constrained supply in the resale market, there is a significant amount of upcoming supply that is preparing to launch in the presale market over the next 1-2 months. Many of the condominium towers that were predicted to launch in August have since started previews but are now preparing to start writing contracts mid- to late-September. In total, 17 projects are expected to launch in September, representing approximately 1,763 condominium and 281 townhome units. Interesting projects to look forward to include Fifteen Fifteen by Bosa properties, which will be the first tower to launch in Coal Harbour in over three years. In addition, there are several upcoming wood frame developments in Langley that are looking to capitalize on the incredible demand discussed earlier. Of note is Eastin by Essence Properties, which is located in the heart of Willoughby and will offer incredible range of both amenities and project features.
 
We want to hear from you! If you have a real estate question that you'd like us to talk about in our next Pre-sale Pulse, submit your questions to us.