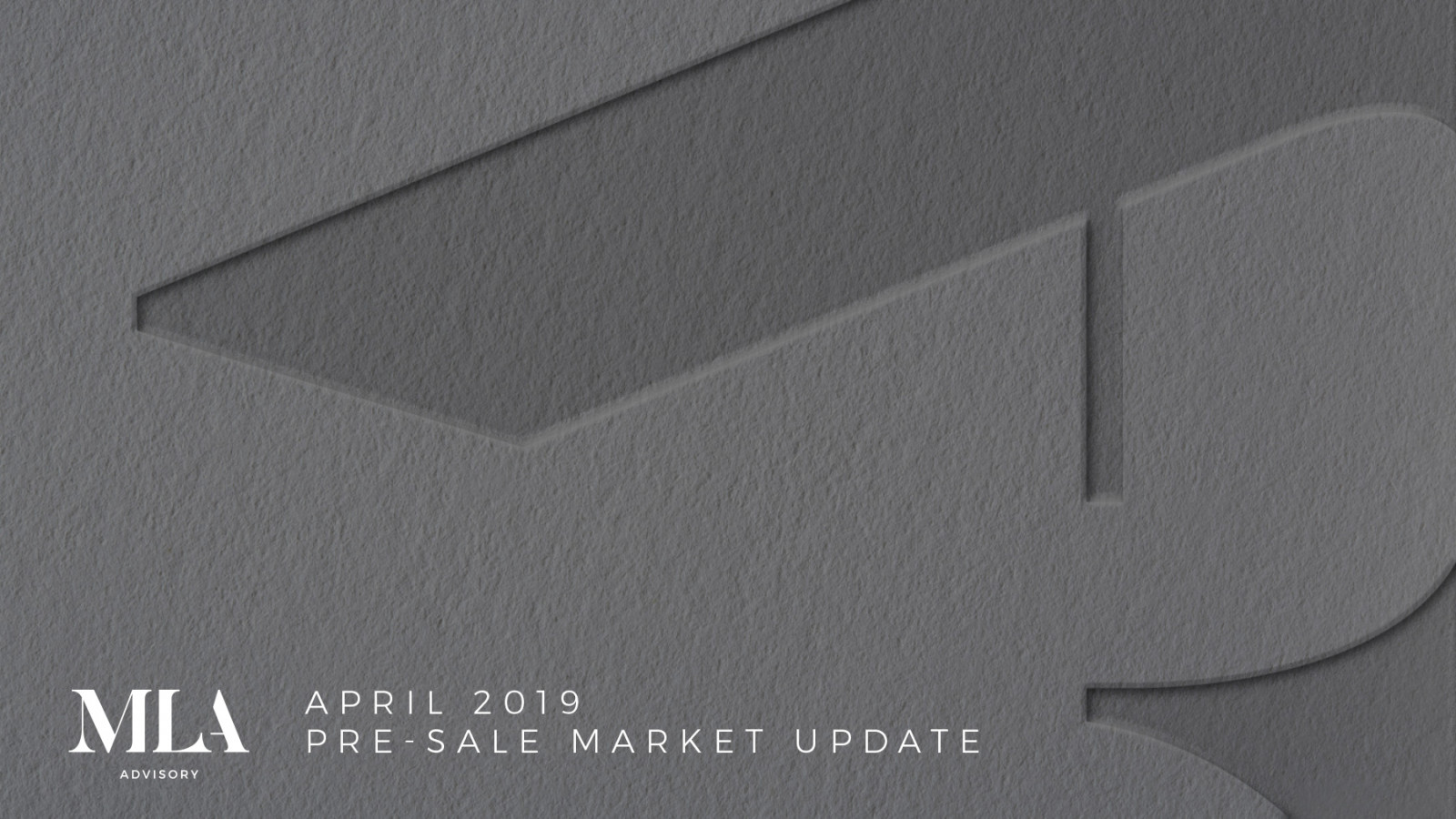 Download MLA Advisory's April Pre-Sale Report
"MLA Advisory estimates that nearly 5,000 concrete units within 17 projects have postponed their sales launches for more favourable market conditions. These concrete presale project delays, along with decreases in housing starts by up to 20 per cent province-wide, will have drastic longterm implications on our housing supply, affordability and home ownership."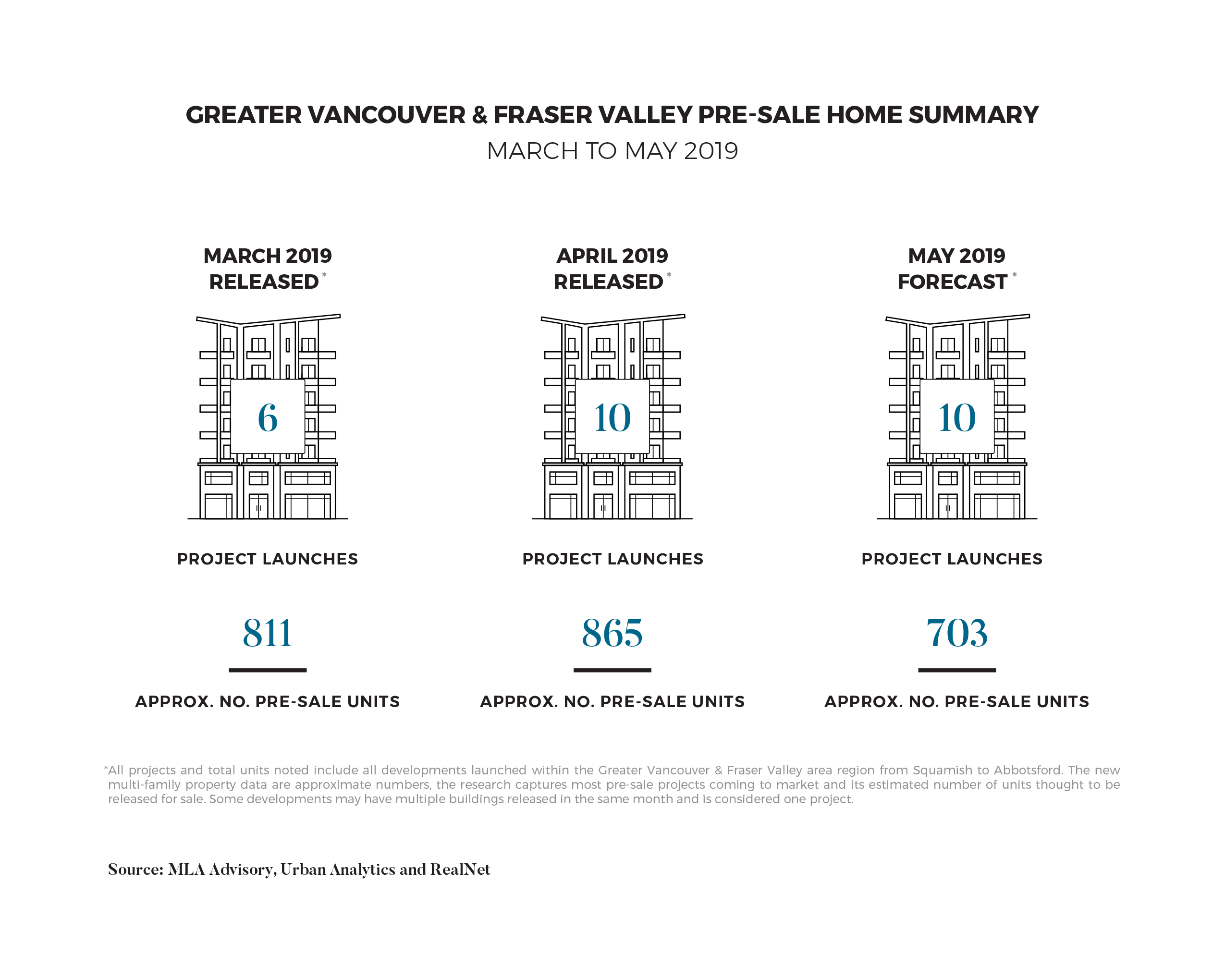 TEN PROJECTS OPEN FOR SALES IN APRIL AS SPRING MARKET ARRIVES
April saw approximately 10 public sales launches, five of which were woodframe condominiums across West Coquitlam, New Westminster and Langley. Of the 865 homes released in April, same month sales for new inventory reached approximately 20 per cent. We would prefer to see this number closer to 25-30% within the month to make the remainder of sales needed to hit financing requirements more manageable over the nine month timeframe. To date, there have been over 3,817 presale units launched across the Lower Mainland in 2019, a 23 per cent decrease in supply from the year prior.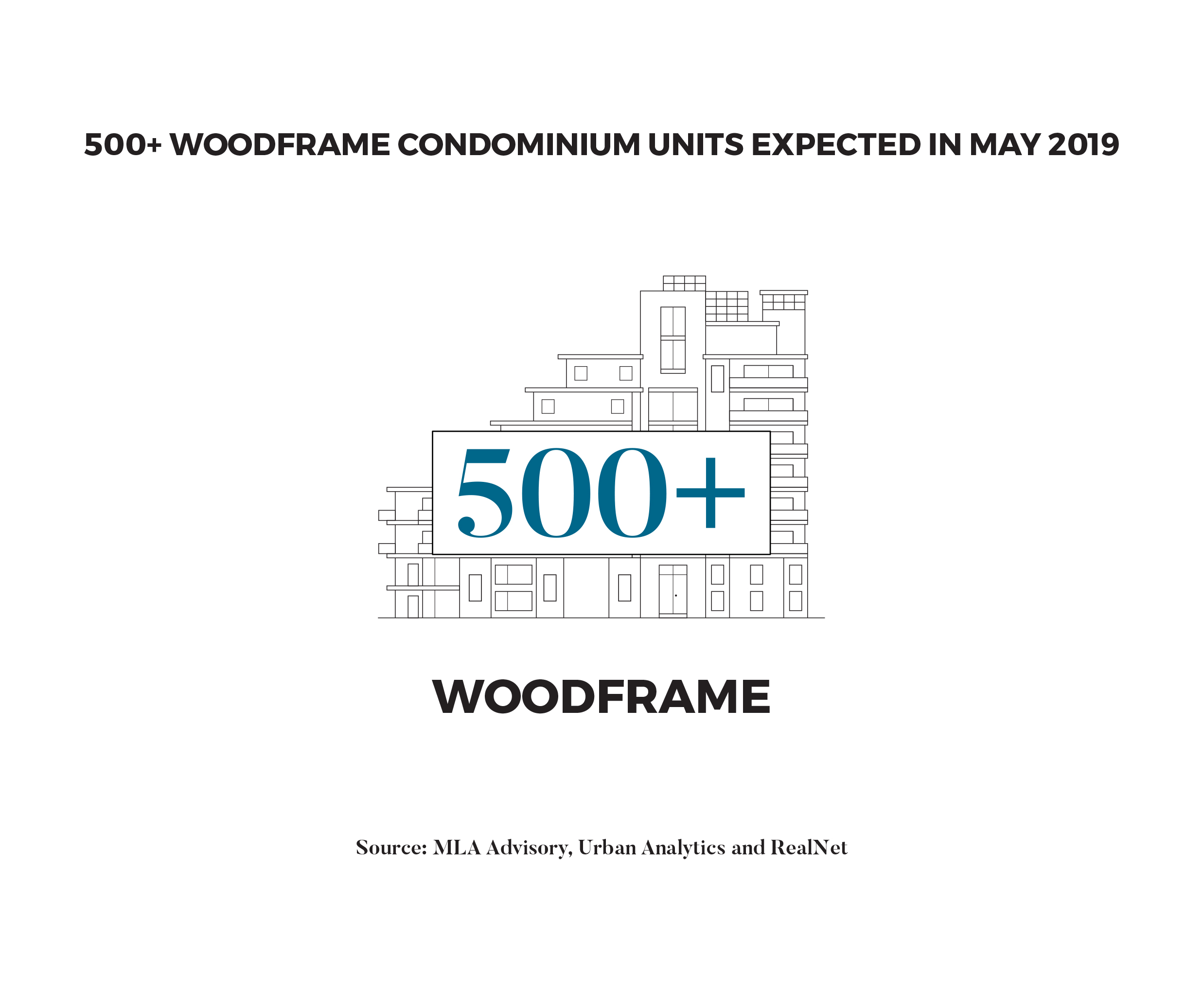 ENTRY LEVEL PRODUCT CONTINUES TO ATTRACT END-USERS AND STRONG INTEREST
From January to April 2019, over 500 units of woodframe condominiums have been released in more affordable markets such as West Coquitlam and New Westminster, along with an additional 542 anticipated for May. As predicted in the 2019 MLA Advisory Market Intel Report, current market conditions have allowed for a shift to end-users becoming more prevalent with greater purchasing power. As more projects offer purchaser incentives such as lower deposit structures and decorating allowances, it is becoming more favourable for end-users to purchase homes this year. For example, Kira by Woodbridge Homes in West Coquitlam is offering purchasers a 10 per cent deposit, which has been very well received by all buyers, along with spacious floorplan and close proximity to transit lines.   
FRASER VALLEY ANTICIPATED TO SEE OVER 350 WOODFRAME HOMES THIS MAY
The Fraser Valley is slated to bring over 350 homes to market over the upcoming month. In total, we are anticipating 542 woodframe units, 18 concrete units and 143 townhomes to come to market in May. There will likely be no new high-rise tower launches this May as developers choose to postpone to the busier fall season. This is not dissimilar to the previous year, which saw only one concrete high-rise launch in May 2018. MLA Advisory forecasts 5,000 less concrete units will come to market over the course of the year than originally predicted, given the effects of heavy government interventions and municipal regulations. This shortage in our housing stock will greatly impact affordability in the years to come.