July 2022 Pre-Sale Real Estate Market Insights
THIS EPISODE IS NOW AVAILABLE IN AUDIO
Listen on your favourite audio streaming platform: Apple, Spotify, Amazon Music, iHeart Radio
"Not surprisingly we are seeing a similar decline in same-month sales absorptions in presale as experienced in resale. This is due in part to an ongoing slide in consumer confidence given economic conditions along with many buyers being on vacation. Many developers are holding new project releases for the Fall 2022 or Spring 2023 markets further restricting supply so savvy investors are purchasing presale homes now."  
– Suzana Goncalves, EVP, Sales and Marketing; Partner, MLA Canada 
RISING TEMPERATURES, DECREASING SALES  
Eight programs launched in July, bringing 1,354 units to market. Same-month absorptions were 22% (304), falling from the 32% average seen over the previous three months. July experienced a seasonal slowdown, typical of the summer months. At a time of heightened economic uncertainty and shifting momentum, buyers have moved their attention away from real estate and towards travel, leisure, and making the most of our remaining good weather. It has been interesting to follow buyer behaviour over the last 18 months. When supply is constrained, and prices rise, activity remains heightened even during seasonally slow periods as people rush to enter the market. Now, as supply-demand metrics have softened and there is an increasing opportunity for buyers to find deals in the market, we are seeing increased hesitancy and slow demand.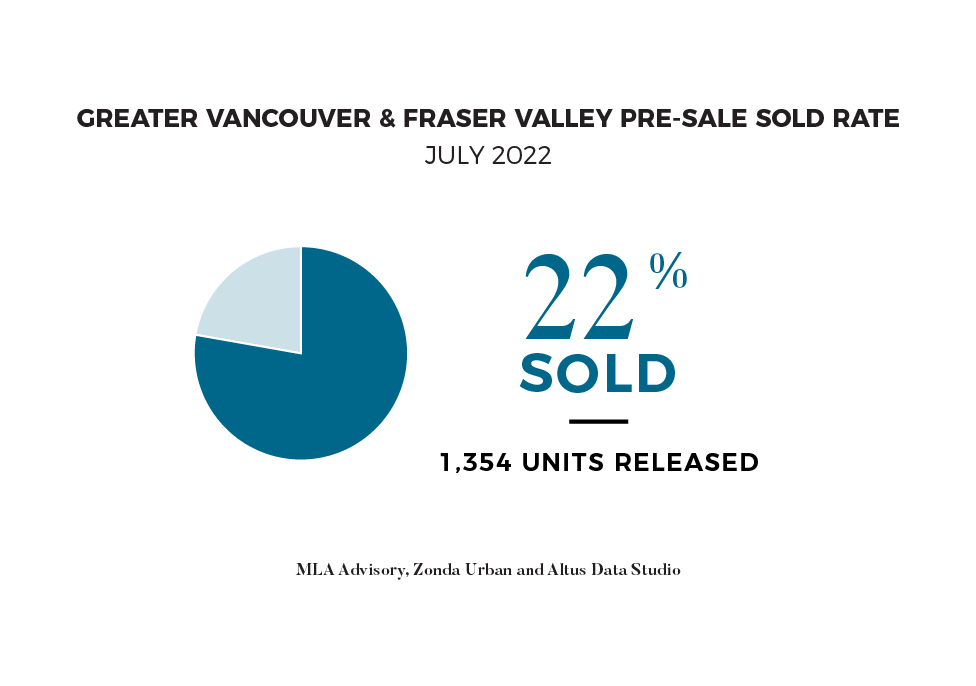 TIMING THE MARKET: WHEN IS THE RIGHT TIME TO BUY? 
Whether it is real estate, the stock market, or any investment vehicle, history shows that time in the market, rather than the timing of the market, is the single greatest natural advantage an investor has. Today many potential homebuyers are on the fence and are hoping for a clear sign of what direction the real estate market will take. It is not the first time we have faced market uncertainty; the financial crisis in 08' and increased government intervention in 2018 similarly had buyers reluctant to enter the market. However, when analyzing the last 14 years, we learn that prices have, at their worst, returned to their previous high within a three-year period. While it seems significant, it is below the average time for presale products to complete. It gives assurance that prices buyers are locking in today will be consistent with market pricing when the product completes three to four years later. 
PRESALE LAUNCH ACTIVITY TO SLOW BEFORE INCREASING IN THE FALL 
Seven presale programs are forecasted to launch in August, bringing approximately 875 units to market. As a result, MLA Advisory expects same-month absorptions in August and September to be consistent with what we saw in July – around 20-25%, before increasing to approximately 30-35% in October.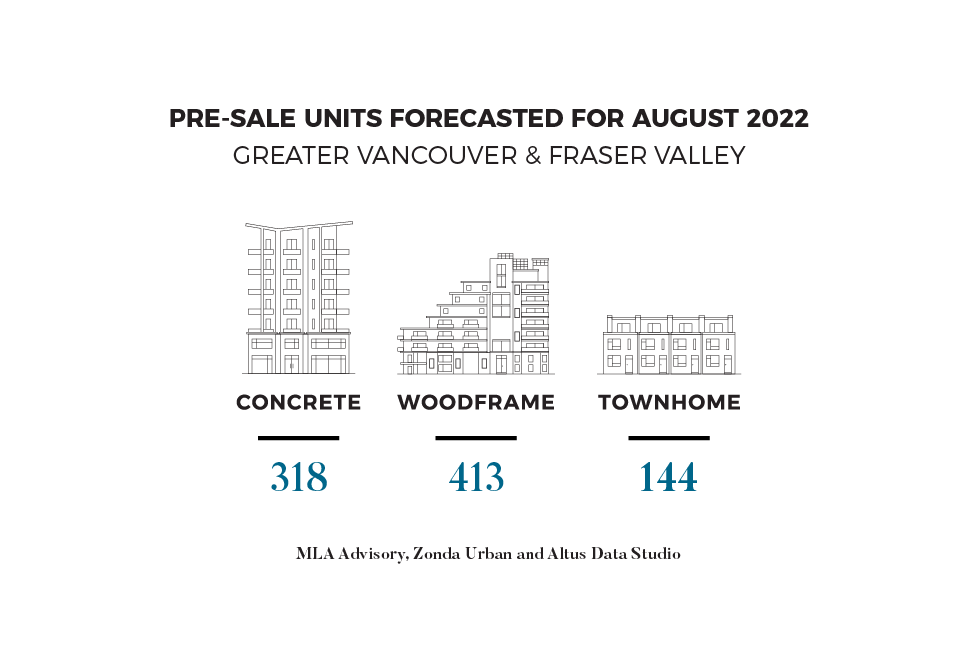 We want to hear from you! If you have a real estate question that you'd like us to talk about in our next Pre-sale Pulse, submit your questions to us.