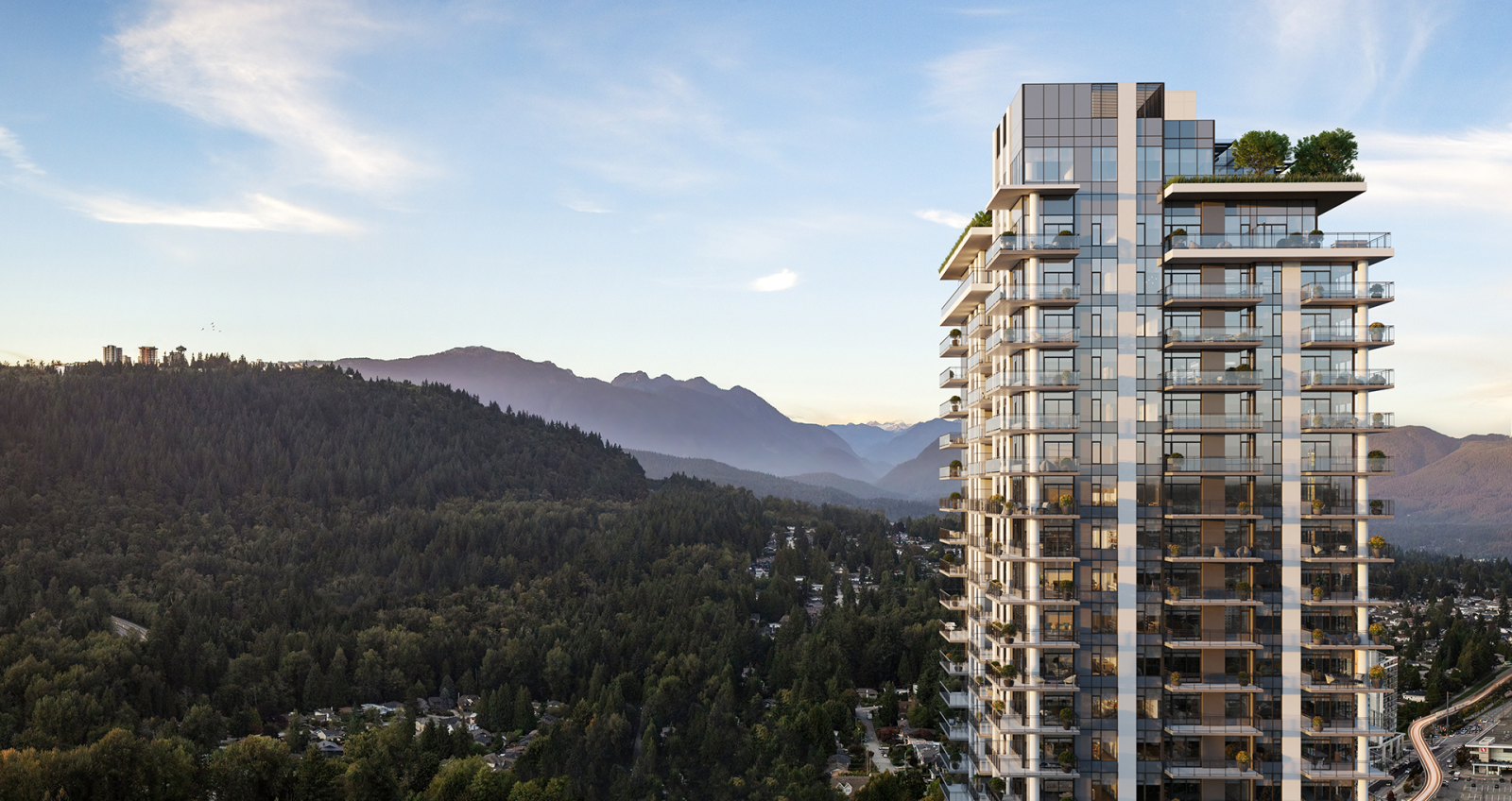 At MLA Canada, 2022 was filled with exciting projects and accompanying wins. Looking through the lens of this challenging year, we are particularly proud of the great projects and milestones achieved. As valuable as it is to look forward, it's also important to reflect on and celebrate the successes of the year prior. Here we celebrate the developments we partnered on in 2022 and their market impact.
Alina by Strand
Alina, built by developer Strand, is located in the Oakdale neighbourhood in West Coquitlam. An urban haven planned for serenity, Alina has one, two, and three-bedroom homes within walking distance of the Burquitlam SkyTrain station. Alina is the first of a trio of towers being introduced to the area by Strand, bringing over 1,600 units to the thriving community. A beautiful and serene building complete with indoor and outdoor rooftop amenities, it's no surprise that since breaking ground on October 27th, over 65% of units are already sold.
Frame by Coromandel and Peterson
Frame, a shared project between Coromandel Properties and Peterson Group, is a two-10-storey concrete condominium development. Conveniently located right at the high-energy corner of Kingsway and Earles Street, the building's design makes a bold architectural statement. Frame is situated in Vancouver's most connected urban centre, 10 minutes from everything like the SkyTrain, Metrotown and Trout Lake. Functional, modern layouts offer one, two, and three-bedroom homes. Many of the 217 total units offer an unexpected wealth of views of Downtown Vancouver, the North Shore mountains and Metrotown. 
O2 Metrotown by Keltic
Keltic's O2 Metrotown development is a 32-storey luxury concrete building in Burnaby's most connected urban centre at 6620 Sussex Avenue. The project emphasizes physical and mental well-being, and Keltic engineered the property with evidence-based building techniques to tangibly improve homeowners' health and well-being. With 285 studio to three-bedroom units, O2 has over 7,200 square feet of indoor and outdoor amenity space that challenges the status quo of urban living to improve the health of its residents. To date, over 150 homes within the development have been sold.
Florin by Allaire Living and Circadian Group
Allaire Living and The Circadian Group came together in West Coquitlam in a successful partnership that created Florin. The project is an innovative community of 179 units made up of condos, townhomes, and heritage homes on Rochester Avenue. With homes ranging from functional studios to three-bedroom penthouses with expansive patios, and a location close to the best local parks, restaurants and shopping, including Lougheed Town Centre, it's no wonder we've already sold out of 80% of Phase One's inventory.
Boden by Listraor
Boden is an evolved collection of garden-access townhomes conveniently positioned at the corner of Oak & 52nd in Vancouver. Built by Listraor, each of the 35 courtyard-level homes has a private parkade entrance and the benefit of knowing no other homes are stacked above or below. Set in the natural beauty of the west side in a developing Oakridge neighbourhood, the units range from two to three and a half bedrooms.
Hollywood 
Within only a couple of months from the launch of Hollywood, all but two homes are leased out in this rental development in the heart of Kitsilano at 3137 West Broadway. Tenants are now residing in the building, featuring 40 homes influenced by the culture of the community it's placed within. A concrete building, Hollywood is a boutique collection of studio, one-bedroom, one-bedroom and den, two-bedroom, two-bedroom and den, and three-bedroom homes.
PURA by Adera
Located in Surrey Central West, PURA by Adera is Surrey City Centre's first Mass Timber community. Built with Adera's proprietary SmartWood®, PURA balances stylish, sophisticated design aesthetics and superior acoustics with high-performing, sustainable and innovative Mass Timber construction technologies. Standing at six storeys tall, the building has 136 units of one to two-plus den bedroom homes—of which over 100 are already sold with premium pricing.
Baycrest West by Woodbridge Homes
Set at the base of Burke Mountain, Baycrest West is a collection of 24 two- to four-bedroom townhomes designed with liveability and balance in mind. Built by Woodbridge Homes, Baycrest West is an urban community in a mountainside setting. Townhomes stand at three storeys tall, with fenced backyards that open onto greenspace. A village hub is in the works for Burke Mountain, bringing desired amenities and everyday essentials that are much closer.
Pacific House by The Lexi Development Group
The first of its kind, Pacific House at 899 Esquimalt is an impressive collection of 66 one, two, and three-bedroom concrete view homes in Esquimalt, BC. Development by The Lexi Development Group, Pacific House rises nine concrete storeys high at the corner of Head Street and Esquimalt Road with endless ocean views, Inner Harbour, and the Olympic Mountains. A combination of both condo and townhome product, the building sits only two blocks from the ocean and is a quick 10-minute bike ride from Downtown Victoria.
Category
Real Estate News
Recent Posts