December Real Estate Market Data & Insights
"Unsurprisingly the presale market was focused on current inventory over releasing new product which will be pushed into the New Year. Presale sales remained strong through the month regardless of the holiday break similar to the resale market which saw reduced inventory but steady sales." Suzana Goncalves EVP, SALES AND MARKETING; PARTNER, MLA CANADA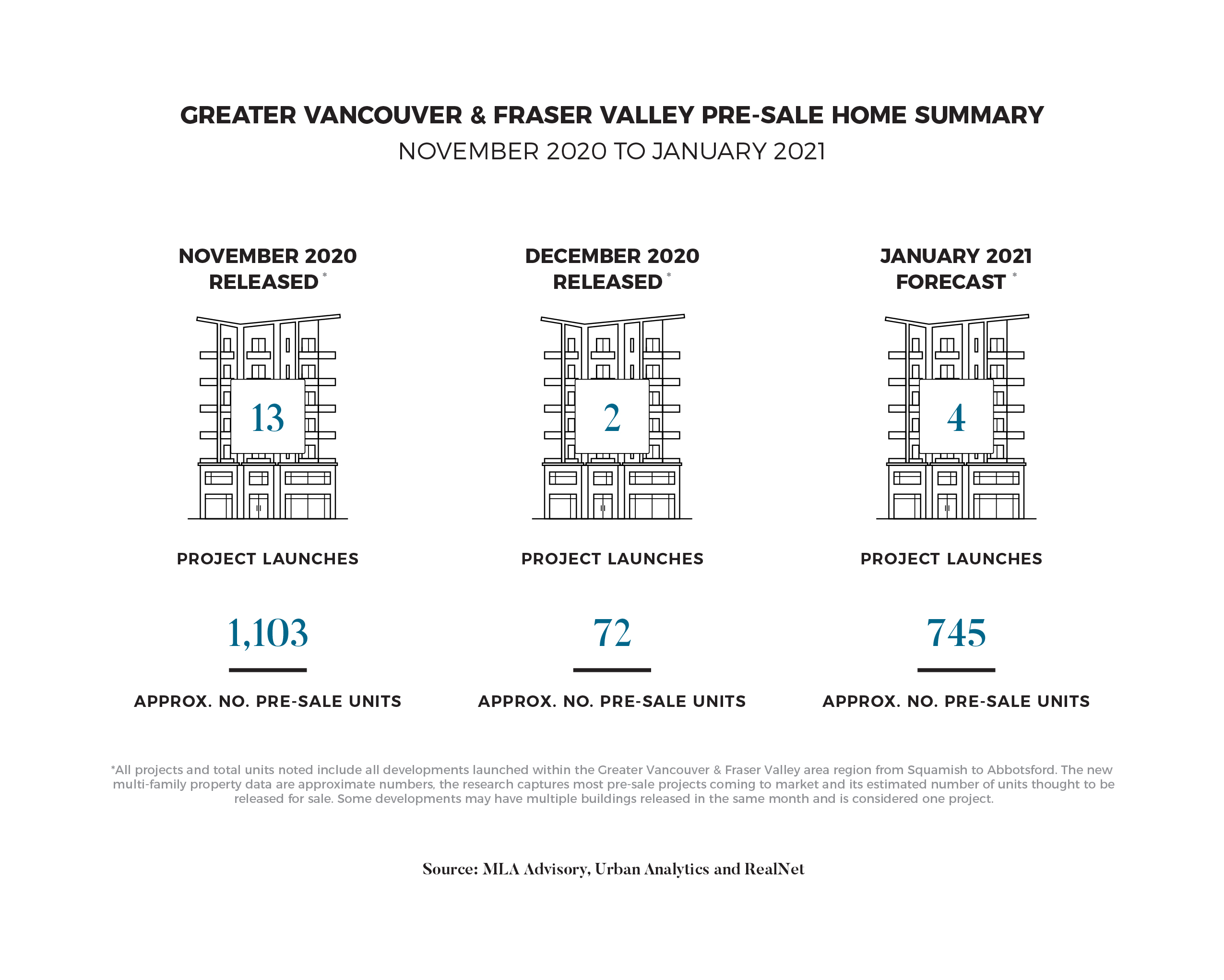 RECORD BREAKING RESALE MARKET ACTIVITY IN DECEMBER 
As expected, there was minimal presale launch activity in December. Only two presale projects began sales in December; these two projects include 72 total units (18 townhome and 54 wood frame condominium). Of the released units, only 2 sales occurred, marking a 3% same-month sales rate. This reduced presale activity is typical of December as the holiday season interferes with developer's ability to actively market and sell new programs. Despite seasonally reduced activity at year end, the momentum in the resale market continued as monthly sales records were set in both Greater Vancouver and the Fraser Valley. In Greater Vancouver, December sales (3,093) were 57.7% above the 10-year December sales average. Similarly, December sales in the Fraser Valley (2,086) were 81.2% above the 10-year December sales average. December 2020 marks the sixth consecutive month of over 5,000 sales in both regions combined and the first time a December total has surpassed 5,000 monthly sales.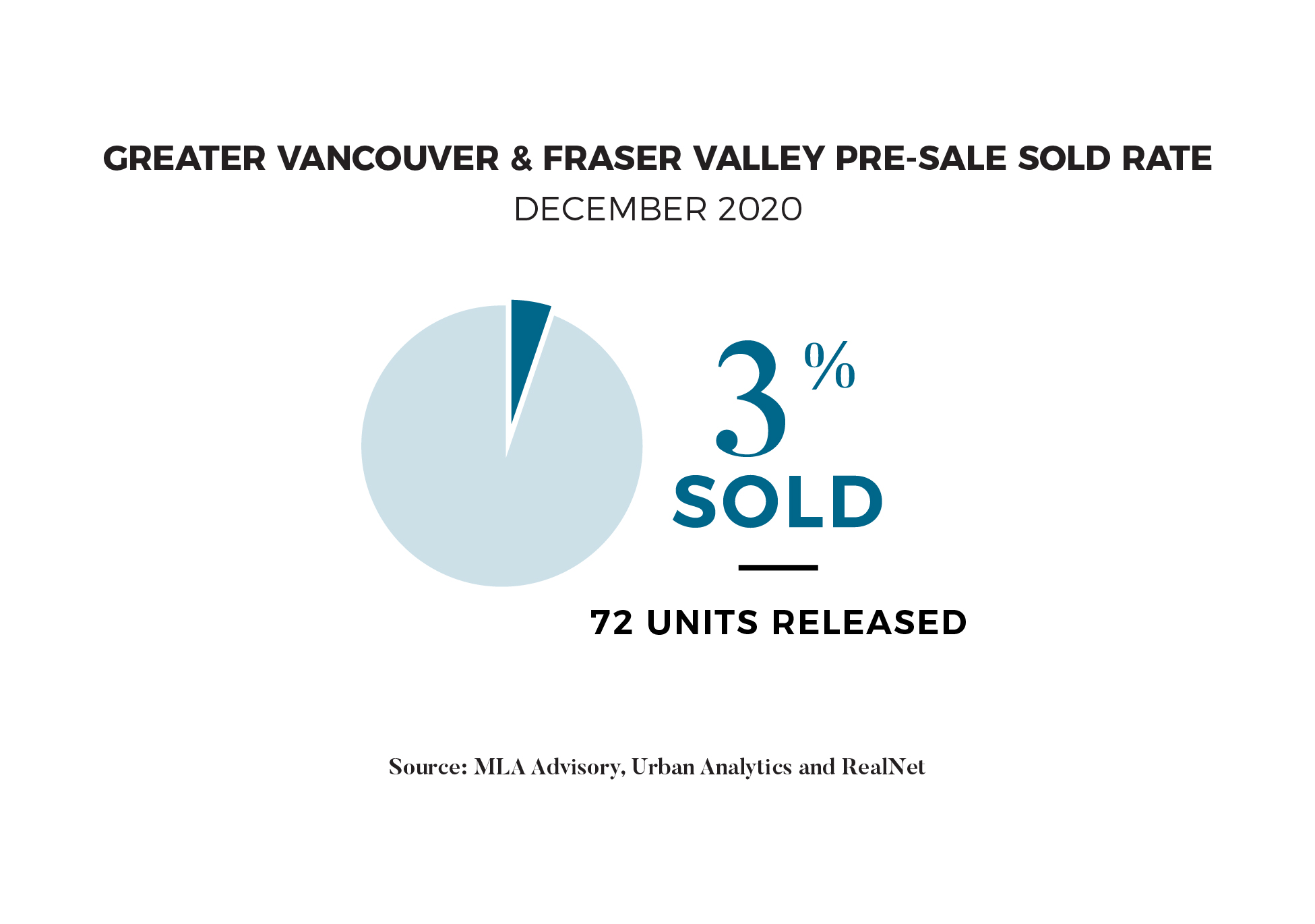 OVER 100 PRESALE PROJECT LAUNCHES IN 2020    
There were 110 new condominium and townhome presale projects that launched sales in 2020. Broken down by product type there were 19 concrete condominium, 24 wood frame condominium, and 64 townhome projects that began sales in 2020. These projects include approximately 7,500 units released to market with an additional 3,500 units contained in future phases. Comparatively, presale activity in 2020 was very similar to 2019, when 110 new presale projects were released that included approximately 10,000 units. Considering the substantial impacts of Covid-19, 2020 was a very successful year for the presale market. The industry was able to aptly adjust the selling and prospecting process to accommodate social distancing and limits on group gatherings.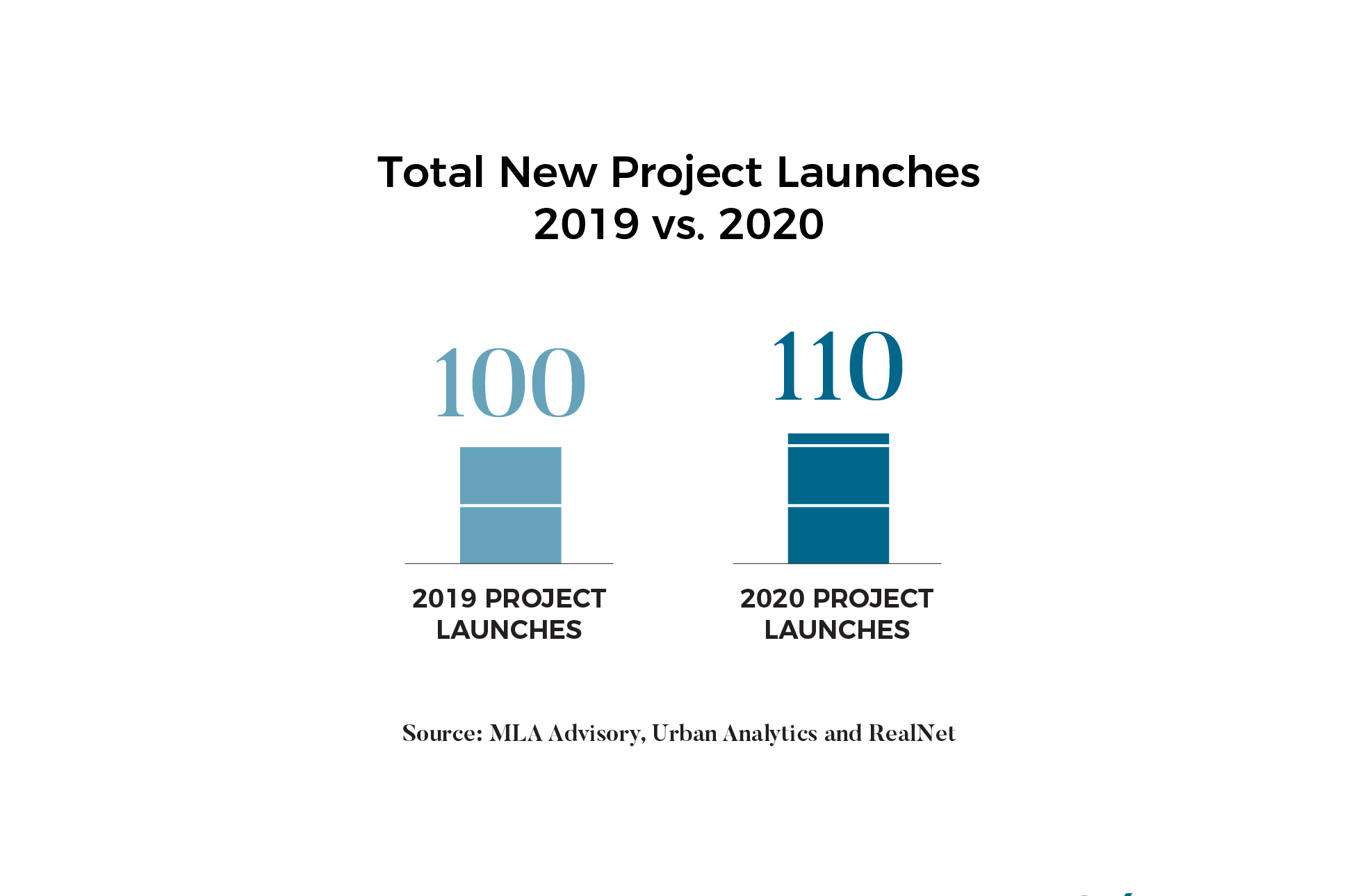 MODERATE PRESALE ACTIVITY ANTICIPATED FOR JANUARY
January, much like December, is typically quieter in the presale market as consumers head back to work coming out of the holiday season. For many developers, January is spent prospecting and preparing for the busy Spring market. With this in mind, MLA Advisory forecasts that there will be four presale projects that will launch sales in January; these projects will release approximately 661 concrete condominium units, 69 wood frame condominium units, and 15 townhome units to market. Included in these upcoming launches is the first residential building in Langley constructed with Cross Laminated Timber (CLT). CLT construction provides a more sustainable build and superior acoustic and fire proofing compared to other forms of construction. Because the CLT panels are prefabricated, the framing process is also quicker and more efficient.