"Sales volumes remain low overall and consumers need additional time to adapt to the new reality as we re-open the economy. However, we are cautiously optimistic as we see positive trends in inquiries into our Presentation Centres and increased sales from last month in presale." Suzana Goncalves EVP, SALES AND MARKETING; PARTNER, MLA CANADA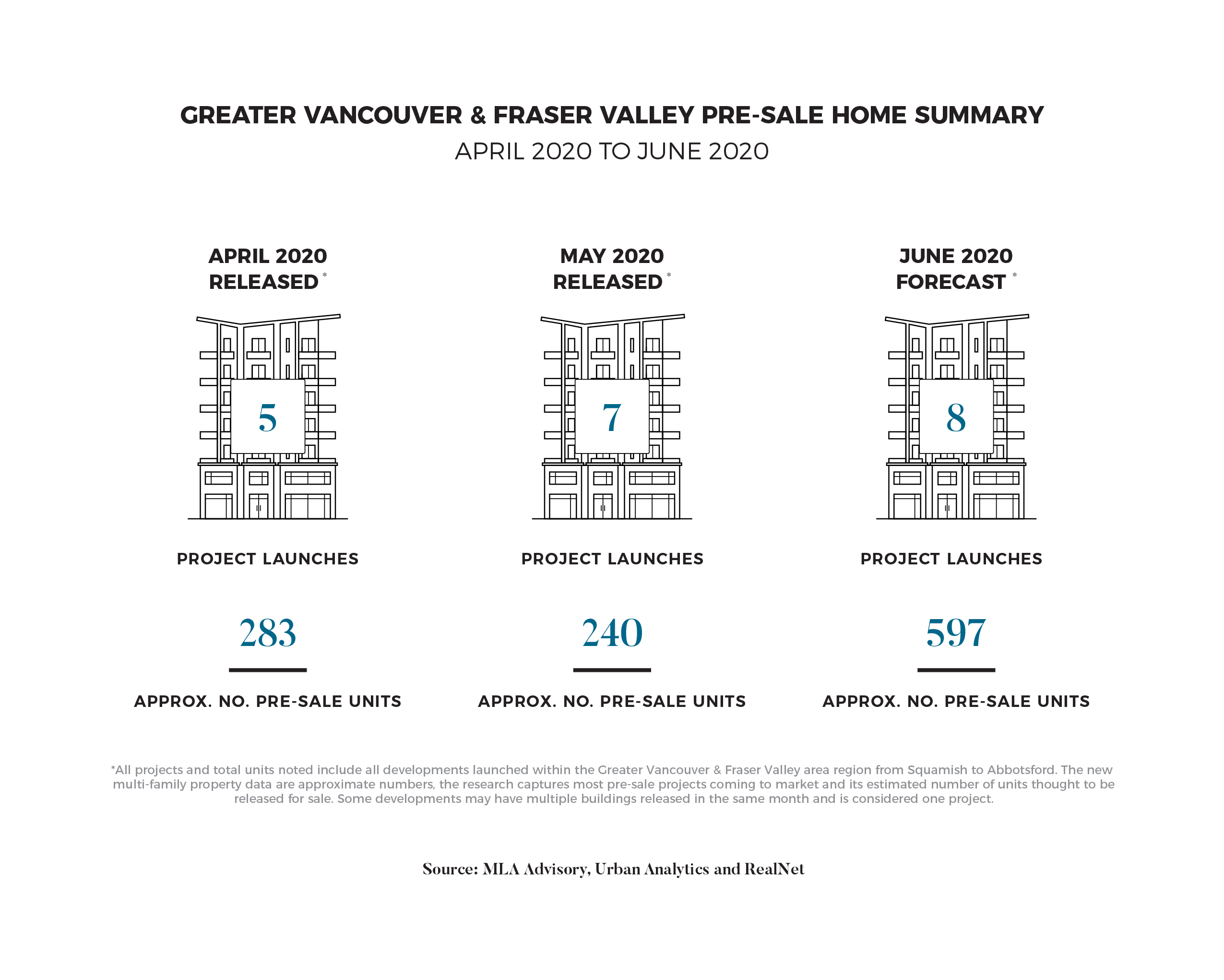 PRE-SALE MARKET FUELLED BY TOWNHOME LAUNCHES 
On May 15th, British Columbia entered into phase two of the Provincial Restart Plan. Accordingly, the majority of presentation centres expanded appointments and began offering regular drop-in hours to entice motivated purchasers. Despite this, many projects continue to experience depressed activity as economic, social, and financial uncertainty persist. Similarly to April, projects that found success in May were largely townhome projects, mostly located in the Fraser Valley; specific areas with high levels of sales activity were Langley and South Surrey. With tighter completion timelines (less completion risk) and end-user focused product, townhome developments have proven attractive to families that have a genuine need for housing. In May, there were seven total pre-sale project launches that released 240 townhome units to market. While typical monthly pre-sale sold rates vary between 20% - 35%, May was significantly impacted by Covid-19 and experienced a pre-sale sold rate of only 10.0%.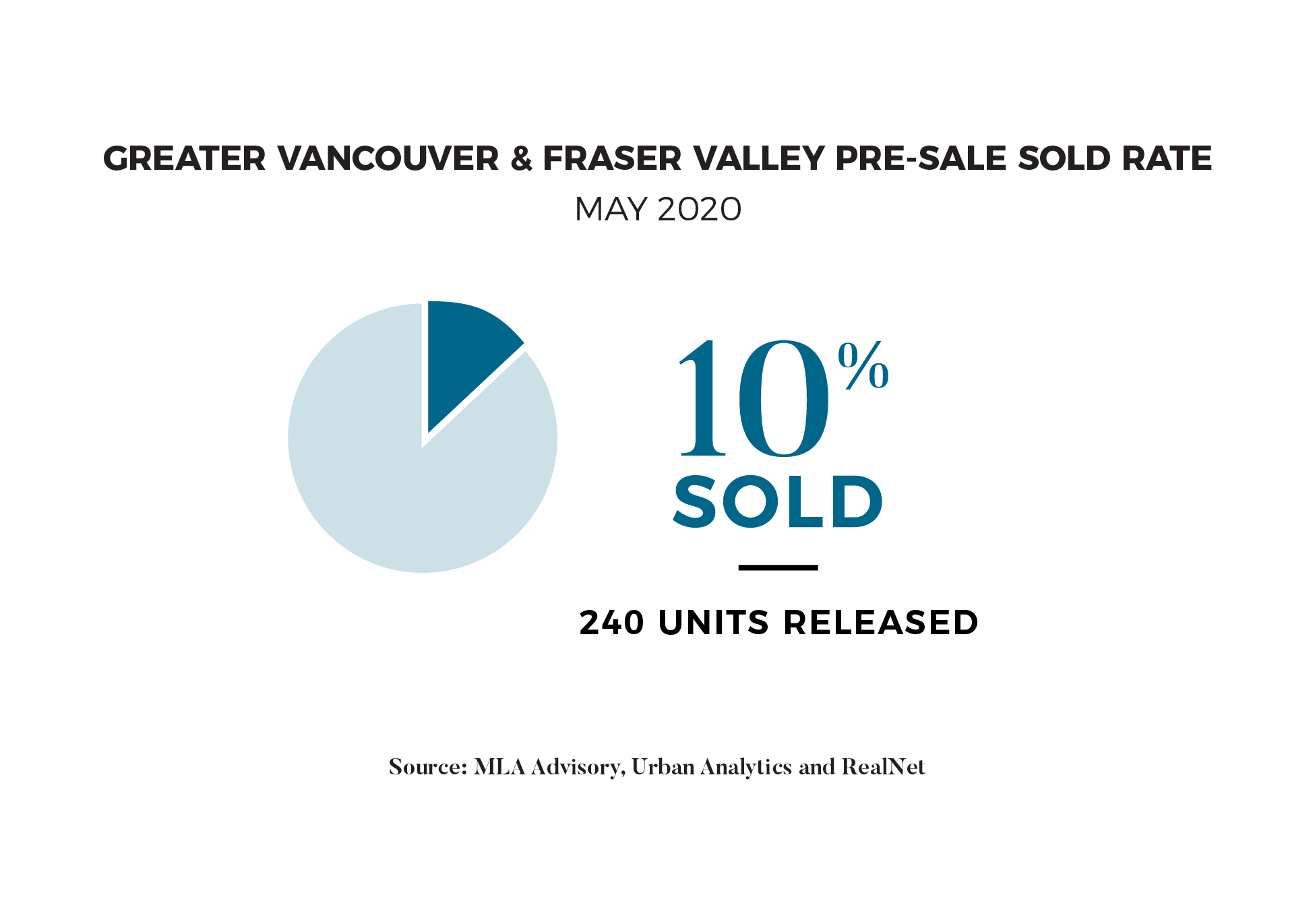 A BRIGHT LIGHT AND MORE TECHNOLOGY
Although sales volumes have been significantly affected and traffic numbers in presentation centres are still low, there have been some bright lights in the market. As previously indicated, townhomes continue to be the top performing product, however there are sales happening across all product types, particularly at entry level price segments (including sales with multiple offers). Additionally, we saw the first concrete tower release since Covid with The Sentinel in West Vancouver by Denna Homes. An MLA Canada project, over 50 homes have sold in three weeks as buyers recognize the rarity of a West Vancouver address with stunning views and beautiful product. More standard highrise offerings will wait for improved consumer confidence but it is encouraging to see that well conceived and unique product is seeing success. On another note, last month we shared that technology was going to continue to impact our industry. Virtual Realtor Events are now reshaping sales programs with several scheduled in the next few weeks. The success of these events remain to be seen but we expect to see more creativity and adaptations to sales processes as we progress into the summer.  
MORE PROJECT LAUNCHES AS THE SUMMER APPROACHES 
The abrupt cancellation of events, mandated social distancing, and disruption to personal routines have sidelined many purchasers, but as we further adapt to phase two of services opening there are considerable projects that are eager to launch sales and take advantage of improving conditions. However, this excitement is tempered by the need for a rebound in consumer confidence and sales volumes still being relatively low when we compare to pre-Covid sales volumes. Ground orientated projects such as townhomes will continue to perform the best in the short term with larger projects looking to the Fall for possible release dates.  MLA Advisory forecasts that eight pre-sale projects will launch sales in June; these projects will bring approximately 479 townhome units and 118 wood frame condominium units to market. These upcoming projects are scattered across the lower mainland and serve as evidence that market activity is increasing despite the high level of uncertainty.