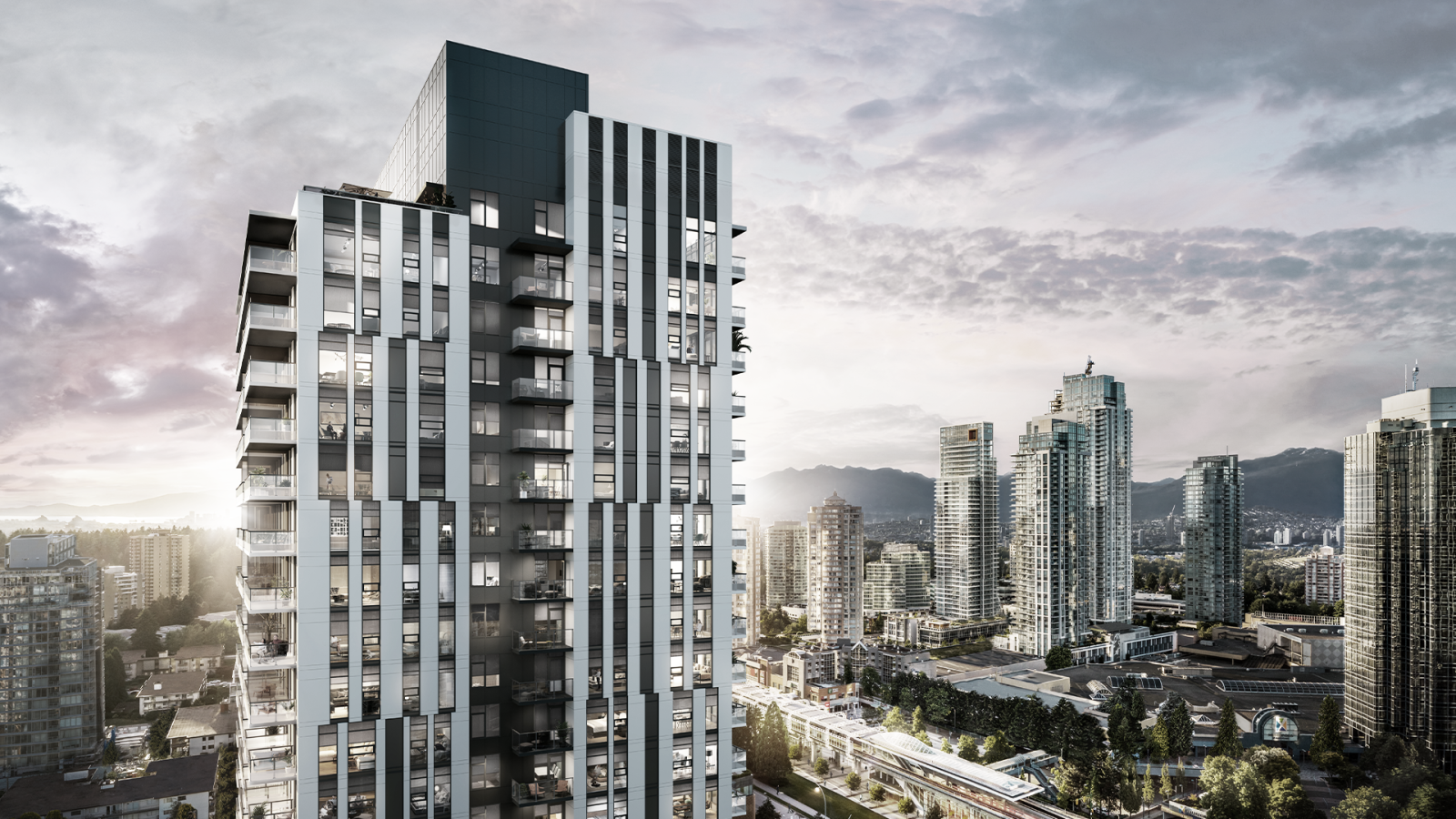 "Sales momentum carried into April and remained strong through the month. We have noted elevated foot traffic to our presentation centres and increasing inquiry into our upcoming programs as well. We expect May to likely exceed April sales numbers as we hit the heart of the spring market and buyers come to terms with current interest rates and a long-term favourable outlook." Suzana Goncalves EVP, Sales and Marketing; Partner, MLA Canada
SNOWBALLING – WHY RISING DEMAND FOR REAL ESTATE TENDS TO COMPOUND ON ITSELF  
In a way, demand for real estate compounds on itself; motivated buyers beget more motivated buyers. We saw this as early as December, increasing as we entered the Spring market. Even in the winter, those active in the resale market have faced systemically low supply, which led to busy open houses and increased instances of multiple offers for well positioned product. Unlike commercial real estate, residential real estate is driven by emotions and the feeling of the day. This sentiment has rebounded prices and brought further attention to the market.  
The changing consumer sentiment has also bled into the presale market, where we saw robust sales activity over Q1. The Bank of Canada's decision to hold interest rates and headlines of inflation normalizing by the end of this year has further fueled demand for presale products within our market.  
Seven presale projects launched across Metro Vancouver in April, bringing 915 units to market and achieving same-month absorptions of 33%. Last month's performance represented a strong start to the Spring market, with demand showing no signs of slowing down.  
As the real estate market evolves, emotions and consumer sentiment will play a significant role in driving demand. And with interest rates remaining low and institutional lenders forecasting further declines, we expect the presale market to remain robust in the months ahead.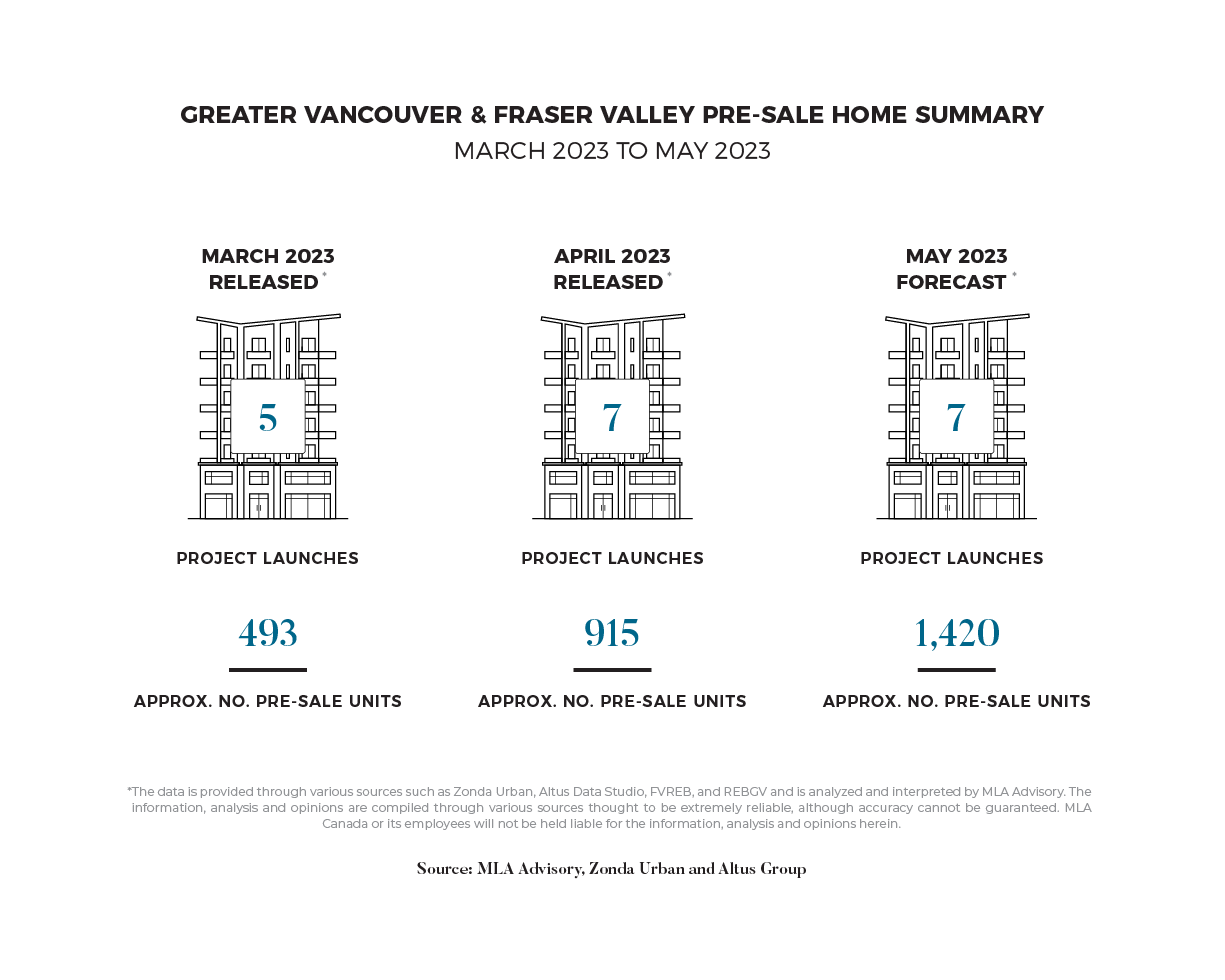 INCREASING DEVELOPMENT CHARGES HURT HOMEBUYERS  
Development fees in Vancouver have been steadily increasing, making it more difficult for developers to build affordable housing. According to a Canadian Home Builders' Association report, Vancouver's development fees are significantly higher than the Canadian average. These high fees can make it challenging for developers to keep the cost of housing down in the city. Recently, Metro Vancouver has proposed changes to development fees that would increase costs even further. These changes include increasing fees for water and sewer connections and requiring developers to include a higher percentage of affordable housing in their projects. These proposals are a cause for concern from developers who argue that it will only increase the cost of building and, ultimately, make it even harder to provide affordable housing in the city.   
To put these rising development fees into perspective, a previous analysis of mid-rise buildings in Vancouver we did revealed that municipal fees can account for as much as 12-15% of a condominium's price. Development fees significantly impact the overall cost of housing in the city, which can exacerbate the already high cost of living for residents. While the need for affordable housing is critical, developers face rising costs in construction materials, labour and development fees, which may reduce the supply of new housing. It is essential to strike a balance between development fees and affordable housing goals to ensure that Vancouver remains a vibrant and livable city for all its residents.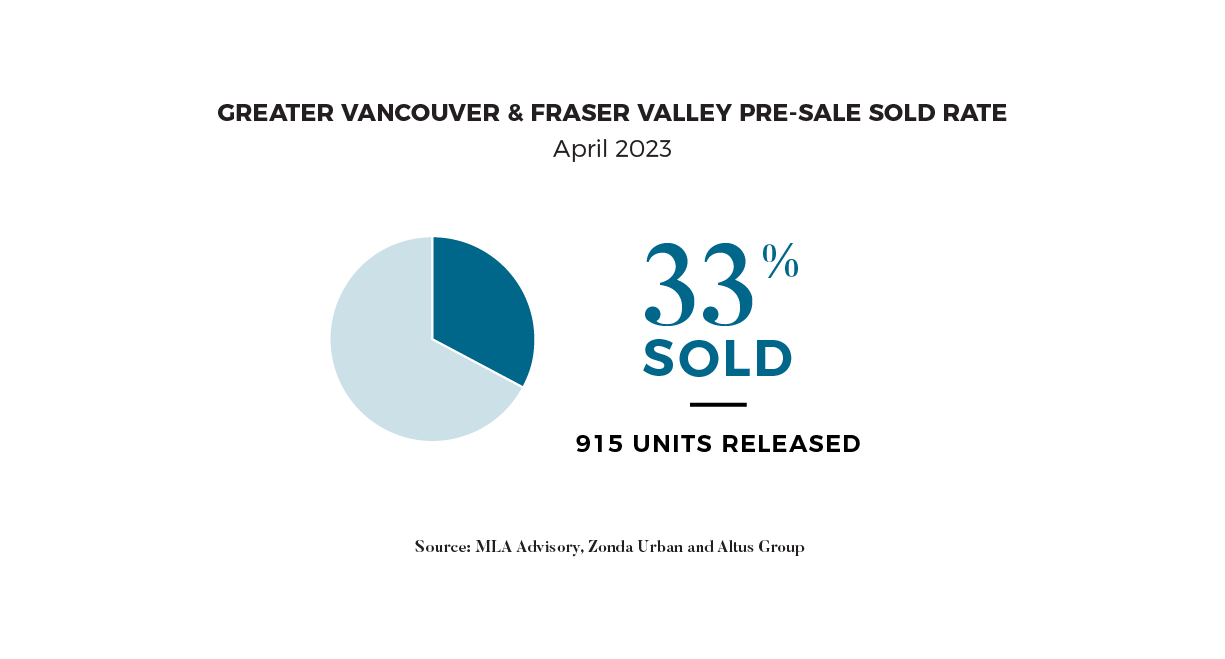 CONSISTENCY IS KING   
In May, we expect to see seven presale projects launched, bringing a total of 1,420 units to the market. Most of these releases will be concrete programs such as Sequoia by ML Emporio in Surrey City Centre and the first tower in Intracorp's Gardena development, branded as 'Lotus' in West Coquitlam. Additionally, Bailey by Streetside will be the latest launch in Vancouver West on E33rd Ave, just east of Queen Elizabeth Park. Sales for this program are scheduled to begin in early May.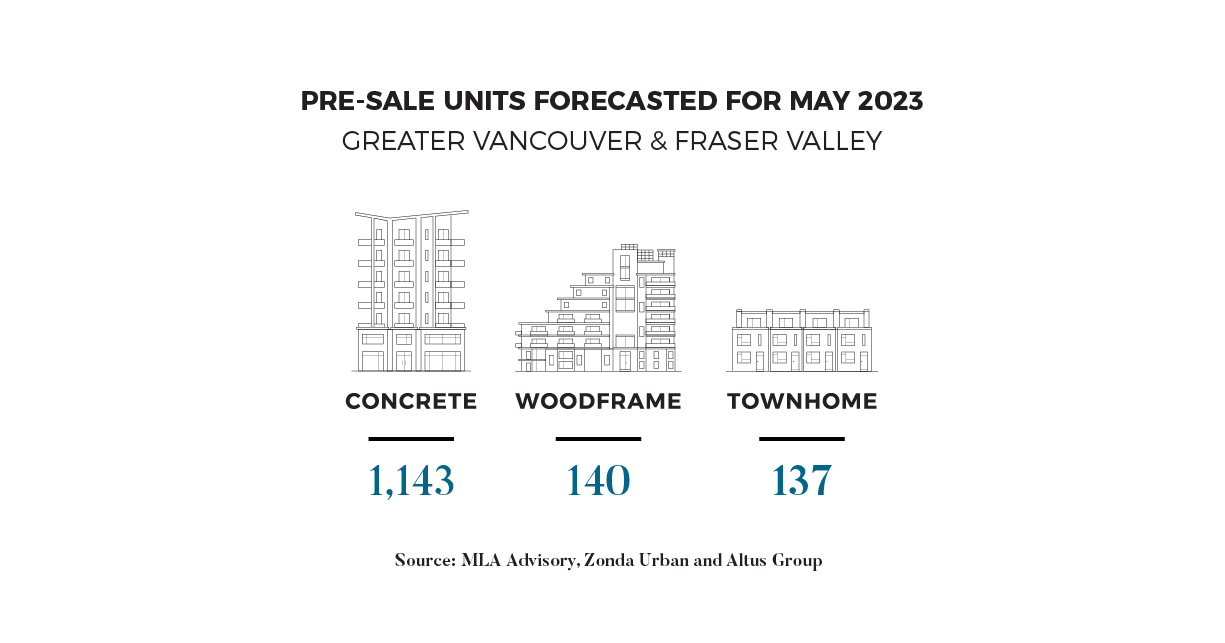 Coming soon! Stay tuned for our fully comprehensive overview of the macroeconomics, pre-sale, and resale market video report, Pre-Sale Pulse.

Subscribe to the MLA Canada YouTube Channel or find the Pre-Sale Pulse on your favourite audio streaming platform: Apple, Spotify, Amazon Music, iHeart Radio