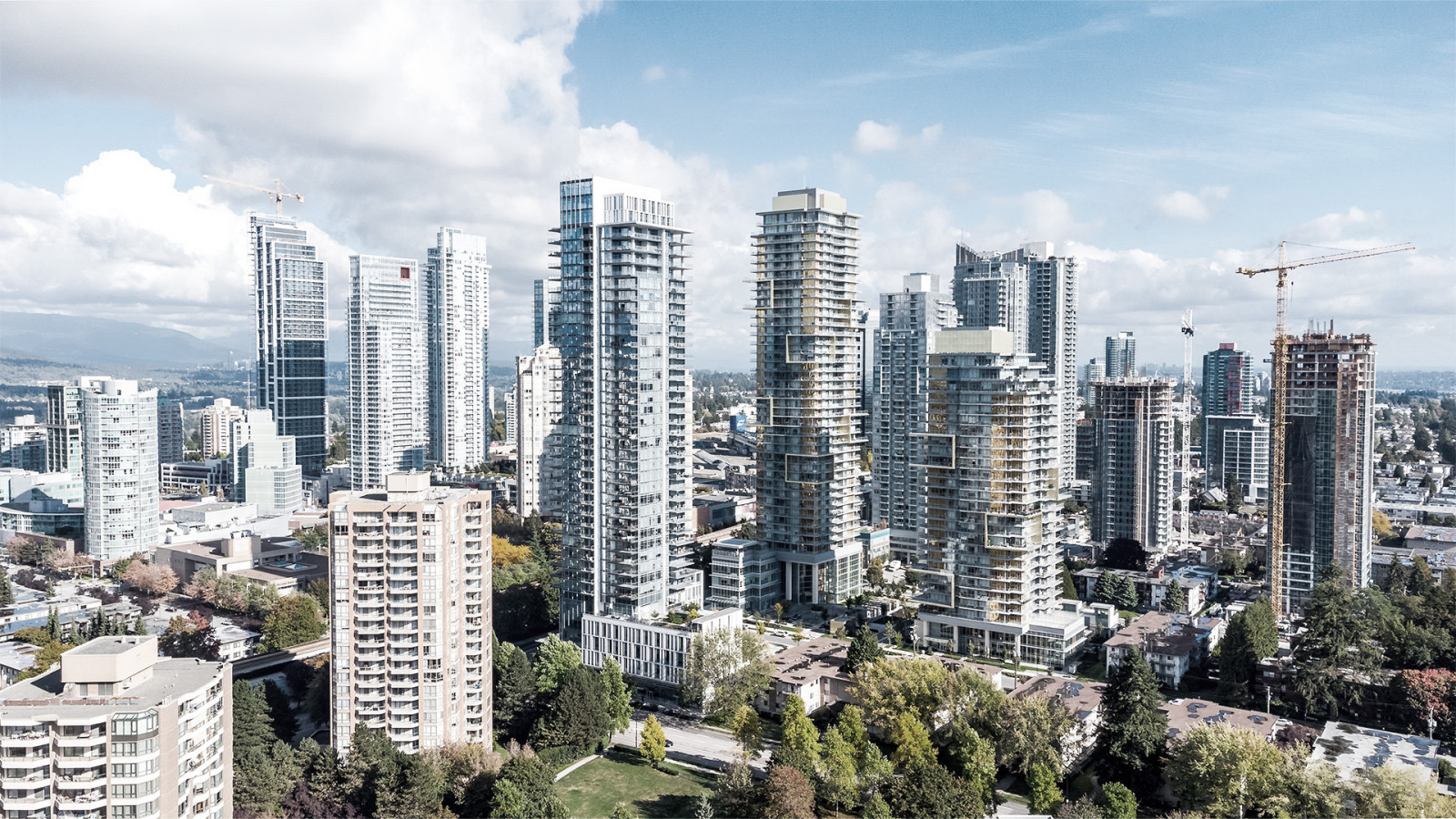 Located in the heart of South Burnaby, Metrotown is a vibrant and diverse community experiencing continued economic expansion and growth. One of Burnaby's most sought-after neighbourhoods, Metrotown offers exceptional housing, efficient transit opportunities, and some of BC's best entertainment and shopping.  
Metrotown continues to be a hot spot for local and international developers, and in just Q1 alone, the City of Burnaby issued $135.7 million in building permits, with commercial construction projects accounting for 38%. With 94 residential and commercial projects being added to the already-dynamic Burnaby skyline, the region shows no sign of slowing down.  
Residential living 
According to the City of Burnaby's Metrotown Community Plan, which aims to turn Metrotown into Burnaby's downtown core over the next 100 years, they expect to see 125,000 new people in the city by 2041. This would bring the overall population up to 345,000 people. With Burnaby being one of the fastest growing cities in Canada, the city has added new homes at a faster rate than other regions. As of December 2021, more than 9,600 units of rental housing were in development or awaiting City Council approval. We continue to see the City's response to increased population growth through plans of expansion in housing, transportation, and public space. 
Another residential Metrotown development currently underway is O2 Metrotown by Keltic. Located at 6620 Sussex Avenue next to the Metrotown SkyTrain Station, O2 offers health-inspired residences designed with health and wellness in mind. Homes range from 414 square feet studios to 3-bedroom homes ideal for the modern family. O2 is inspired by the principles of the WELL standard and incorporates features that improve air quality, water purity and overall resident health.   
Public transportation 
Major growth initiatives are underway in the region, and one considerable initiative driving growth and connectivity in the area is the Transport 2050 plan by TransLink. Recently approved, the 2050 plan details the lite transit blueprint for the next 30 years, and aims to expand Greater Vancouver rapid transit by over 300 km. This transit expansion will increase the accessibility of Metrotown, attract a larger population to the area, and act as a catalyst for additional housing opportunities.  
In addition to the approved Transport 2050 plan, city leaders from West Vancouver, North Vancouver, Squamish Nation and Tseil-Waututh Nation are advocating for additional transit to service the localized region. They are advocating for an additional SkyTrain route dubbed North Shore Connects which would run North-South between Metrotown and Brentwood and across the Second Narrows bridge providing access to the North Shore. If approved, North Shore Connects would ease pressures on the already-bustling Metrotown SkyTrain Station and shift 50,000 daily vehicle trips off the Second Narrows bridge.  
Commercial development  
One exceptional amenity is Metropolis at Metrotown, a prominent shopping centre that includes 1.7 million sf of retail space and encompasses over 400 stores and restaurants. Metropolis and other key shopping centres such as Crystal Mall and Station Square draw visitors from across Canada each year. A master plan for Metropolis at Metrotown is also underway. Burnaby City Council and Ivanhoe Cambridge have partnered to develop the existing shopping centre into a masterplan covering 46 acres of land. The plan will transform the hub and will take over a century to be fully implemented.  
In addition, the City of Burnaby recently submitted a proposal for a Metrotown events and convention centre. Valued at $460 million, the convention centre would bring additional employment opportunities to Metrotown and provide a new hub for entertainment.  
Stay tuned for more information on these exciting developments unfolding in Metrotown. The region continues to witness exceptional growth as one of British Columbia's premier communities.