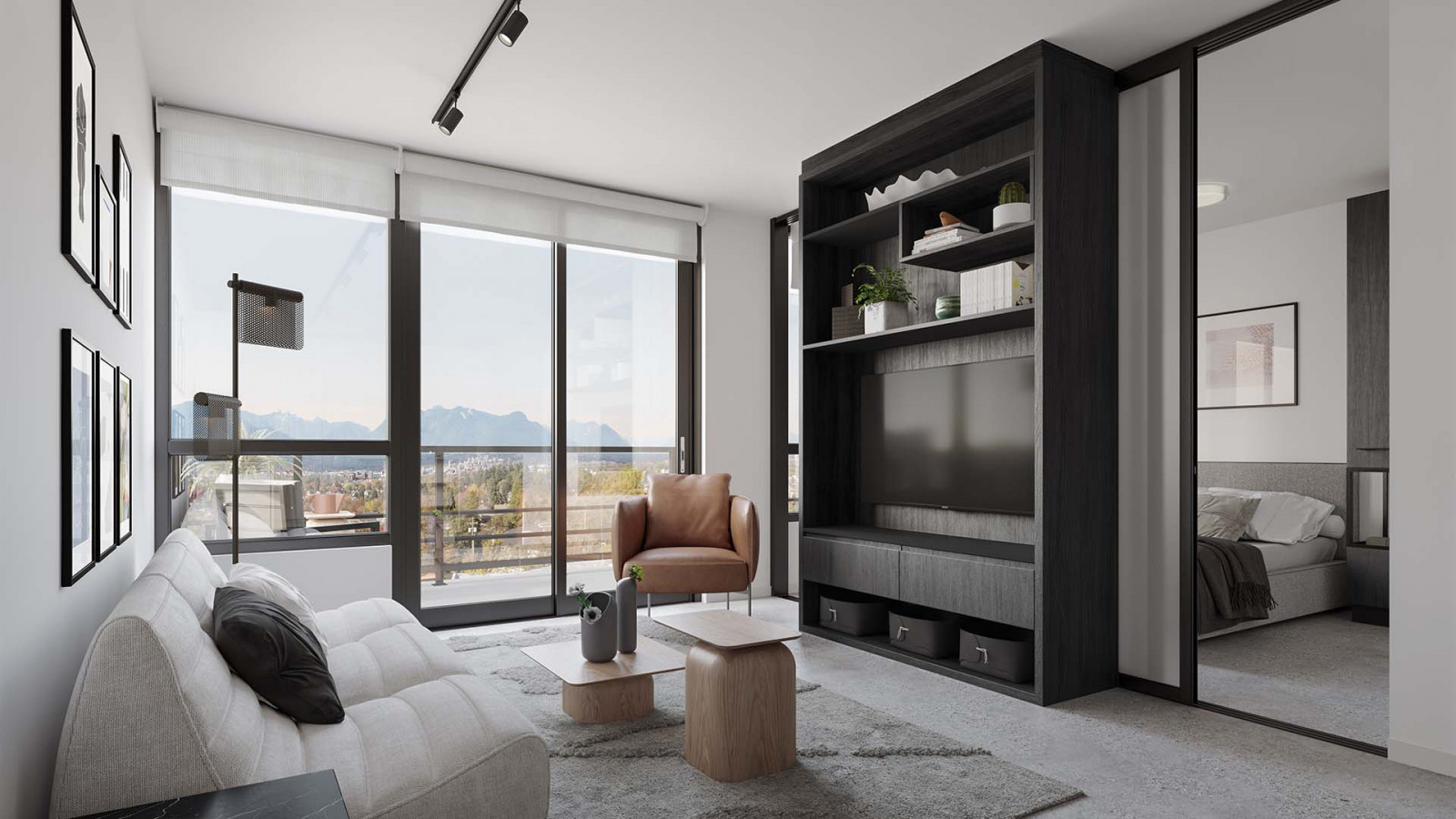 With the continual advancement of technology and the need for thoughtfully designed homes, we've seen more flexibility put in the hands of homebuyers in terms of what they want from their living spaces. In addition, as prices continue to increase, many homebuyers are demanding more utility out of smaller spaces. In condo-living, this means rooms will need to be hard-working and serve multiple purposes. 
The shift is partially due to the need for home offices to accommodate the new work-from-home culture. Design features like built-in desks and Murphy Beds are increasing in popularity. Additionally, flexible floor plans featuring functional elements such as sliding walls to allow spaces like living rooms or open dens to be enclosed when needed are also on the rise. Or the option for sliding balcony doors, nano-doors or a glass balcony enclosure enables the space to be used as an extension of the living and dining rooms. Homebuyers are also looking for homes with more storage solutions, including linen closets, broom closets, pantries, mud-nooks, stroller storage, outdoor equipment storage. With the ever-changing dynamics of homebuyer needs, selections of customization in home finishings and selected furniture to modular storage options are being offered prior to purchasing a pre-sale home. 
What is modular design? 
Modular design, when referring to home interiors, can be defined as systems built from cohesive, loosely coupled components (modules). It creates functionally partitioned spaces or storage solutions that are easy to redesign and reuse, creating flexibility within the room. It is a design approach that subdivides a design system into smaller parts. Nowadays, almost every aspect of interior design can be modularized and efficiently utilized.  
Why is modular design becoming more popular? 
The pandemic has massively increased the time spent at home for work, personal, and family time. As a result, it has led to a new appreciation for our interior spaces' functionality and aesthetics. In addition, with smaller living spaces being more common, the need to most efficiently use or adapt that space is vital, such as a room divider that quickly turns a corner of a living room into a private office. 
MLA President Ryan Lalonde recently interviewed Amit Thale, director of Aeon Group, who had this to say on the topic, "I've always felt spaces are about creating environments that change people's lives. What better time than COVID, where the home has become the most important place for anyone imaginable. It's become a school for kids, an office, a gym, a movie theatre, and a restaurant at night when we order food. I feel more, and more developers and designers will start to see this live-work balance is required in new homes coming forward."  
What are examples of modular design for condos? 
A perfect example of modular condo design is Format, a pre-sale development by Cressey in East Vancouver. When purchasing one of their condos, you have modular options for your entertainment unit, kitchen island, and closet systems. For the kitchen island, you can choose light or dark colouring, as well as your desired amount of seating or storage. You can have it as only storage and counter space if you're happy with your kitchen table for seating. Or you can have seating on one side for two convenient spots for quick meals. If you're skipping a kitchen table, you can choose a social setup that seats four around the island at the cost of storage space. The entertainment unit can also be set up to use as a desk space when needed. The closet system lets you pick from various hanging spaces, drawers, or cubby holes, depending on the closet's location and your needs. Room dividers can conveniently create an office or extra bedroom into an open floorplan.  
The pre-designed modular systems are much more time and cost-effective than having a contractor replace or custom-build these options for you. It can also mean the difference between settling with what's available when buying a new home, or easily creating a living space that better fits your lifestyle. 
What are the benefits of modular design? 
Easier and Faster Customization - While not offering unlimited options, having access to modular design lets you quickly add to or change parts instead of waiting for parts to be custom-built. 
Quality and Confidence - You can be sure these modularly-designed parts have been pre-built to fit with your setup, opposed to the risk of custom-built parts possibly not fitting precisely and needing more work. 
Cost-efficiency - With modular parts already designed, tested, and manufactured at scale, it saves the costs of needing custom work done each time. 
Sustainability - Having pre-made parts manufactured at scale, the production can be much more efficient in material wastage than any custom work. 
Convenient Modifications - You can conveniently upgrade or modify when needed by building with modular design in mind. For example, a modular closet may let you change up how the shelves are set up yourself or quickly by a contractor. On the other hand, a non-modular closet may need replacing entirely or custom woodwork if you want any modifications. 
Homes are having to work harder than ever. Many homebuyers are demanding more utility from smaller spaces, and modular design can be the perfect solution. Watch our Real Estate Intelligent Interview series with Ryan Lalonde, President of MLA Canada and Amit Thale of Aeon Group to learn more about interior design trends in pre-sale home developments.