July Real Estate Market Data & Insights
THIS EPISODE IS NOW AVAILABLE IN AUDIO ONLY
Listen on your favourite audio streaming platform: Apple, Spotify, Amazon Music, iHeart Radio
"Although we have seen a common seasonal slowdown in the resale market, the presale market remains extremely active with one of our largest monthly releases of inventory all year at over 1400 units and a strong 49% same month sales absorption. We expect to see high inventory releases for the next several months particularly in concrete product." Suzana Goncalves EVP, SALES AND MARKETING; PARTNER, MLA CANADA.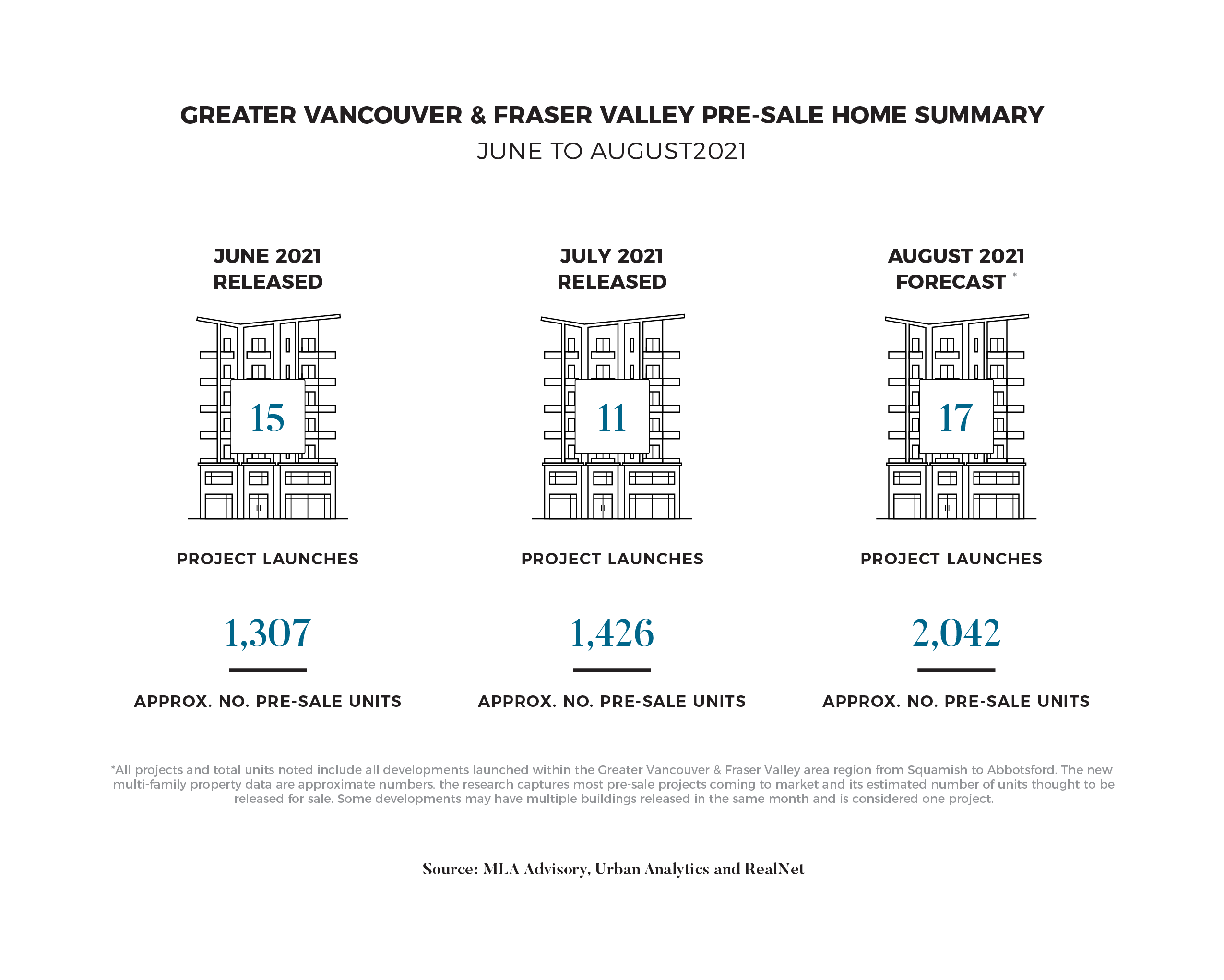 PRESALE AND RESALE: A TALE OF TWO MARKETS
The real estate market in the Lower Mainland saw seasonal fluctuations typical in July, caused in part by potential purchasers temporarily moving their attention away from the real estate market. Overall, prices remained stable and market activity continued at elevated levels. While overall demand has fallen month-over-month, several submarkets continue to achieve robust presale absorptions. The Grand on King George and Halvo, located in South Surrey and White Rock, both saw significant absorptions within their first week of launching, caused in part by lengthy prelaunch campaigns. In total, 11 new projects launched in July, releasing 1,426 condominium and townhome units to market. Of the newly released product, 49% sold in July, a 7% increase from last month. Broken down by product type, there were 2 townhome, 3 wood frame condominium, and 6 concrete condominium projects that launched their sales campaigns in July.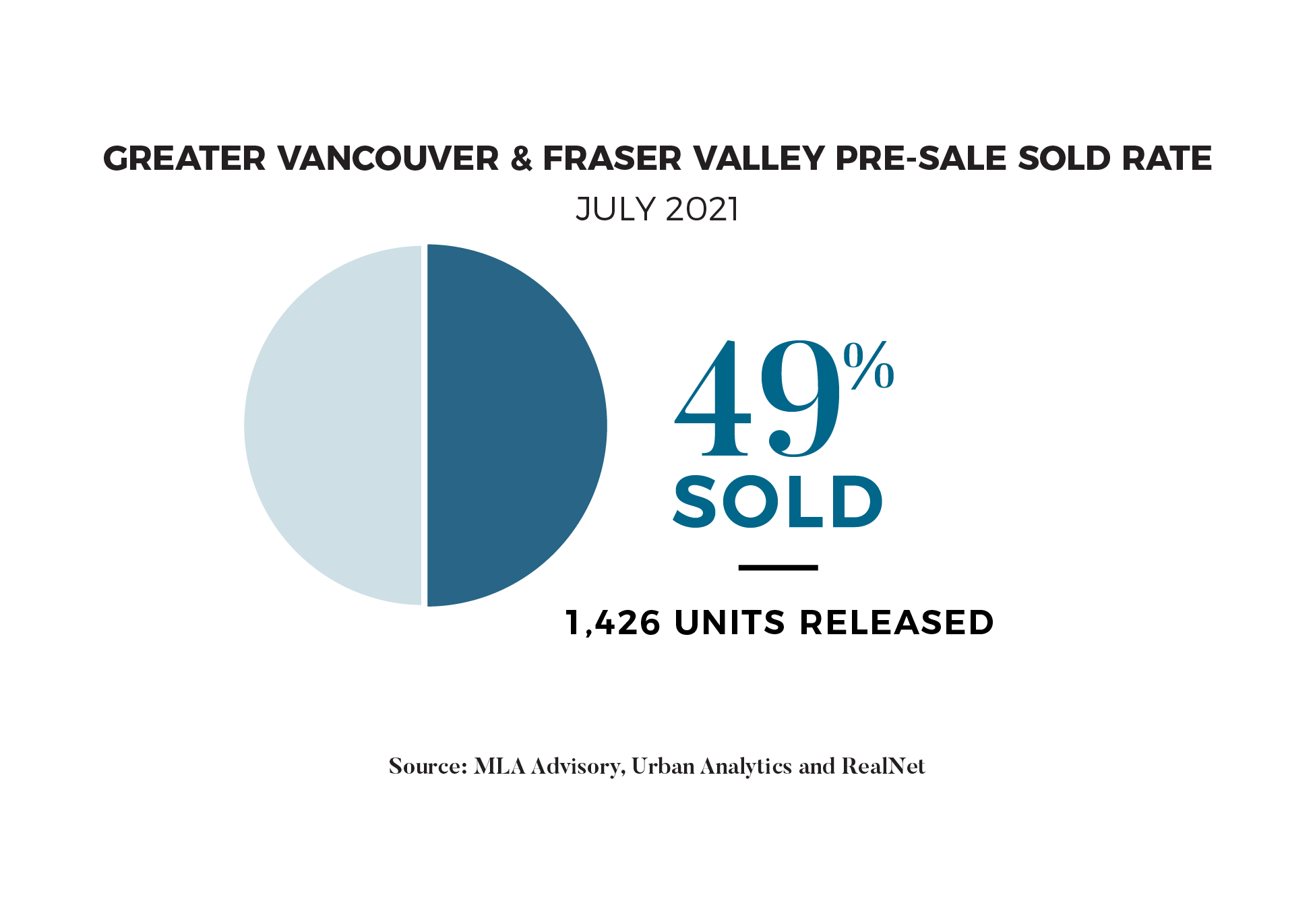 PRESALE BOOM IN KELOWNA
Like many axillary markets, Central Okanagan has received overwhelming attention in both its presale and resale product over the past year. This has caused strong inventory turnover and significant price appreciation – the average price of condominium and townhome resale product in Central Okanagan have increased 20.6% and 23.5% year-over-year. On the presale side, Kelowna saw three concrete condominium developments launch in July: Aqua Waterfront Village by Mission Group Homes, Residences at Lakeview Village by Kind Development Group, and Water Street by The Park by Orchard Park Properties. These developments benefited from significant market interest, with both Aqua and Water Street receiving 1,000+ suite selection forms prior to commencing sales. In total, the three developments brought 362 units to market, selling out of all but a handful of units. Looking forward, upcoming developments such as Caban by Cressey and Movala by Stober Group look to provide an answer for this continued demand as they launch in the coming months.
THE LOWER MAINLAND FACES DECREASED SUPPLY 
Constrained supply within the Lower Mainland will be a focus of the real estate market moving into the fall. After incredible demand over the first half of 2021, we are now beginning to see a sustained decrease in active listings within Greater Vancouver and the Fraser Valley. Within the resale market, Greater Vancouver saw 4,377 new listings brought to market in July, 12.3% below the 10-year average for July and 25.2% less than the 5,849 new listings added in June 2021. Similarly, within the Fraser Valley, 2,431 new listings were added for the same period, down 21.8% when compared to June. For perspective, total listings in the Fraser Valley were the lowest they've been since 1981 for the month. By launching in the fall, projects will have the opportunity to fill the supply gap faced by potential-purchasers in the resale market. MLA Advisory forecasts 17 presale launches in Metro Vancouver in August, bringing a total of 2,042 units to market. Projects of interest includes The Standard by Anthem, which is set to offer 424 units in Metrotown, and Drift, the first phase within Concert Properties' 'North Harbour', a master-planned community that will include a mix of residential, commercial, and office space.