August 23, 2023
Burnaby's rapidly rising neighbourhoods and their investment allure: Edmonds, Royal Oak, and Cascade Heights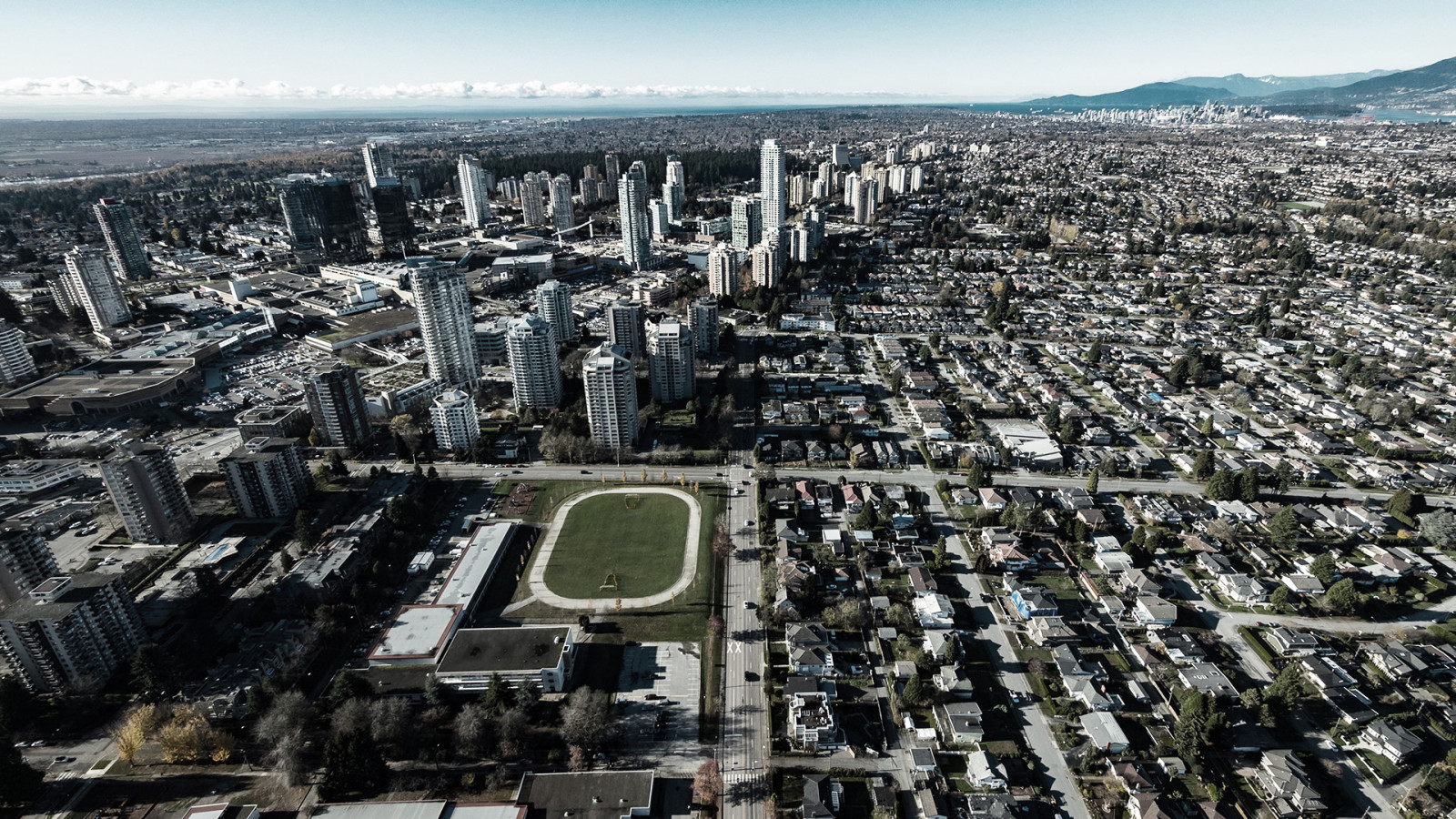 Burnaby, once thought to be a more subdued backdrop to Vancouver, is coming of age. With the success of Metrotown in mind, Burnaby is moving to apply a similar model of community planning to three additional neighbourhoods: Edmonds, Royal Oak, and Cascade Heights. Through urban planning ambition and community integration, the city has made it clear they are moving towards urbanization. The growth trajectory has caught the attention of investors and homebuyers alike, as the past evolution of the area unveils the future promise of the municipality. 
Metrotown's flourishing evolution and the success of the Downtown Plan 
Initiated through the Downtown Plan of 2017, Metrotown witnessed a remarkable surge in developmental activity and property value. The numbers underscore the tale of success: from 2014 to the present day, the average price per square foot for new concrete condos surged from $600 to a staggering $1,250, with projects like Concord Metrotown even setting benchmarks above $1,400. By 2024, analysis by MLA Advisory projects this figure to hover between $1,350 and $1,400, attributed to escalating land and construction expenses. Moreover, the average presale unit price witnessed a leap from $450,000 in 2014 to an impressive $900,000 today. While units have seen a reduction in size — mirroring trends in other municipalities — from an average of 780 to 800 square feet in 2014 to around 750 square feet today, the premium on space has only increased. The transformation of Metrotown, marked by surging prices and thriving development, offers a glimpse into the immense potential awaiting Edmonds, Royal Oak, and Cascade Heights as they position to be the next epicenters for growth and investment in Burnaby. 
Burnaby's vision for Edmonds, Royal Oak, and Cascade Heights 
Burnaby has recently engaged ambitious community plans for Edmonds, Royal Oak, and Cascade Heights that signal a transformative vision. With the plans now in public consultation phase, residents will play a crucial role in shaping the next steps for these communities. These master plans are designed to be a roadmap for each neighbourhood's future, encompassing everything from housing and transportation to park spaces, business development, and climate action. 
Edmonds Town Centre, the geographically largest town centre in Burnaby with a span of 908 acres, has a storied history as Burnaby's first downtown and a longstanding hub of activity. The city now envisions a "more contemporary" tri-node development for Edmonds: the Town Centre Node near Kingsway and Edmonds Street, possibly soaring up to 50+ storeys; the Station Area Node around the Edmonds SkyTrain station, with building heights from 20 to 40 storeys; and the Southgate Village Node in the southeast, which may reach mid 40-storey heights. While these nodes are anticipated to feature high-density residential and mixed-use buildings, the Kingsway corridor will likely house medium-density, mid-rise structures.  
Royal Oak urban village between the Metrotown and Edmonds town centres covers 554 acres, a transition from commercial and industrial spaces in the north to residential ones in the south. Its primary nodes are the Station Area Node around the Royal Oak SkyTrain station and the Village Centre Node at Kingsway and Royal Oak Avenue. As Burnaby continues to focus on the 15-minute city model, this neighbourhood is primed to have small-scale services and businesses dotting its main avenues. A clear emphasis on non-profit and supportive housing, cultural inclusivity, and heritage preservation is evident in the presented plans for Royal Oak. 
Cascade Heights, predominantly composed of single and dual-family homes, is on the brink of its first comprehensive community plan. The city visualizes higher density mid-rise buildings, especially along Sunset Street, with potential building heights up to six storeys. Emphasizing the proximity to Burnaby Hospital, the plans prioritize medical offices, daycare spaces, and specialized housing for hospital staff.  
These community plans, while suggesting boundaries and key development areas, remain fluid. As Burnaby charts a course forward that, so far, parallels the success story of Metrotown, industry participants can anticipate remarkable growth and investment prospects in these burgeoning neighbourhoods. 
Investment potential in Burnaby's emerging neighborhoods 
By 2050, the Greater Vancouver region is expected to welcome a million new residents. Approximately 1/10th of the region's population growth is projected to take place in Burnaby. Burnaby is earmarked for a significant slice of that growth with an anticipated addition of nearly 100,000 residents to its existing population of approximately 250,000. This makes it an alluring investment opportunity, especially in the burgeoning neighborhoods of Edmonds, Royal Oak, and Cascade Heights. Metrotown's evolution — from the community plan to the resulting residential and commercial projects — serves as a testament to the city's immense growth capacity and signals a likely trajectory for the three upcoming areas. Extensive transit developments, including the ambitious Transport 2050 plan and the potential North Shore Connects SkyTrain route, are set to enhance the accessibility and allure of these neighborhoods. The precedent set by Metrotown as well as strong community plans that incorporate expansive housing, transit, and commercial initiatives positions these three zones as compelling choices for both homebuyers and investors. With Burnaby rapidly carving a niche as one of Canada's fastest-growing cities, Edmonds, Royal Oak, and Cascade Heights beckon as some of the strongest incoming epicenters of development and investment potential within the region. 
"Historically, Burnaby's densification centered on Brentwood and Metrotown due to their volume of services, amenities, and aspirational mall developments," shared Garde Macdonald, Director of Advisory at MLA Canada. "As overall housing supply is at the forefront for all stakeholders, transit-based density will become paramount; developers are already starting to craft new communities ready for growth and future investment."   
It's an exciting time for Burnaby. The result of Metrotown planning offers not just a chapter of success, but a template for the upcoming changes to Royal Oak, Edmonds, and Cascade Heights. As these communities evolve and redefine themselves, they increase the allure for investors and residents alike. Metrotown was able to showcase the progress found when growth and community combine, and these upcoming neighbourhoods provide the same promise for a future of dynamic urban centres.