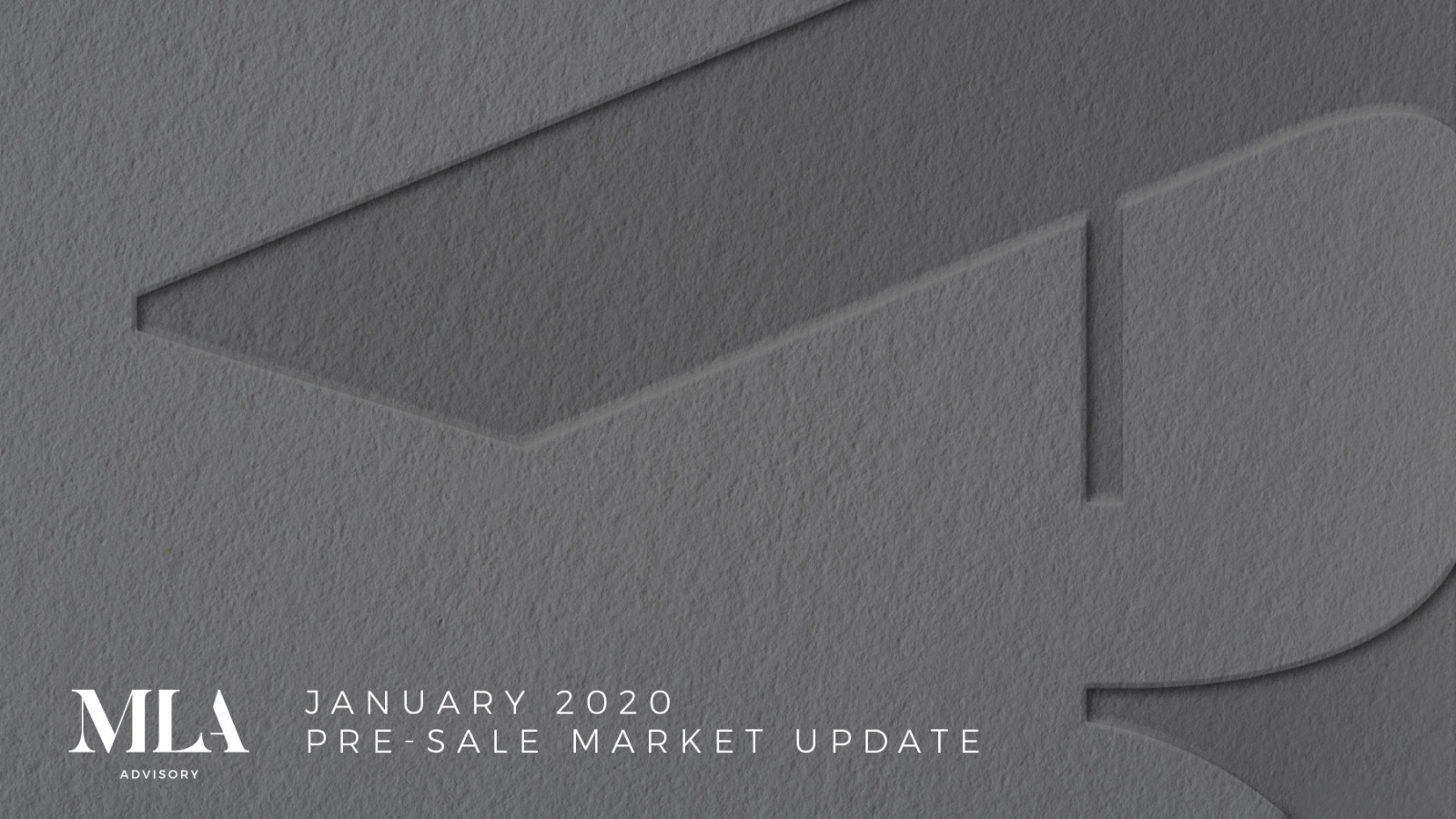 DOWNLOAD THE FULL JANUARY 2020 PRE-SALE REPORT
"Resale statistics continue to see improvement in price appreciation and sales. January saw more presale homes released than we have seen since early Fall 2019 and with a 30 percent absorption rate this is a positive sign the market is improving at a steady pace. Markets including Coquitlam, Burnaby, and Richmond will see major project launches from large developers who have waited for the uncertainty to ease." Suzana Goncalves EVP, SALES AND MARKETING; PARTNER, MLA CANADA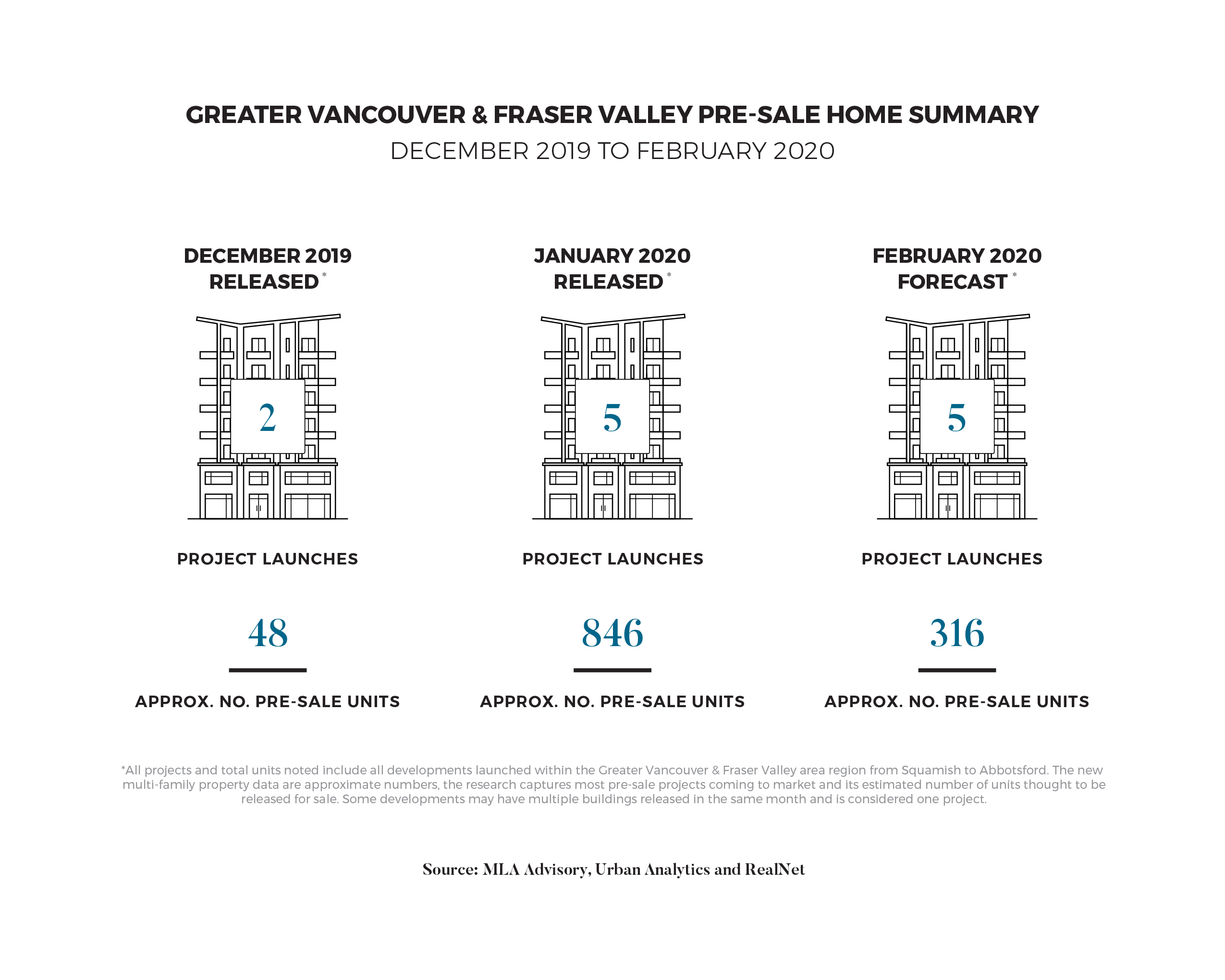 CONCRETE PRODUCT LEADS A STRONG START TO 2020
January saw approximately five project launches resulting in 846 homes released across Metro Vancouver. Compared to January 2019, this represents almost triple the number of new units released. Furthermore, the monthly sold rate in January was 30.6 per cent, representing continued buyer confidence and sales momentum from a more than active end of 2019 on the resale side. Notably, all the new project released in January were concrete towers, with significant activity in Richmond, Coquitlam, and East Vancouver. Toward the end of the month, many projects converted sales by offering Chinese New Year incentives, with discounts and prizes up to $80,000 in value.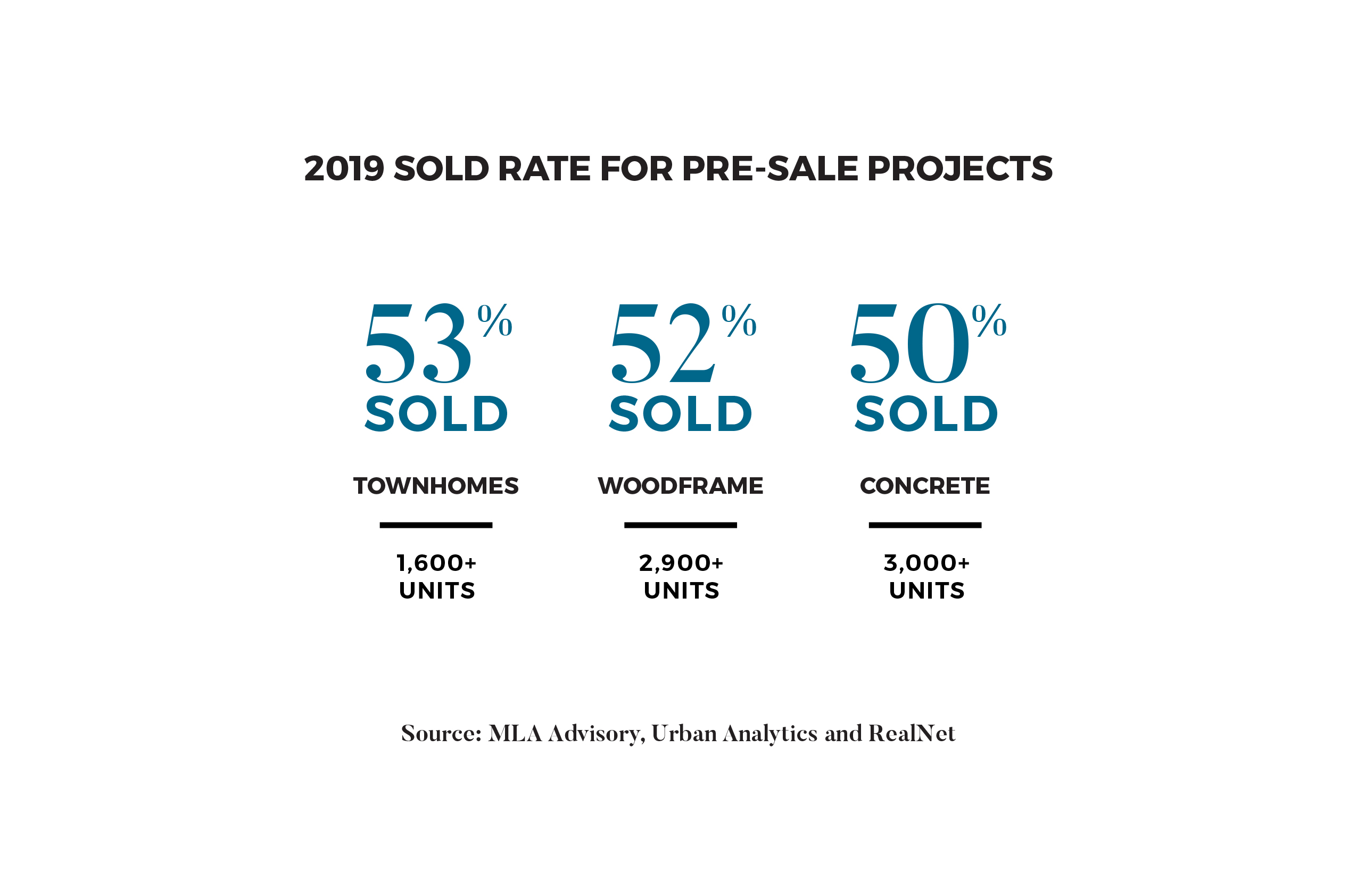 PROJECTS LAUNCHED IN 2019 ACHIEVE OVER 50 PER CENT SOLD RATE
MLA Advisory estimates that approximately 104 pre-sale projects launched throughout 2019. Of these projects, over 85 consisted of townhome and woodframe developments, while only 17 concrete projects came to market. In comparison, 2018 saw nearly 100 townhomes and woodframe projects, and 50 concrete projects launch for sales, a decrease in project releases of 31 per cent. Despite the differences in supply, 2019 absorption rates were similar across product types: Townhouses were 53 per cent absorbed, woodframe condominiums were 52 per cent absorbed, and concrete condominiums were 50 per cent absorbed, Although absorption levels are slower compared to the hyperactive markets seen throughout 2016 to 2018, sales activity for multi-family developments in the Lower Mainland were healthy in 2019, with more sustainable price levels for all types of purchasers and a variety of product coming to market. This is also due to the industry self-regulating project releases.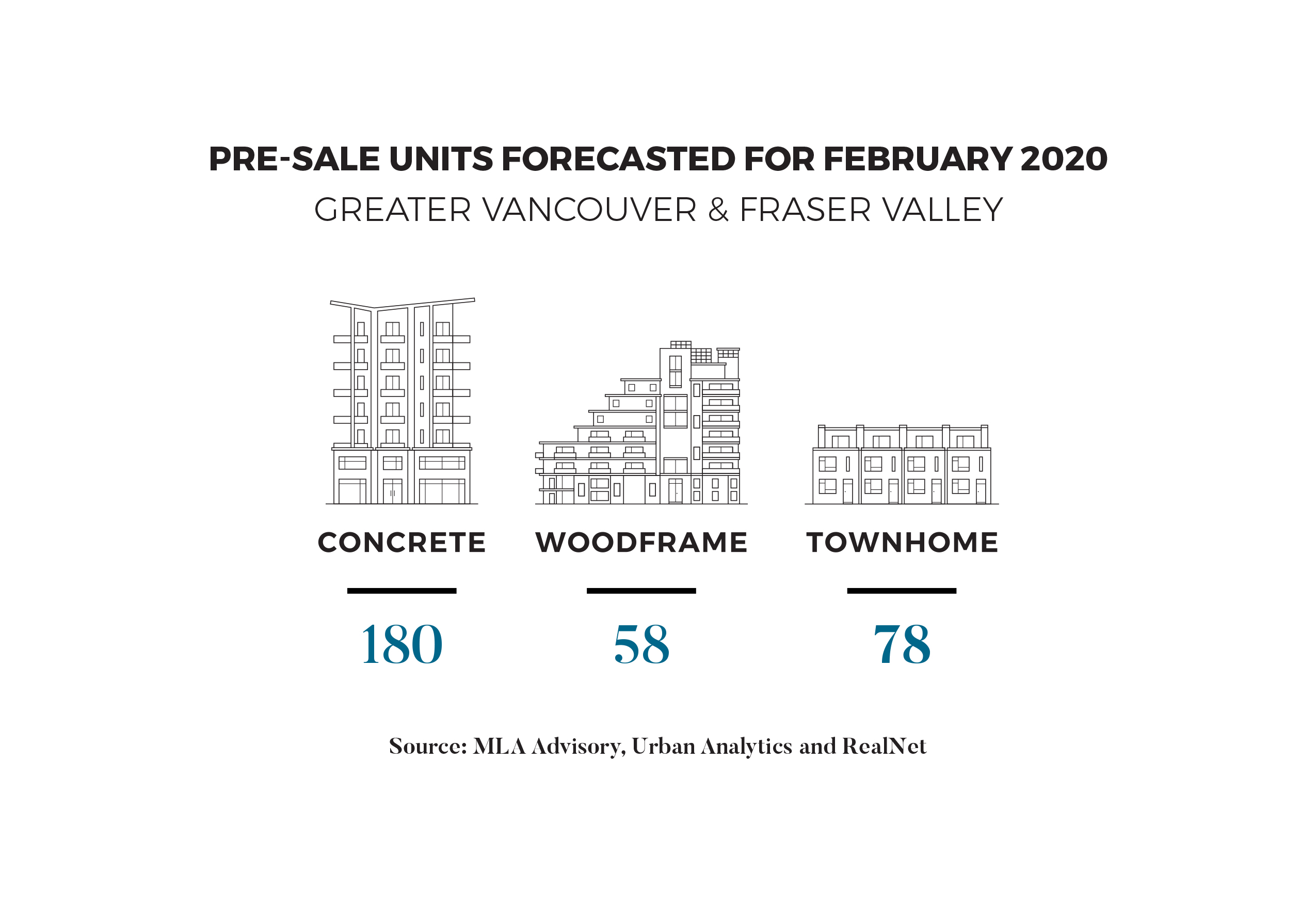 QUIET FEBRUARY LEADING INTO A BUSY SPRING
MLA Advisory is forecasting the launch of five pre-sale projects in February, totaling 316 homes. For reference, this is roughly half of the units released in February 2019. Numerous projects began 2020 by holding previews and gauging interest, which hints at an active first half of 2020 across all product types. Specifically, one concrete project that was due to launch in January assessed market sentiment and is re-strategizing, indicating that accurate timing and competitively priced offerings are needed to hit absorptions. Overall, we anticipate approximately 180 concrete units, 58 woodframe units, and 78 townhomes to be released to market over the month of February.