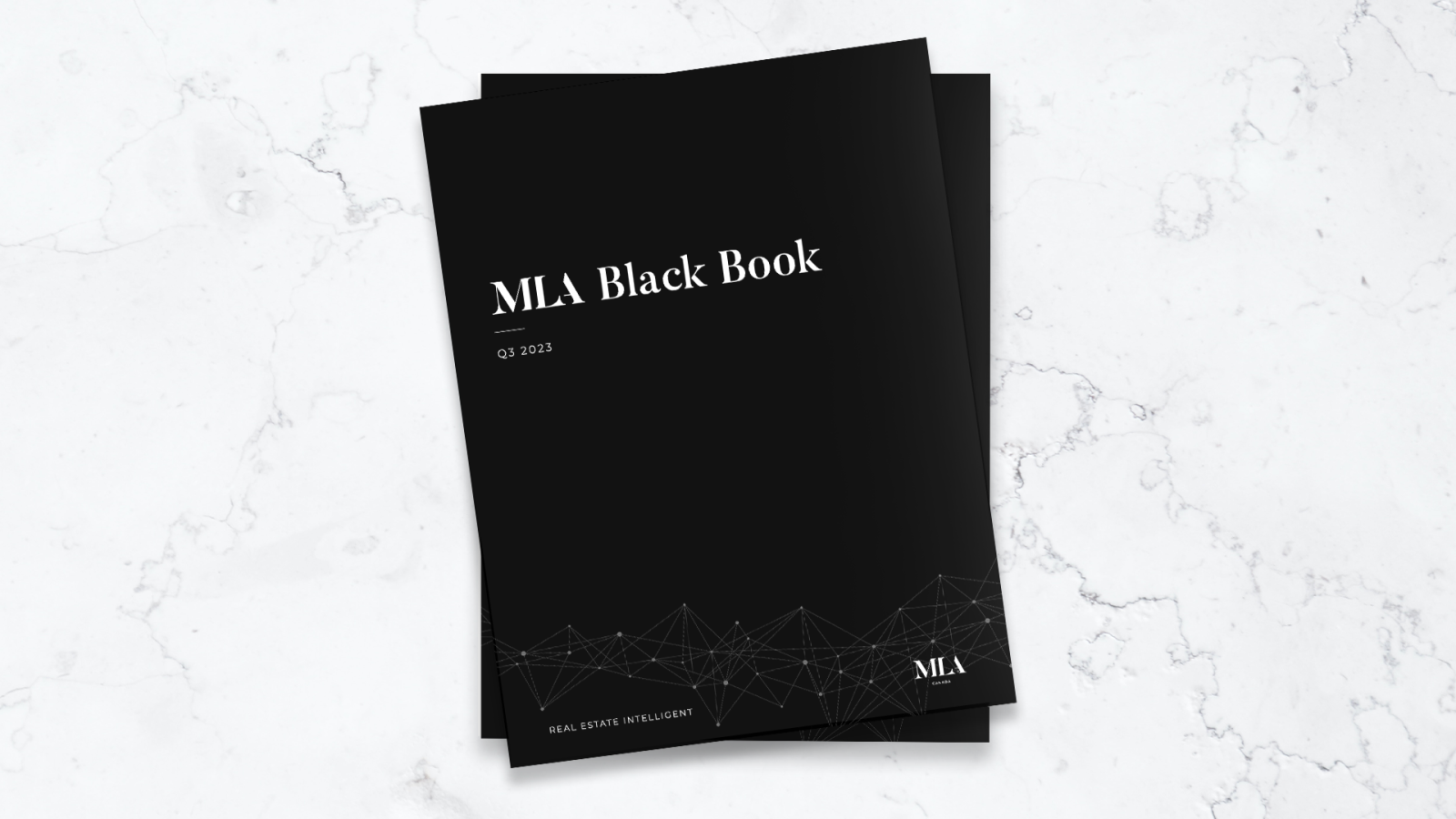 The MLA Black Book is a quarterly detailed overview of the pre-sale real estate marketplace spanning the Greater Vancouver and Fraser Valley regions. This market intelligence is brought to you by MLA Advisory and covers presale sales results, including active sub-markets, development and rezoning application activity, project launches, and upcoming releases to look out for in the next quarter.
MLA Advisory's Market Update
In the third quarter of 2023, the Metro Vancouver real estate market maintained a cautious stance, as both buyers and sellers awaited clearer signals on inflation and overall market direction. Following typical seasonal patterns, presale activity was reduced in July and August as buyers took a step back for summer travel and to enjoy the better weather. Consequently, new presale projects held back their sales campaigns to begin previews in September and October.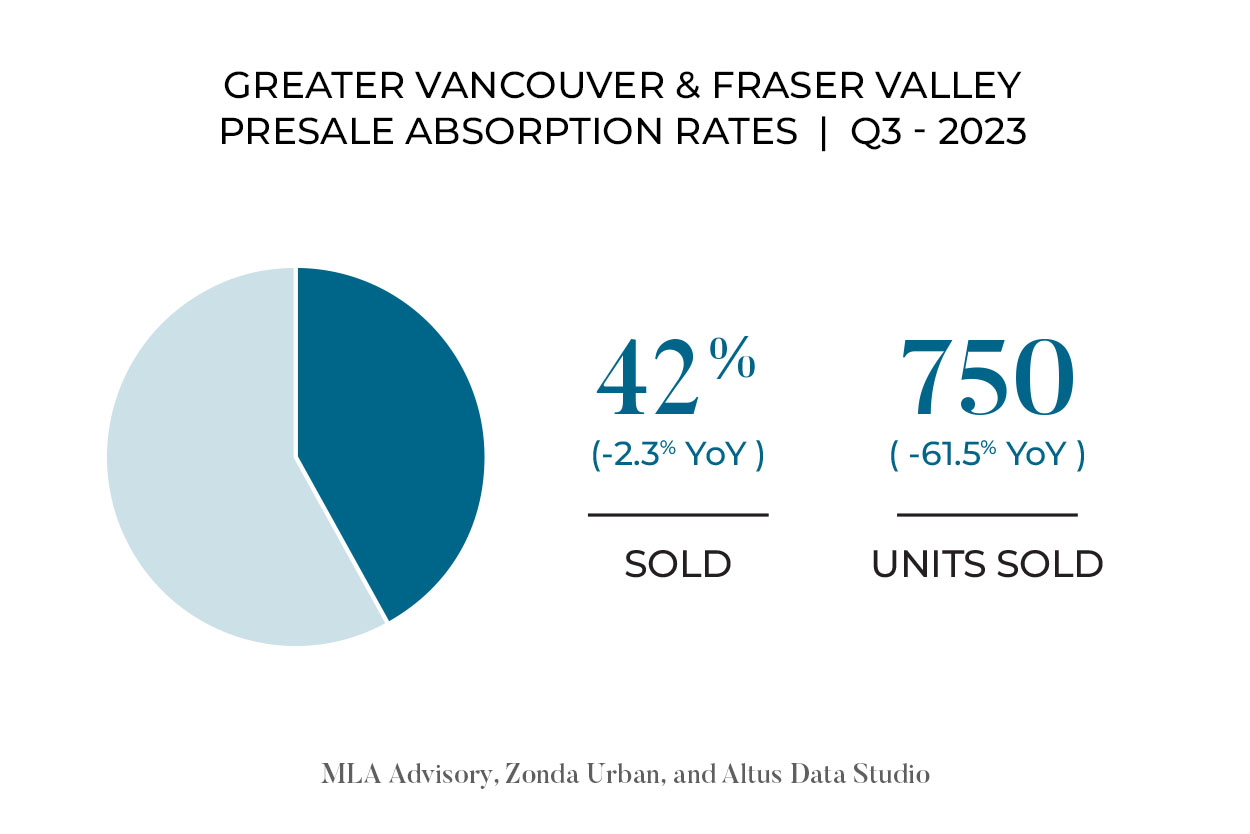 While the fervour of consecutive interest rate hikes has largely subsided, the new rate environment is dampening total transaction volume. Fueling this has been the somewhat mixed messaging from the Bank of Canada – at one time publicly signalling a "pivot" at the beginning of the summer, only to raise rates again after several months of pause, and now looms the possibility of an additional hike by years end. Though they cannot be fully to blame – economic data over the past quarter has been a mixed bag, showing improvements on inflation but at a slower pace than forecasted. Furthermore, Canada's quarterly GDP came in below expectations, signalling a slow-down in the broader economy.
For developers of presale projects, these conditions have created a difficult environment to operate under. Developers today are facing the pressure of flatlining revenues, 20-year highs in land holding costs, and construction costs that are up some 50% in two years. This has led to a quieter summer for new projects hitting the market; in the third quarter, there were 18 new project launches in Metro Vancouver, bringing a total of 1,805 new units to market. In comparison to Q3 2022, this is a 39% reduction in released presale inventory across product forms. Still, the decrease in released inventory doesn't necessarily mean there is a lack of interested buyers. Despite a reduction in new supply, demand was relatively strong - the absorptions rate of newly released product in Q3 2022 and Q3 2023 was almost equal. This underscores the robust absorption experienced by recent launches in submarkets such as Burnaby and West Coquitlam.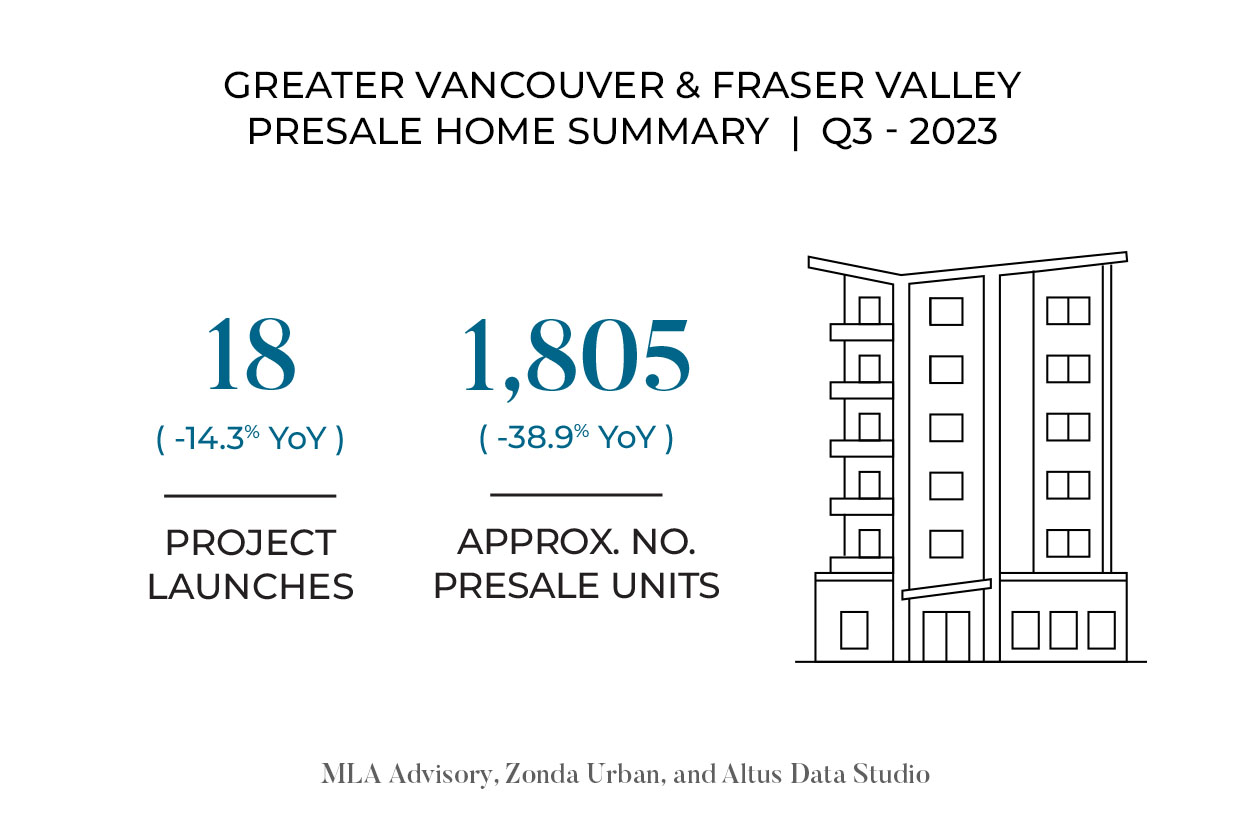 The presale market's trend mirrors what we've observed in the resale market in the past year. Even with reduced activity compared to historical norms, limited supply of new listings has maintained price stability. Resale prices have risen steadily over the year, and most of the introduced presale programs have seen strong uptake in the first 60 days of sales. Presale launches in Q3 2023 had a solid 42% absorption rate over the quarter.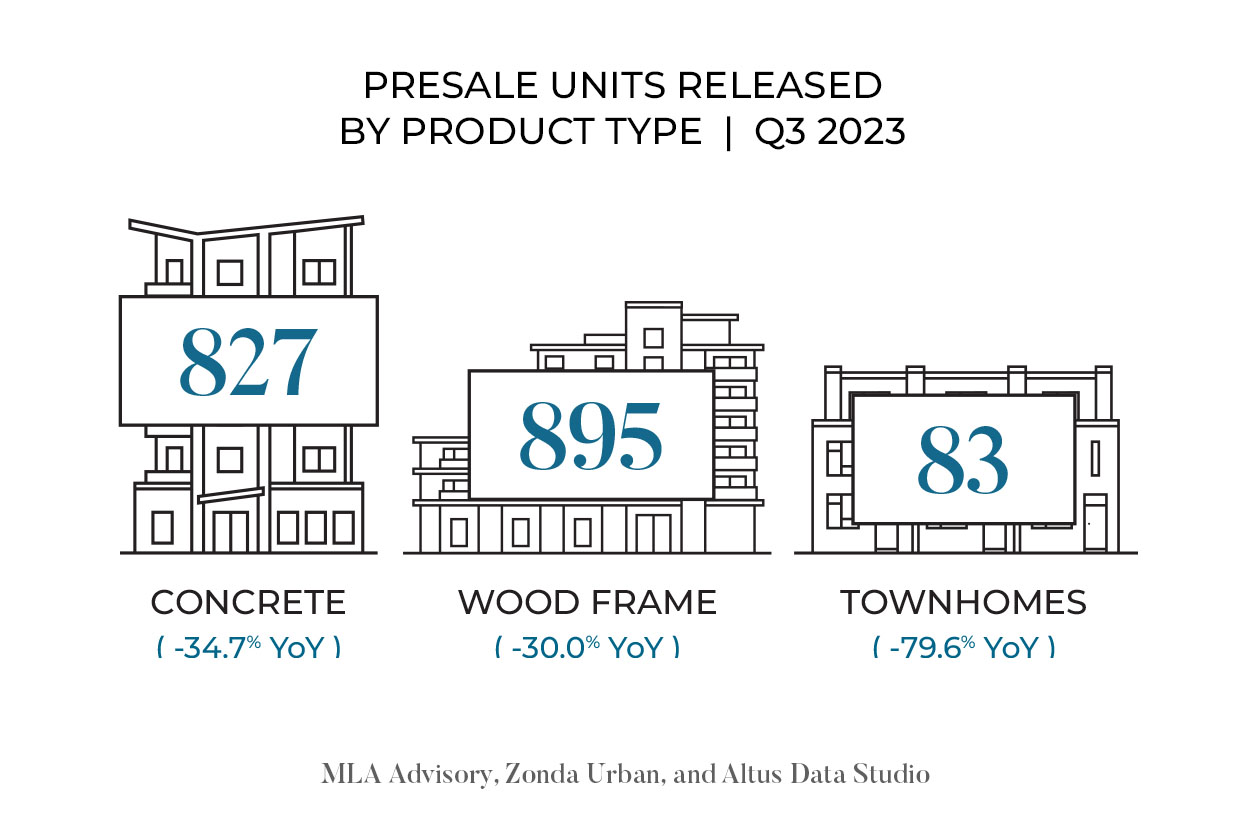 Looking forward, the Q4 wave of new projects will represent the most significant presale test of 2023 and will set the tone for releases into the first half of 2024. MLA anticipates strong absorptions, backed by returning buyer confidence via less rate volatility, continued immigration into urban centres, and a resilient labour market.
For information on active sub-markets, development and rezoning application activity, project launches, and upcoming releases to look out for in the next quarter download the report.