"Momentum continued into September with record setting resale activity in some categories and many buyers opting for space further and further away from the Vancouver CBD. We also saw a strong single month absorption rate for new product and reasonable absorption of concrete product." Suzana Goncalves EVP, SALES AND MARKETING; PARTNER, MLA CANADA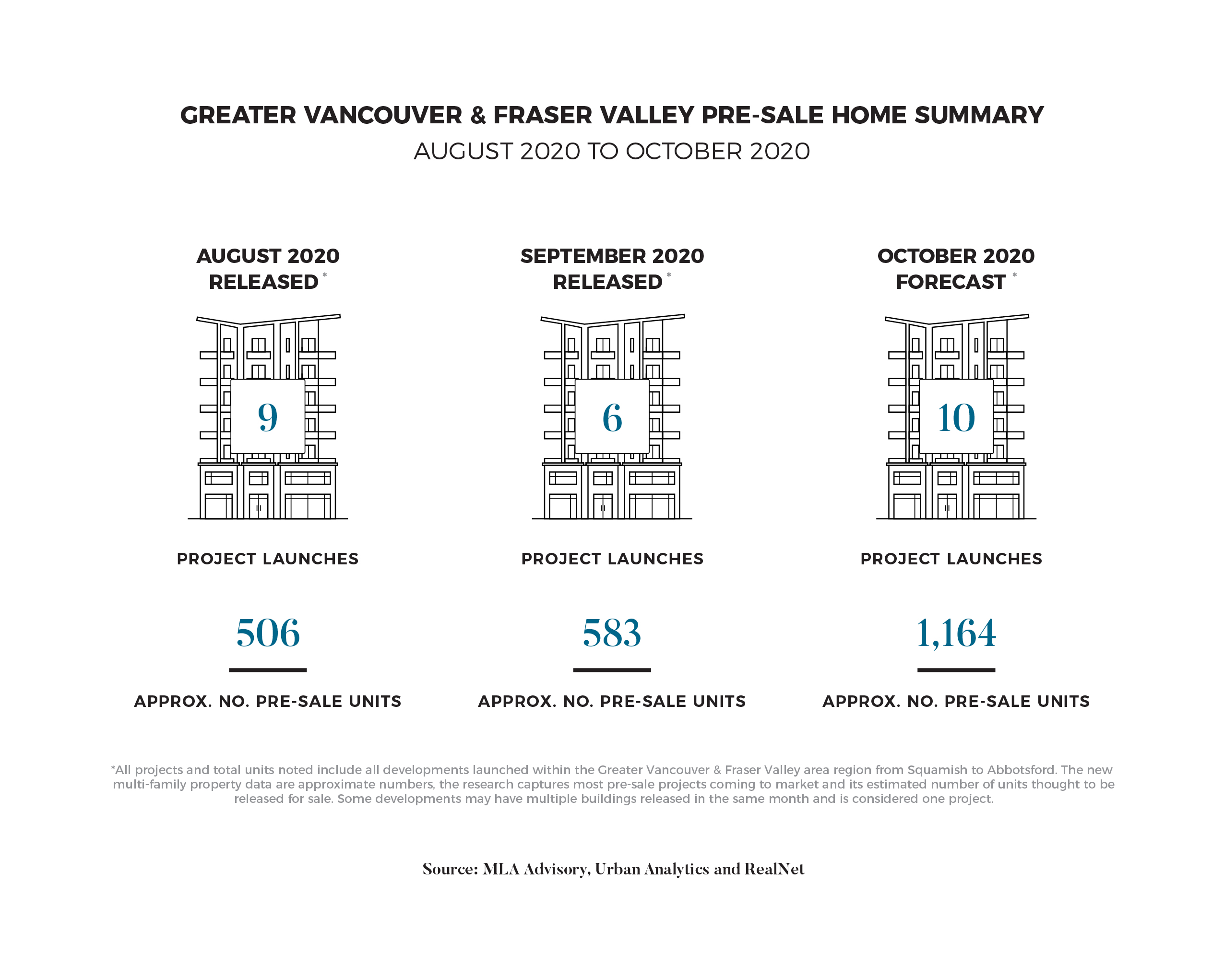 GREATER VANCOUVER LAUNCHES EXPERIENCE STRONG ABSORPTIONS   
There were six presale project launches in September 2020 releasing approximately 583 units to market. These project launches were exclusively in Greater Vancouver and encompassed six different submarkets from Vancouver West to Port Coquitlam. Despite a busy summer in submarkets such as Langley and South Surrey, presale sales in the Fraser Valley slowed slightly in September due to zero pre-sale projects launching sales in the month. In September, 35.8% of newly released presale inventory sold; this is the highest monthly absorption rate since September 2019 and indicates strong demand across product types. Of the newly released units, townhomes had the highest absorption with a 73% sold rate, followed by wood frame and concrete condominiums, which posted 44% and 13% absorptions, respectively. 
FLIGHT TO SPACE 
With Covid-19 lockdowns having us all spend more time in our houses and many people continuing to work from home for the foreseeable future, the flight is happening to affordable housing for more space. Fraser Valley saw record sales numbers in September. Abbotsford and Mission saw single family and townhouse sales increase by over 100% compared to September 2019. Whistler and Squamish also continue to outperform in the Greater Vancouver region with 6 month price increases of 6.4% and 5.6% respectively. Other real estate boards within the province are reporting similar gains. Vancouver Island is reporting that sales doubled in September over this time last year while the Okanagan saw year-over-year sales gains of anywhere between 14% and 101% and price gains from 2.6% up to 7% depending on market and product type. With commute times as less of a priority, people are re-evaluating their living situations and clearly opting for more space in more affordable markets.  
CONTINUED MARKET MOMENTUM ENCOURAGING NEW LAUNCHES 
Even with Covid-19 cases rising in BC, families adjusting to the new realities of schooling, and the recent announcement of a provincial election on October 24th, demand for presale homes is strong as we head into the final months of 2020. The healthy resale activity experienced in the summer along with continued price appreciation have boosted confidence in the presale market, which was largely halted in March and April. As a result, MLA Advisory forecasts that ten pre-sale projects will launch sales in October; these projects will bring approximately 784 concrete condominium, 231 woodframe condominium, and 149 townhome units to market. Among these launches are additional concrete tower projects which the market saw very little of in the last 18 months.