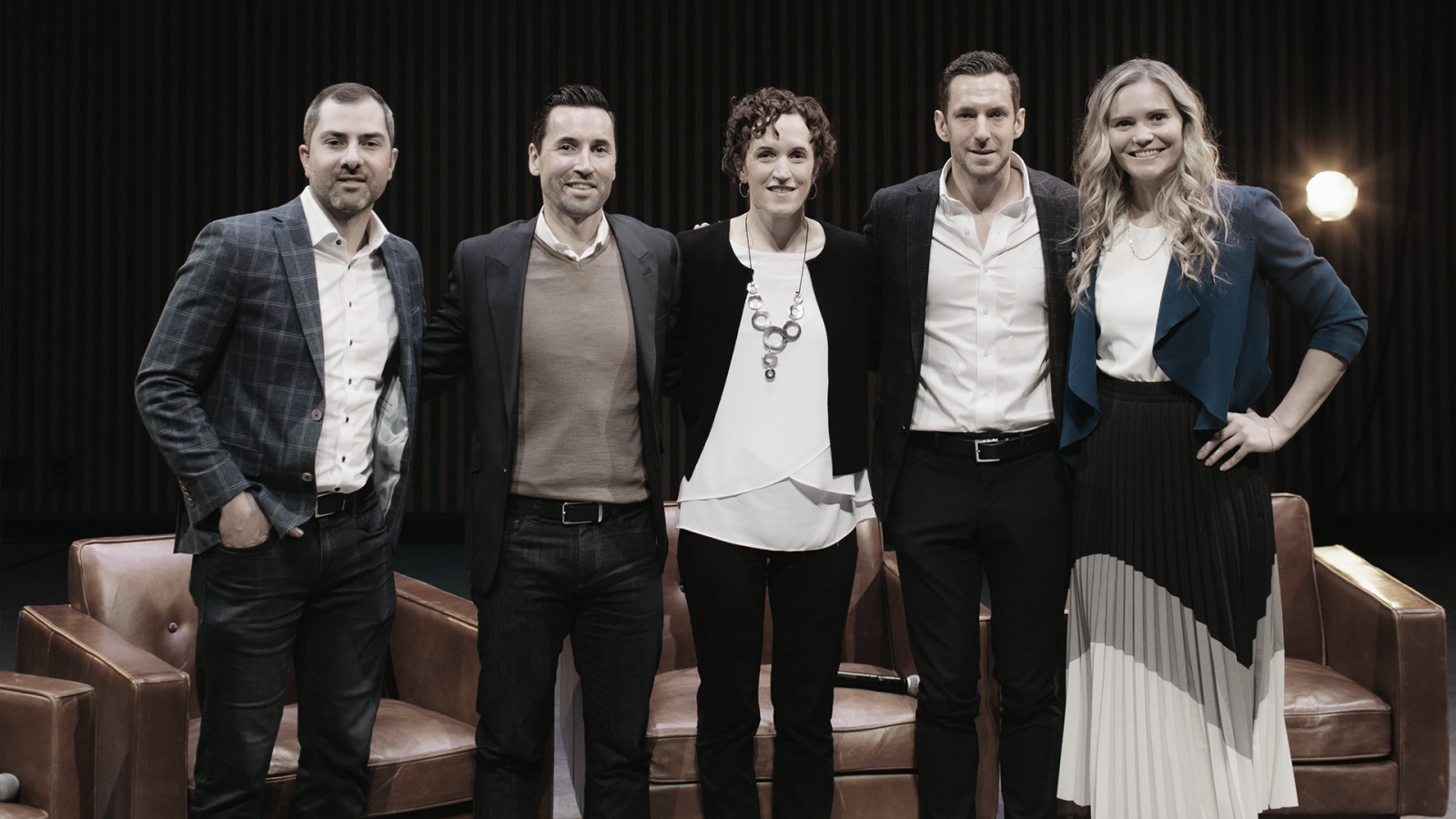 MLA Canada came together with REW and more than 100 guests to celebrate the 2023 MLA Intel report and bring together industry experts to discuss their predictions and forecasts for the year ahead. The Year in Real Estate asked panellists to dive into the big issues and questions around sales, inventory, costs and interest rates. Sharing their big predictions for 2023 was Ryan Lalonde, President & Partner of MLA Canada, Rebekah Young, VP, Head of Inclusion & Resilience Economics at Scotiabank, Kevin Johnston, President at Strand and Steve Saretsky, Real Estate Specialist at Oakwyn Realty. In a room full of industry heavy hitters, it would be silly not to share in the collective knowledge, so we asked all attendees to provide their opinions throughout to give us a larger view of the year's predictions.
While no one shied away from the tough realities of the current market, conversations had a common emotion: confusion. Contradictory market conditions characterize the real estate industry right now. Sales activity and new listing activity hit multi-year lows at the same time. Amid fears of recession and an economic downtown, the job market is solid, household savings are up, and several recent presale projects exceeded absorption expectations. During the event, these conflicts and surprises were broken down to gain an inside understanding of how to capitalize on the fluxes of today.
Oakwyn Realty's Real Estate Specialist and host of the Loonie Hour, Steve Saretsky, was asked the bottom-line question: how are sales going this year?
As Steve succinctly summed up his answer: it's weird. Sales are running at their lowest levels since 2009, and January saw a 23-year low in new listings. However, people are struggling with variable mortgage rates, and a wave of forced sales is incoming. While Steve believes that prices still have further to go down, he also reminded the audience that this is still a housing market starved for inventory, which could somewhat counteract the downward pressure. Millennials are moving from condos to single-family homes, the supply of which contracts every year, so even with high rates, people are still competing for entry-level, single-family homes. To say it in Steve's words, "we're going to have a year of volatility."
Do you agree or disagree that the 3-day rescission period will turn out to not be advantageous for resale home seekers?

The audience responded: 71% agree, 29% disagree
With most of those in attendance agreeing with Steve's assertion that the recission period will actually end up being more disadvantageous for buyers, the sentiment across the room was that while well-intended, the policy misses the mark. In a heated market, buyers may now feel pressures to make subject-free offers under the guise of a safety cushion – when really, three days are just not long enough to line up proper financing and inspection considerations.
What do the current conditions mean for homebuyers? Kevin Johnston, President at Strand, shed some light on why supply constraints – and prices – aren't letting up
Increased property taxes and interest rates are hiking holding costs for developers, and limited supply will likely be a result of the current market conditions. "It's an exceptionally challenging time to be a developer," lamented Kevin. Municipal fees are rising, construction costs are increasing further, and interest rates are up, so holding land costs more and profit margins are squeezed. "Labour costs are as high as they've ever been, offsetting a lot of the savings from some of the commodities that have been reduced." Despite very much wanting to contribute to the supply, Strand is one of the developers being very selective in purchasing land. "Developers who have done the work and have bought the land right are the ones who are going to succeed," asserted Kevin, while some will have to give projects back to the market because they can't hold on to excessive holding costs from increased property taxes and interest rates.
Do you agree or disagree that we will see a number of pre-sale projects shelved this year, increasing demand for those already in the works, but that opportunities will be created for reputable, well capitalized developers?

 They answered: 94% agree, 6% disagree
We're seeing developers take a hard look at their proformas and cutting risk in their portfolio wherever possible to weather this stage. The developers that are seeing success right now are well positioned and experienced, with a history and intimacy with the market they are launching in. Those that are able to bring a product to launch know the risks of the market they are launching into, and many will likely decide to shelve programs until they feel that better financing is achievable.
Rebekah Young, VP, Head of Inclusion & Resilience Economics at Scotiabank, was served the daunting question: where is the Canadian economy going?
With so much uncertainty around the current rate hike path, the same question is on everyone's minds: when will the pause and pivot take place? Rebekah reminded us that while the Bank of Canada has its conditional pause, the second 'pause' we are watching for is in consumers. As economic policy does its job to correct inflation, overall consumption slows. Of course, as Rebekah pointed out, the upside to that economic slowdown is that it gives the Bank of Canada more confidence to take its foot off the brake. Scotiabank's best guess is that this consumer slowdown will come to a head in the middle of the year, followed by a softening of activity and sustainable decreases in inflation.
The BOC will do a reverse pivot on current interest rates by July 2023. This in turn will prompt first time buyers to re-enter the market, agree or disagree?

The outcome was fairly split: 43% agree, 57% disagree
"We have pencilled in a 25 basis point cut by the end of this year," Rebekah shared, going on to elaborate that the second half of the year should be where the Bank begins to signal they see a shift, and by the end of the year they should be in a position to put forward the first rate cut. Scotiabank and Rebekah's big prediction for the year is that we will weather the next slow quarters and emerge as rate cuts start happening. "We're heading for a soft–ish – landing."
President & Partner of MLA Canada Ryan Lalonde took on the big, overarching question: what does 2023 really have in store for us?
Right up front, we can all agree that some pretty lofty immigration numbers have been set. "If you're tied to real estate, you have to be excited about that," Ryan asserted. "These are big, big numbers that we're hitting." If Canadian immigration targets are met, the country is looking at a 15% increase in Canada's population in a ten-year period. In Ryan's words, it's hard not to be optimistic about what immigration does for the industry right now.
Are we going to see an influx of petitions from lenders as a result of developers filing for credit protection over the next 6 months?

They said: 69% yes, 31% no
While the reservations are understandable given the current market, Ryan and MLA Canada have a more optimistic view. While we have confusion, we also have the opportunity – the second theme of 2023. "If the job market tightens up, we're looking to a stronger marketplace," Ryan explained. "The back half of this year is going to be a big year for pre-sale pricing in terms of escalating." Density is still desperately needed in the market, but that can only happen if financing allows it.
The panel looked at the presale test of today, seeking to understand the hurdles. A year ago, price points would start low and rise gradually along with incentives. Today, Ryan asserted, projects are having to discount dramatically and further each time. "That's going to be the big shift in the second quarter of 2023; the brands that missed Q1 will be hunting for those transactions."
To wrap up our time with the industry experts, we asked them all: We'll witness an increase in projects failing to pass the pre-sale test, agree or disagree?

The audience responded: 80% agree, 20% disagree
Ryan summarized the realities of today's opportunity: "I think anyone, whether a homebuyer or home builder, can take a step back right now and appreciate that the most important mindset you can have is one of flexibility. If we spend our time learning and looking, there are so many opportunities in the marketplace right now."