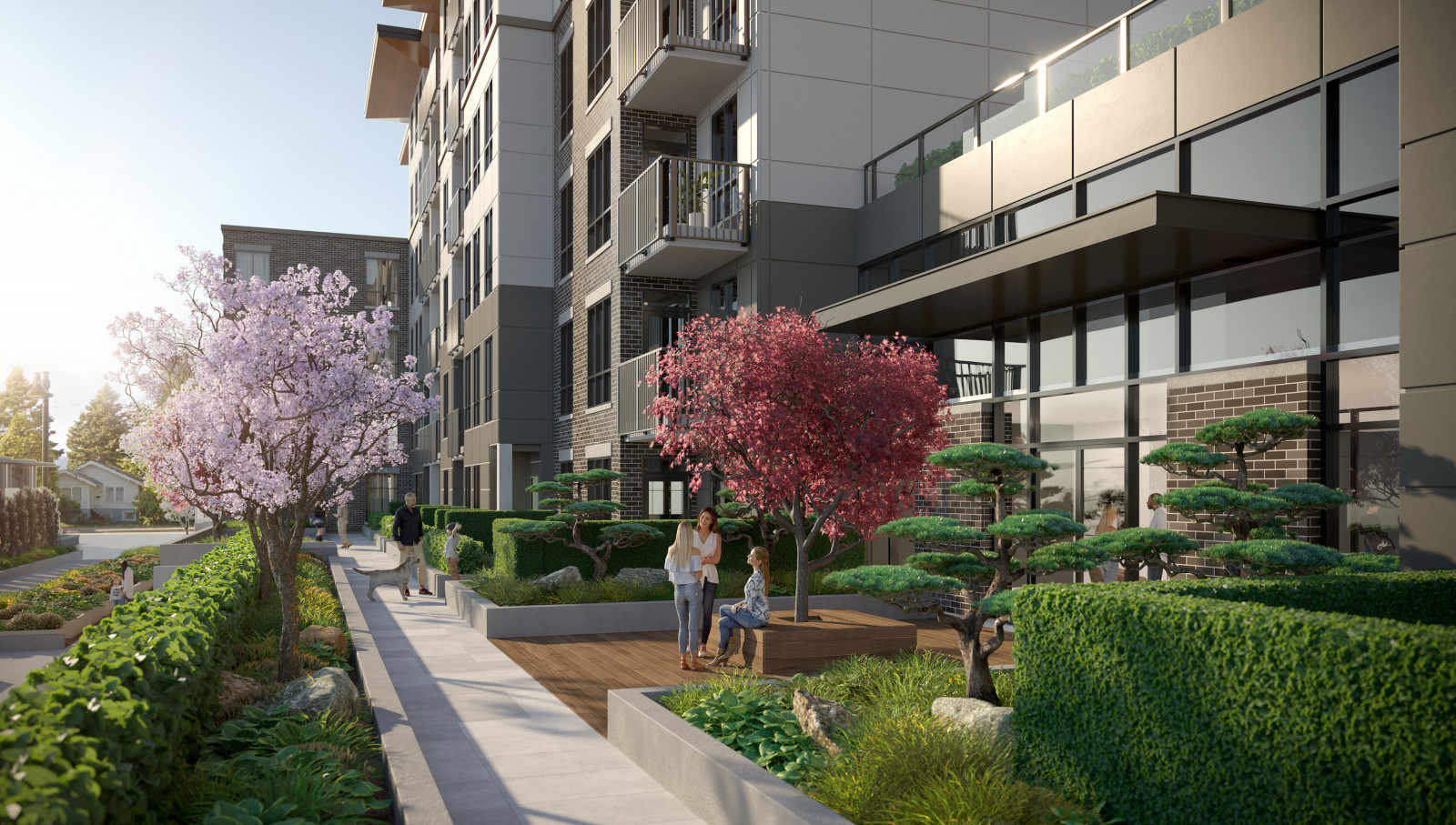 Both Coquitlam and Burnaby have seen incredible growth over the decades, with pockets in each city transforming into robust new communities. Burquitlam, also known as West Coquitlam, is one of these new neighbourhoods, and has been on the rise since the Lougheed Highway first paved through the land over 60 years ago.
With the opening of the SkyTrain's Evergreen extension in 2016, Burquitlam's ascent became even more significant and spurred the City of Coquitlam to renew the course for the area defined as Burquitlam-Lougheed.
After a widespread public outreach program, the Burquitlam-Lougheed Neighbourhood Plan (BLNP) was revealed in 2017. Its 20- to 25-year vision focuses on creating walkable, transit-oriented neighbourhoods, with a diverse mixture of housing, access to shopping and amenities, and an abundance of park and public spaces.
Typical for transit hubs, Burquitlam Station is driving high-density growth, with multiple mixed-use or purely residential towers proposed or now under construction. Fanning out from the stations, townhomes and low- and mid-rise buildings provide additional choices for homeowners in all stages of life. The BLNP predicts 9,000 to 10,000 new homes will be introduced to the area by 2042.
Early buyers have already realized West Coquitlam offers tremendous accessibility to all corners of the region, including nearby Simon Fraser University (SFU), the redeveloping Lougheed Town Centre, downtown Vancouver, Burnaby, and Surrey, making the commute to and from work or school easier than it's ever been. Shops, services, and amenities anchor the stations, allowing residents to efficiently merge their commute with errands. Picking up dinner, groceries, or a coffee seamlessly align with how people move through their days. Speaking of movement, an expanded cycling network and more pedestrian-friendly streets will encourage residents to stay active and outdoors.
At the heart of West Coquitlam is the desire to create and nurture community, leading to a vibrant and sustainable place for people to live, work, and play. An essential element of this enriched community is the presence of greenspace. The BLNP states that 25 new acres of parkland and public gathering spaces will be added throughout the district. MLA Advisory's latest Pre-Sale Report saw a number of projects opening their doors for private previews in anticipation of generating strong interest for the coming fall market. The majority of sales activity for August took place in SFU, where a concrete project sold approximately 50 per cent of its units after previewing to select buyers. We expect more activity throughout the fall as the spotlight on West Coquitlam continues to shine.
Photo: Kira's South Tower by Woodbridge Homes and Citimark